Every spring, we're happy to see the sunshine return, for the days to lengthen, and the warmth to tempt us outdoors. But the first few months of the season can be tough to enjoy, when the bugs are out in full swing, bringing annoyance and discomfort. Of course there are some pretty powerful bug sprays out there, but for those looking for healthier and Earth-friendlier options, turning to essential oils is an obvious step. But did you know that you can use kombucha vinegar in your preferred natural bug spray recipe?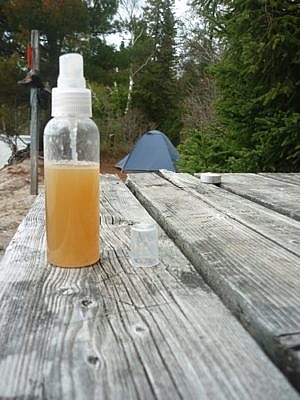 As backcountry hikers and berry pickers, we spend long hours outdoors, and we don't go anywhere without our two family dogs. We can help protect ourselves by wearing pants, long sleeves, and bug vests, but the dogs don't have that advantage. Besides, as summer passes, it gets too hot to hike with all those layers! So, to protect ourselves and the dogs against ticks, mosquitoes, black flies, and fleas, we always pack a homemade natural bug spray recipe using kombucha vinegar and essential oils. Keep reading to find out how you can make it, too!
Kombucha Vinegar in Natural Bug Spray
Whatever possessed us to use kombucha vinegar in our natural bug spray in the first place? Well, when we found out that fleas and ticks don't like the smell or taste of apple cider vinegar, I remembered that kombucha vinegar is similar in taste to apple cider vinegar. Actually, I learned a lot about vinegars in Top 5 Uses for Kombucha Vinegar.
Anyway, we figured we'd give it a try, and we've been pleased with the results (smiley face).
Essential Oils in Natural Bug Spray
There are quite a few different essential oils that can help repel mosquitoes, black flies, ticks, and fleas, so putting together the right blend can be as much a matter of personal preference as the intended purpose of the bug spray. I scoured online to come up with the best combination of essential oils to use in order to protect people and their pets against all four offenders.
And, I discovered that there are a number of things to keep in mind when administering essential oils topically to pets. Read all about it in Essential Oils: The Hidden Dangers for Well-Meaning Animal Lovers.
Natural Bug Spray Recipe
So with all this information in hand, it was easy to customize the standard natural bug spray recipe found on the Internet:
1 cup water
2 cups kombucha vinegar
4 drops lavender oil
4 drops peppermint oil
4 drops geranium oil
4 drops citronella oil
4 drops lemongrass oil
2 tsp almond oil
Combine all the ingredients together in a spray bottle, and shake well before using.
More Info on Making the Best Natural Bug Spray
You can apply this effective natural bug spray to yourself and your dog every couple of hours if you're spending all day outside. Use your hands to get the areas around your dog's eyes, nose, mouth, and ears. Don't forget that no matter how much this will help keep away mosquitoes, black flies, ticks, and fleas, you should still perform a tick check on yourself and your pet at the end of the day.