Throughout Canada, citizens are asking for bans on bottled water, which is costly, environmentally damaging, and less regulated for safety and water quality than public water supplies.
March 10 will mark the second annual Bottled Water Free Day encouraging citizens to request bottled water bans within municipalities, schools, and workplaces.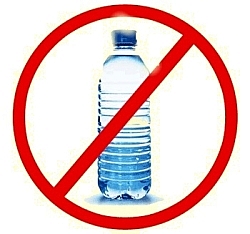 Another initiative challenges municipalities to become Blue Communities. Two criteria are to promote publicly financed, owned, and operated water services and ban the sale of bottled water in public facilities and at municipal events.
"Canada has one of the best drinking water systems in the world," says the Council of Canadians, but according to the Canadian Union of Public Employees, "it's increasingly difficult to access […]. Public fountains aren't being maintained or installed in new buildings."
Michelle Lalonde writes in the Montreal Gazette, "In Montreal, taxpayers are coughing up $250 million each year to ensure clean high-quality water runs from the taps. Then thousands of people buy plastic bottles of water and pay again to recycle them."
More than a hundred municipalities, universities and colleges, and school boards have banned bottled water and last year, Nova Scotia was the first province to ban bottled water in provincial facilities. Many proposals have already been tabled in the first two months of 2011.
Andrew Murray of the Council of Canadians writes in New Westminster, BC's The Record, "This change is part of a major shift across this continent involving schools, universities, and major cities that have realized the folly of spending tax dollars on such a negative product when clean, safe drinking water is freely available."
New Westminster students Marie-Claire Massicotte and Hannah Crisp sent a letter and petition signed by students and staff to their superintendent requesting a ban on the sale of bottled water at the school. Coincidentally, the issue of whether to ban bottled water at the high school had already been debated by school board trustees last year, who voted in favour of the motions.
Toronto Catholic high schools are designating bottled water-free zones. One school will stop selling bottled water at the concession stand. Another will make stainless steel water bottles part of the uniform. On Bottled Water Free Day, the schools will exhibit pirate ships made out of discarded plastic water bottles, each containing a pledge to be bottled water-free.
Communities see results, seek more action
In London, Ontario, the debate is happening at the municipal level. Because of a 2008 bottled water ban in London, the Federation of Canadian Municipalities now recommends that other municipalities follow suit.
But Nestle asked the city to reverse its ban, and council discussed it in mid-February. In response to Nestle's claim that bottled water only competes with other bottled beverages of convenience and not tap water, Councillor Joni Baechler noted, "I don't think Nestle sells Evian water in its offices. We hear about running this city like a business. You don't run a business by inviting a competitor's product into your suite of products."
Patrick Maloney reports in the London Free Press, "The three-year-old ban that's facing renewed criticism survived the battle, for now."
Brandon, Manitoba councillor Stephen Montague wants to take the ban for selling and providing bottled water at city hall several buildings further. Allison Dowd reports in the Brandon Sun, "Staff at the civic services complex voluntarily jumped on the 'ban bandwagon' in the fall and by the end of 2010, the two locations had recorded saving nearly 2,500 bottles."
Montague says, "We've received extremely positive results from the June decision for city hall, we've seen staff take their own initiative."
"If we have the infrastructure in place and the public has access to it and we can supply safe, clean drinking water, I don't know why we wouldn't do that."
Council will debate the matter on March 14.
In some BC coastal communities, applications to collect 112,000 litres of per day for water bottling purposes from each of forty-plus streams are now individually being examined by the Natural Resource Operations Ministry.
Joanne Banks and Rich Hagensen of the local Council of Canadians chapter wrote in the Courier-Islander in February, "The Campbell River Sustainability and Water Departments are recommending that City Council ban the sale and use of bottled water at City facilities and events. Why would we wish to encourage the further commodification of our coastal watersheds by setting up a bottled water plant in Campbell River and exporting our water?"
Allie Nichol reports in the Coast Reporter, "The project would consume more water for the making of water bottles, thus contradicting the Sunshine Coast Regional District's water conservation goals for the region."
A new SCRD policy from its February 10 meeting states, "The SCRD does not support the extraction of freshwater resources in gas, liquid, or solid form from surface or groundwater for the purpose of bottled water sales."
More Information
Sources
This article, Bottled Water Bans Spread Across Canada, originally appeared at PublicValues.ca.