While I was in Korea, I wrote most of a book. I had to sit on it, go back to it, let it go through its process (which took a lot longer than most of the writing did). At the time, I didn't know it was a book. I suspected it might be, but I never dreamed that could one day be a reality.
Shortly before last Christmas, I was given the chance to submit my book to a new digital publisher. After a fairly brief editorial process, Found Press Media has published Memories of a Carnivore in its Spring 2011 Quarterly edition. Download the e-book for only $1.99!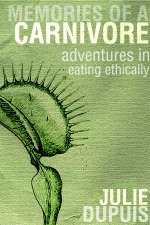 Anyone who has read my posts on South Korea knows that food was a primordial concern for me the entire year I spent in Korea. Being a vegetarian isn't easy anywhere, but add a huge language barrier to that challenge and things get tricky.
Part travelogue, part memoir, Memories of a Carnivore: Adventures in Eating Ethically pieces together the fragmented recollections of a rocky journey toward vegetarianism, from a rural upbringing in francophone Northeastern Ontario to exotic locations, outlandish adventures, and bizarre meals. At once raw, humorous, and irreverent, Memories of a Carnivore frankly discusses issues at the core of today's social conscience.
And, readers may notice that my posts on Korea were much scarcer and less detailed than those on South America. That means Memories of a Carnivore is full to the brim of never-before-heard anecdotes and observations! Memories of a Carnivore reaches far into my past, spanning my travels, including those in Ecuador, Peru, and Bolivia, and contrasting my adventures abroad to my experiences in French River.
Update :)(smiley face). Memories of a Carnivore has also been published in Found Press Quarterly 2: Spring 2011, a four-story collection, and Found Press Complete Collection 1, which contains 16 stories.