With all the tempting French River area outdoor summer events going on all the time, it can be tough deciding what to do on a summer weekend, especially if you're like me and want to do it all. How to choose between the plethora of activities and events happening in the area and our usual backcountry trip?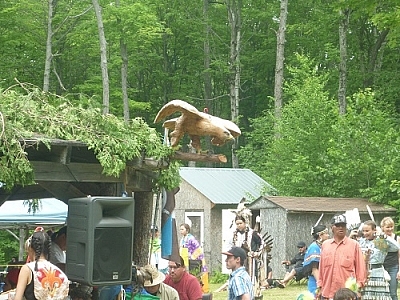 Well, there's a reason hiking and camping is our usual choice, but this year we managed to find a compromise.
We were lucky. We'd learned that Dokis First Nation's Papase Trail has a campsite, so we'd already changed our plans to go out for a day hike, opting instead for a hike-in camping excursion.
So when we remembered that the Dokis First Nation 13thThirteenth Annual Powwow was taking place at the same time, we heard opportunity knocking.
And that's not all the outdoor summer cultural events we've got lined up this year. French River's always a-buzz with this type of thing. For us, there will be two more powwows, a music festival and softball tournament at Dokis, and potentially, an educational paddle trip, again at Dokis. We might just have to rent a cabin out there for the summer! ;)(winky face).
Dokis First Nation Powwow
And so it came that I actually wore a dress on Canada Day weekend. I knew it wasn't necessary, but I felt more comfortable following the tradition that would connect me to Mother Earth. For women, who get their strength from the Earth Mother, wearing a long skirt strengthens that connection. We got to the powwow grounds a little early and were very soon greeted and welcomed.
Though it threatened rain, the afternoon was lovely, spent watching the dancers and listening to the drummers and singers while admiring the colourful regalia decorated with intricate beadwork, feathers, and furs. We wandered among the vendors and bought some Idle No More stickers, then we each ate a huge plate of venison tacos served on homemade scones and topped with diced tomatoes, shredded cheese, and lettuce. Oh, yum!
Festival of Peoples
We already know of a few other weekends this summer when we'll be choosing to mix and mingle instead of roughing it in the bush. This weekend, the French River Visitor Centre First Nation and Aboriginal Peoples Advisory Committee will host the 7thSeventh Annual Festival of Peoples, this year themed Acknowledging the Languages — Talking Rocks of the French River. We're particularly looking forward to Friday's presentations, Visiting the Lost Languages of the Pictographs and History of the Unique Metchif Language. A powwow will be held on Saturday.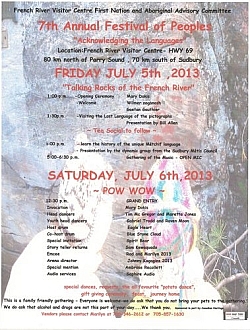 Dates and Times
Friday, July 5, 1 p.m. to 6:30 p.m.
Saturday, July 6, 12:30 p.m. to 6 p.m.
Visit the 7th Annual Festival of Peoples event page on Facebook.
Dokis Summerfest
July will be a busy month, with the Dokis Summerfest stirring up excitement. It's bound to be a blast, with a softball tournament, a fish fry, and amazing musical acts lined up, including Nathalie Restoule and Whisky Water. The best part is, admission to this licensed outdoor event is free! We'll be volunteering a few hours at the bar on the Saturday, so come say hi!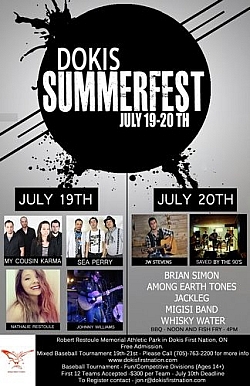 Dates
Friday, July 19
Saturday, July 20
Visit the 2ndSecond Annual Dokis Summerfest event page on Facebook.
Paddling For Our Water
August will be no less hectic. Dokis First Nation will also be hosting Paddling For Our Waters, a two-day canoe trip around Dokis Island on the French River, including a community feast and fish fry and a one-day workshop on protecting the waterway. The date has tentatively been scheduled for the weekend of August 10, though it looks like that may change. Updates will be posted online.
Dates
Visit the Paddling For Our Waters event page on Facebook.
French River Métis Tribe Rendez-vous
We're happy to return to the French River Métis Tribe's Rendez-vous at Joe Chartrand Park in Noëlville — we had so much fun last year! A member of the Tribe, Marc had assisted his father as firekeeper, helped during the Smudging Ceremony, and participated in the Grand Entry as bearer of the Warrior Flag. I spent a few hours volunteering at the front counter in the kitchen, taking and serving orders. We'll definitely be doing it all again this year! Now that I've seen the potato dance, I'm joining in this time ;)(winky face).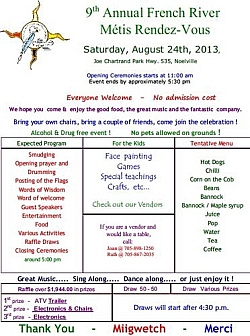 Date
Visit the Rendez-vous section of the French River Métis Tribe's website.