I was out on a day hike in Killarney Provincial Park, located on the shores of Georgian Bay between Parry Sound and Sudbury, Ontario, when the idea struck for the March for Merazonia. It was early May, the weather was beautiful, the northern verdure was blooming and blossoming in every direction, and I was inspired. I thought to myself, "Why not?"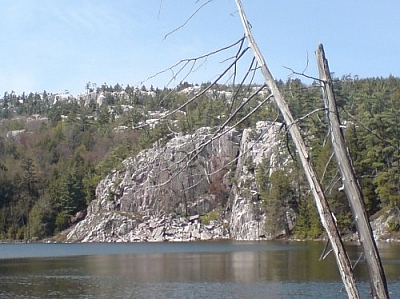 "Why not do something useful if I'm going to do this at all?" Over the next month, I planned the itinerary, made campsite reservations, wrote solicitation letters and promotional materials, and contacted local businesses about soliciting for sponsorship outside their stores.
Finally, in mid-June, I was ready. I announced March for Merazonia: The La Cloche Silhouette Trek, and was immediately gratified by an enthusiastic response from friends and family.
I had volunteered at Merazonia Animal Reserve in Mera, Ecuador, for three weeks and the experience left a lasting impression. Merazonia was then still under construction and had not yet begun to accept animals. Each morning we picked our way over a wet, slippery rock trail through mountainous rainforest terrain.
Once on the construction site, manpower replaced electricity. We hauled sand and rocks from the river to create foundations for buildings and other structures, or we found fallen logs in the forest to saw and drag back. We measured, cut, planed, sanded, and nailed furniture, or we pried still-good nails out of old wood. We hiked home, over the rocky, slippery path, bone weary.
Back at the temporary volunteer house, we discussed Merazonia's prospects. Faced with many problems during its grassroots upstart, including legal battles against land invaders and securing the deeds to the land they had purchased, the American and Dutch owners, Jennifer Green and Frank Weijand, remained passionate and optimistic throughout the ordeal.
Rewarded with legal success, their task has nonetheless been daunting since Frank and Jen have financed much of the centre's operations themselves, along with the meagre income they receive from occasional donations and volunteers who periodically show up to get off the Gringo Trail. I felt I could do something to help out; March for Merazonia: The La Cloche Silhouette Trek was my solution.
The La Cloche Silhouette Trail in Killarney Provincial Park is a world-class 80-kilometre hiking loop through the La Cloche mountain range and the southern portion of Blue Ridge. It features the exposed white quartzite cliffs and crystal-clear lakes made famous by Group of Seven artists.
I proposed to complete the trek in six days and actively spent much of the summer months setting up solicitation tables outside retail businesses in Sudbury and North Bay, as well as in a few of the smaller towns in the area. The support I garnered from the people in my hometown was overwhelming, especially since the area is renowned for hunting. Hunters and their families donating to support an animal rescue centre? Definitely!
But the administrative aspects of my undertaking were not the only things preoccupying me. No one undergoes a week-long trek without training. So with that in mind, I loaded up my backpack to forty pounds and headed for Mashkinonje Provincial Park (Monetville, ON).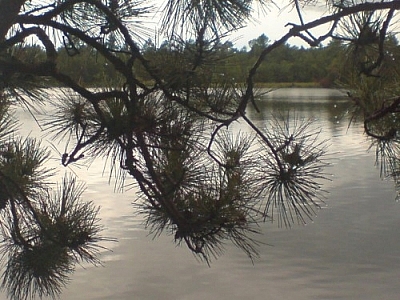 The more remote paths of the park were overgrown and sometimes difficult to follow, trail markers fallen or are hidden by thick foliage. I lost the trail a few times, wasting about two hours. Nearly finished after eight hours but still an hour from my car, darkness fell.
Luckily, I had my cell phone and was able to tell some friends with powerful flashlights where I was. I spent the wait listening to coyotes howl in the night, unable to start a fire with only wet foliage around. The experience was enlightening, to say the least, but I learned my lesson and was able to pack more effectively for my trek in Killarney. Fire starter, check. Good flashlight, check!
Finally, mid-September arrived. I'd gotten saddlebags for my black lab, Fetcher, who would be my sole companion for the trek and who was accustomed to the bush, more than capable of carrying his own food and equipment. I woke before sunrise to load my sixty-pound (!) backpack into my car and drive the hour and a half to Killarney.
I had planned an average of twelve to fifteen kilometres per day and was eager to get started. I had decided to hike the trail counterclockwise as a safety precaution. Since I was alone, this would ensure that I met other hikers should something happen. But, on this first day, the sky was clear and I was excited. So was Fetcher — once we left the trail head at George Lake, he set out at a run upon being freed from his leash, frolicking happily back and forth along the trail.
We walked along easily for a few hours until we reached the base of The Crack. As we stared up at the many tiers of boulders we would have to climb to reach the top, I was thankful to have a four-legged companion to rely on. We helped each other through tight spots and up particularly high boulders.
After we passed The Crack, I kept my eyes open for a spot to get water but never found any. The first and most important lesson I learned that day was to fill up on water at every available opportunity, no matter how much water I still had left. In the meantime, I quenched my thirst by sucking on an apple and a cucumber.
We reached our campsite on Little Superior Lake around six o'clock that evening, exhausted but elated at how well the first day had gone. That night, neither one of us slept well, however. We could hear noises all around us, something rustling in the leaves near our tent.
When morning came, I left the tent and unstrung the food from the tree. When I turned back towards the tent, a big bull moose was staring at me through the foliage across the campsite! Trying to get rid of it, I played loud music on my portable device. The bull wouldn't budge. When I blew a few short warning signals on my whistle, the moose moved away but stayed within sight of me. Unnerved, I hurried to pack up and continue the hike. I knew that I would begin menstruating in a few days and that animals might be attracted to me for this reason, but I had been so concerned about avoiding bears preparing to hibernate that it hadn't occurred to me that moose entering mating season could pose an equal threat.
Each day brought variety. Whether I had to cross beaver dams using fallen branches for balance or rapids by jumping from rock to rock, whether I had to climb mountainsides via narrow, zigzagging ledges, whether I was walking along high ridges or in shady valleys, the path crisscrossed a mishmash of hurdles.
Fetcher and I continued to help each other. Sometimes he let me grab onto him for support when I climbed smooth, slippery rocks, sometimes I gave him a boost when he couldn't jump high enough, and sometimes he guided me in the right direction when I couldn't spot the next trail marker.
The first night was the only eventful one and we always slept soundly after that.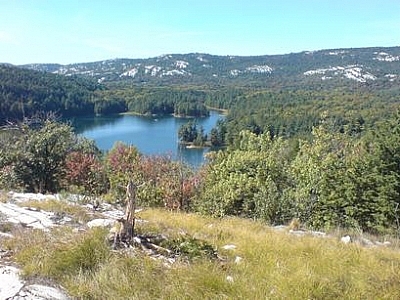 Nevertheless, I took more precautions on the second night and lit a fire until bedtime, knowing the flames would deter any unwanted nocturnal visitors. This proved unnecessary on the third night.
My itinerary had changed the day before I left for Killarney. I was now on a course to meet my father on the fourth day, so instead of climbing Silver Peak and camping at Boundary Lake on the third day, I decided to push forward to Little Mountain Lake. I arrived around four-thirty and was pleased to see the site was empty — I wouldn't be stepping on anyone's toes by staying there.
By six o'clock, the campsite's rightful inhabitant appeared. Dan graciously accepted me on his turf and we spent a lovely evening exchanging stories and sharing pictures. Feeling safe and comfortable, I didn't need to light a fire and Fetcher and I both slept like babies… until a loud crash in the nearby woods startled us.
Worried that the rope suspending our food in a tree had broken, Dan decided to check things out. He returned several minutes later to report that a tree had fallen. I closed my eyes, relieved.On the fourth morning, I was just about finished packing my gear, preparing to move on. I turned to Dan and asked if he had seen my sleeping bag, which I remembered rolling and placing near my pack. We searched for nearly ten minutes until we finally found it — at the bottom of the lake!
I retrieved it from the shallows and Dan and I spent the next fifteen minutes ringing it out, but the weight it still added to my load was almost unbearable. I knew that today of all days, I had to push on and meet my father; otherwise I'd be sleeping in severe discomfort that night.
Even without the morning's mishap, it was a challenging day. The weather constantly threatening rain made matters worse. I continually whispered promises of offerings to the Earth Mother, which seemed to work — the rain never came.
I eventually had to descend beside a waterfall. I took my backpack off to throw it down the last eight feet or so because it was a sheer drop. I dangled it over the ledge and gave it a good kick to the side so it wouldn't roll into the water. Once I'd jumped down, Fetcher couldn't follow. After unsuccessfully trying to coax him, he got desperate. He jumped right into the waterfall and found submerged ledges all the way down.
Later, at around four o'clock, I climbed yet another mountainside, this one covered by tiny, loose rocks that made getting a proper footing unlikely. When my eyes finally peeked over the top, I spotted a large note with my name on it tied to a tree in front of me, secured within a plastic baggie!
The day before I had set off, my father had found out that his friend has a camp near the trail, one of the few private lodgings in the park. He decided to come meet me and do a little fishing. I pocketed the Coffee Crisp my dad had left for me in the baggie and we soon met on the trail, where he had a boat waiting to cross the few minutes to the island on which the came is located.
That night, I slept in a warm bed and ate proper food (I hadn't brought a cooler full of goodies or anything that needed to be cooked, so options were limited). By this time, I was grateful for a bit of luxury!
Things were easier from then on. Because my sleeping bag was still soaking wet, I hung it up at camp and arranged for my host to pick me up in his boat that evening. The two remaining mornings, I was dropped off where I'd stopped the hike the previous day. I was therefore able to hike the last two days along Three Narrows Lake without my overlarge backpack.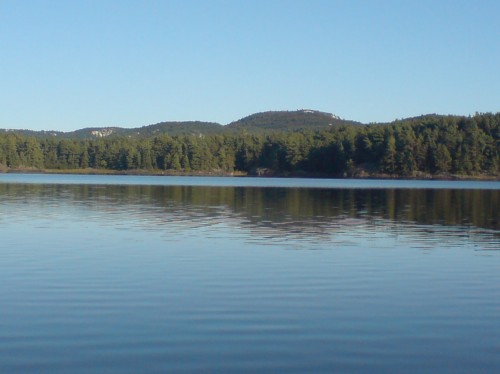 While this section of the trail was boring in comparison with the fantastic panoramas of the first four days, the wooded area was perfect for wildlife spotting and Fetcher and I managed to surprise a deer on the fifth day. When we reached the car at about three o'clock the afternoon of the sixth day, we were beat but exhilarated to have successfully completed March for Merazonia: The La Cloche Silhouette Trek.
The experience of hiking by myself for six days in North Eastern Ontario's wilderness was satisfying — as a petite woman, I proved myself to be brave, strong, and resourceful. But it was exponentially fulfilling because I knew the fruits of my labour were supporting a worthwhile cause.
On the day I submitted the proceeds of March for Merazonia: The La Cloche Silhouette Trek to Merazonia Animal Reserve, I was overflowing with pride. While organising a fundraiser without a system of support was at times demoralising and while undertaking the trek without having recruited any other participants was disheartening, I received the unforeseen gift of learning my own inner and outer strengths.
Update
I hiked the La Cloche Silhouette Trail again five years later. You can find out how it compared the second time around in Trekking Killarney's La Cloche Silhouette Loop Trail. And, if you're thinking of trying it for yourself, have a look at this selection of itineraries to help you plan your trip.