Brandon and I left Baños at about six yesterday morning. The bus ride to Cuenca took all day — we only got into the city around dinnertime.
We planned nothing more for our brief stay than a bit of down time in Cuenca, so after supper, we headed to a café for a game of cribbage over hot chocolate and brownies. Exhausted, I hit the hay pretty early last night.
Problem: couldn't sleep passed 6:30six-thirty this morning!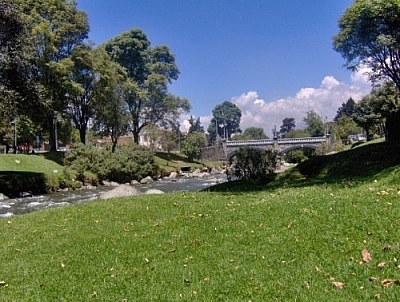 Didn't do much today. Sat on the grassy banks of the Rio Tomebamba to read and write, then found a great book exchange.
I also attempted to visit an orquideario (an orchid garden) which is listed in my guidebook, South America on a Shoestring by Lonely Planet.
But after hours and hours and hours of walking the streets of Cuenca, I never managed to find it…
Though I saw some lovely city scenery, talked to many people who had no clue about the orquideario, and got to see a suburban part of Cuenca. All was not lost!