W
hen I decided to teach English in
South Korea
for a year, one of the things that influenced my decision most was the landscape I would be moving to. I was getting more and more into
hiking and backpacking
, and the thought of living in a mountainous country couldn't be more exciting. Romantic notions of hiking Korea's mountains, walking along misty trails in peace and solitude, filled my dreams — and most of my trip-planning time! I knew what it would take to make the most of a year in Korea.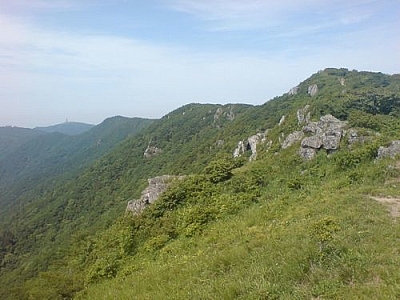 And I wasn't disappointed! I chose to live in Busan, where there are plenty of great walking spots and hiking trails. To ensure I stayed on track to make the most of a year in Korea, I pinned up my tourist map of South Korea on my apartment wall and circled all the places I wanted to visit with a pink pen. And when I went somewhere, I would trace the pink ink over with a blue marker.
After a few months, I met a
fellow CouchSurfer
who told me his goal was to hike all of Korea's national parks. I hadn't formulated it to myself that way, but I liked the idea, and I'd already hiked a couple of national and provincial parks. So now, for the very first time, I realized that I had a hiking
bucket list
! This certainly helped me make the most of a year in Korea!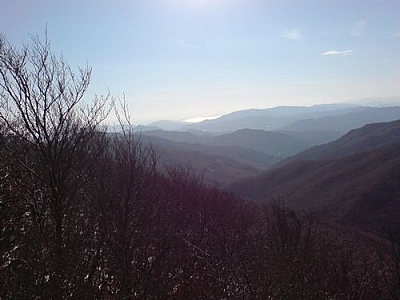 I didn't make it to every single national park, but almost! And I did add quite a few provincial parks to the list as well
(smiley face).
I got to see so much of the country and meet so many wonderful people while hiking Korea's mountains. This challenge definitely motivated me to make the most of a year in Korea! Here's how my experiences hiking abroad turned out, starting from Korea's northernmost province southwards, more or less…
Gyeonggi-do
Bukhansan

National Park
Inwangsan
Namsan Park
Gangwon-do
Seoraksan

National Park

Odaesan

National Park

Chiaksan

National Park
Chungcheongnam-do
Gyeryongsan

National Park
Chungcheongbuk-do
Sobaeksan

National Park

Woraksan

National Park

Songnisan

National Park
Sangdang Sanseong
Gyeongsangbuk-do
Cheongnyangsan

Pronvincial Park

Juwangsan

National Park

Bogyeongsa

County Park

Gayasan

National Park
Gyeongsangnam-do
Gajisan

Provincial Park

Hallyeo

Maritime National Park

Yeonhwasan

Provincial Park

Upo

Marsh
Geumjeong Sanseong

Molundae

Park

Amnam

Park
Jangsan
Jeollabuk-do
Moaksan

Provincial Park

Maisan

Provincial Park

Naejangsan

National Park

Seonunsan

Provincial Park
Jeollanam-do
Mudeungsan

Provincial Park

Jogyesan

Provincial Park

Jirisan

National Park

Wolchulsan

National Park
Jeju-do
Hallasan

National Park
Seongsan Ilchulbong
Conclusion
So in the end, there are only five of Korea's national parks that I didn't visit:
Tae-an

Seashore National Park in

Chungcheongnam-do

Gyeongju

National Park in

Gyeongsangbuk-do

Deogyusan

in

Jeollabuk-do

Byeonsan

Peninsula National Park, also in

Jeollabuk-do

Dadohae

Maritime National Park in

Jeollanam-do
And of course, there are many provincial parks I missed, too. But I was always busy hiking somewhere to make the most of a year in Korea, and that's what matters.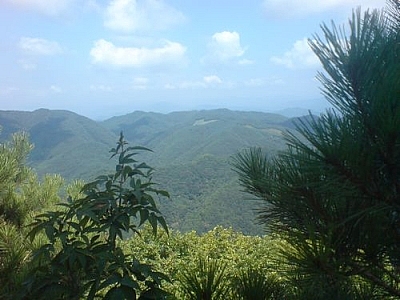 Because hiking Korea's mountains helped shape the hiker I am today. It's been just over six years since I came back to Ontario and began to explore my home province's parks. Had I not participated in this national parks challenge, who knows if it would have occurred to me to blog about my trekking staycations?
For even more about my travels to Korea, check out Memories of a Carnivore. I wrote much of it on the bus while travelling to and from the parks on this list (smiley face).
Further Reading
For another great list of hikes in Korea, check out the Hiking Odometer at Klimbing Korean Mountains. Like my own list above, it's not a bucket list per se, but rather a checklist. Still, if you're looking to make the most of a year in Korea, it's handy!