Whether you've been coming here for years or whether you're visiting for the first time, chances are there's something you didn't know about. In no particular order, and by no means an exhaustive list, here are some ideas for your next French River and Lake Nipissing vacation. Take your pick from these 56+ ideas for things to do in French River and Lake Nipissing areas, and mix and match for the perfect itinerary every time. Have fun!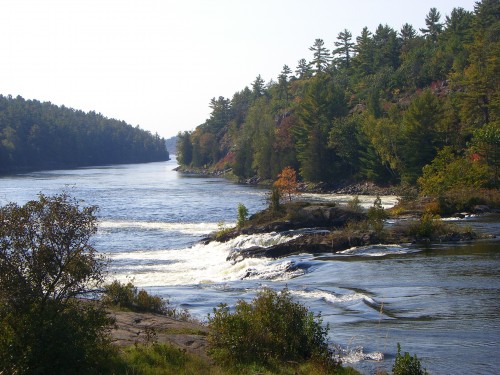 Parks, Beaches, and Trails in French River and Lake Nipissing Areas
1. Mashkinonje Provincial Park: Stacked loops of more than 30 km of hiking trails (one with barrier-free access), canoe access to Lake Nipissing, an observation tower, a picnic area, and two beaches (also connects to the Trans Canada Trail)
2. French River Waterway Provincial Park: Canoeing and kayaking expeditions, camping via water access, boating, fishing, a 2-km riverside trail from the Visitor Centre to Récollet Falls (Park Bus stops here)
3. Grundy Lake Provincial Park: Camping, beaches, picnic areas, hiking trails, and more
4. French River Multi-Use Trails: Hiking, cycling, horseback riding, cross-country skiing, snowshoeing, snowmobiling, quadding…
5. Dokis First Nation Trails: Hike, camp, and snowshoe, independently or with a guide
6. Skateboard parks in Noëlville and Alban
7. Playgrounds — most towns have one
8. Splash Pad in Alban
9. Joe Chartrand Park in Noëlville
10. MTO rest stop in Monetville: lots of picnic tables, a beach, and plenty of room for kids to play
11. Knights of Columbus Beach in Alban: large grassy play area, covered picnic tables
12. Public boat launches
From Highway 64, access Lake Nipissing via Lavigne (near the bridge), Sucker Creek in North Monetville, or Shanty Bay in Monetville
Access French River via Ash Bay Road (off Wolseley Bay Road in Noëlville) or Plouffe Road (down Green Bay Road, Ouellette)
Access Trout Lake via Happy Landing (at the end of Taillon Road, off of Trout Lake Road in Noëlville)
From Highway 607, access the Murdock River at the new bridge
* Many lodges and marinas offer boat launching for a fee, or else they may charge a fee for parking.
13. Local swimming and fishing hole at Lac Clair in Noëlville
Attractions in French River and Lake Nipissing Areas
14. French River Visitor Centre: Interactive displays trace the history of the area, info on and access to French River Waterway Provincial Park, gift shop, Récollet Falls trail head
15. William Small Snowmobile Bridge: Views of the French River Gorge (outside the Visitor Centre)
16. The Backstreet Gallery: Local First Nations, Métis, Francophone, and Anglophone arts and crafts (Noëlville)
17. French River Trading Post: Fudge, souvenirs, ice cream, picnic tables, information, Hungry Bear and Blueberry Hound, motel and restaurant (Highway 69)
Agri-Tourism in French River and Lake Nipissing Areas
18. Dalew Farms: Organic and community-sponsored agriculture (Lavigne)
19. Sucrerie Séguin Sugarbush (Lavigne)
20. Boreal Berry Farm and Winery: Haskap berry wine products and confections (Warren)
21. Warren Agricultural Fair: Annually in June
22. French River Gardens (Noëlville)
23. Farmers' Market in Hagar (Friday to Sunday at the Hwy 17/535 intersection)
Music and Culture in French River and Lake Nipissing Areas
24. Dokis Summerfest: Annual music festival, fish fry and softball tournament in one
25. Lavigne Tavern: Live music every weekend
26. Rubber Boots Festival: Métis, Francophone, First Nations and Anglophone music (Noëlville)
27. Henvey Inlet First Nation Powwow
28. Dokis First Nation Powwow
29. French River Visitor Centre First Nations and Aboriginal Advisory Committee Festival of Peoples
30. French River Métis Tribe Rendez-vous (Joe Chartrand Park, Noëlville)
Sporting Events and Venues in French River and Lake Nipissing Areas
31. Annual softball tournaments in Noëlville, St. Charles, and Warren
32. Annual hockey tournaments in Noëlville, St. Charles, and Warren
33. French River Rapids Junior A hockey games during the winter
34. Horse shows in St. Charles and Warren
35. French River Horse Park in Noëlville
36. Fishing derbies: French River Fish Derby, Ron Senecal West Arm Memorial Pike Tournament
37. Mud runs: Big Bear ATV Rally, Knights of Columbus ATV Run
38. French River Classic Cruisers at the Beauséjour Inn in Alban every Thursday evening of the summer
39. Southern Cruisers Riding Club, French River Chapter
40. Golf tournaments: Golf for Life Tournament (Canadian Cancer Society, St. Charles), Senior's Golf Club Tournament (Noëlville)
41. Golf courses: Meadow Springs Golf Course, The Maples Golf and Sports Club, Voyageur Golf Course
42. Practice at the driving range in Noëlville
43. St. Charles Bowl: 5-pin bowling over 6 lanes (with a snack counter and licensed)
44. Free public and family skating at the Warren, St. Charles, and Noëlville arenas throughout the winter
45. FISA Rowing Tour
46. Fitness centres in Noëlville and St. Charles
Leisurely and Relaxing Things To Do in French River and Lake Nipissing
47. Public libraries: Every town's got one
48. Bella Dawna Spa
49. Massages: Therapeutic Touch Massage Therapy and RnR Massages in Noëlville; The Massage Room in St. Charles
Seasonal Things To Do in French River: ChristmasTown!
50. Lions Club Staff and Cruiser Toy Drive
51. Noël Market
52. Holiday Train
53. French River Christmas Parade
54. Lions Club Children's Christmas Party
Sleeping and Eating in French River and Lake Nipissing Areas
55. Rent a cabin at one of the area lodges and stay a while. Choose well since many offer more than just meals and accommodations. Some have equipment for rent (paddle boats, canoes and kayaks, motor boats, etc.); some offer tours (e.g.: identify mushrooms on guided hikes at Camp Petawachuan); some organize workshops (e.g.: writers' retreats at The Lodge at Pine Cove). Many others stand out so look around!
56. Order traditional French-Canadian poutine from a roadside chipstand — there's one in pretty much every small town and village! @827 Chipstand in Alban has a lot of variety and caters to vegetarians (smiley face)
57. Rod and Gun Annual Fish Fry (Noëlville)
58. Wild Turkey Dinner (annually in French River)
Resources for Things To Do in French River and Lake Nipissing Areas