Being a bit on the adventurous side (heh heh heh), relaxing in Copacabana may have been my priority at first, but it certainly wasn't on my agenda yesterday.
After hitting the market for lunch and snacks, I set off down the road to Yampupata, from where getting to Isla del Sol by hired boat should be easy to arrange.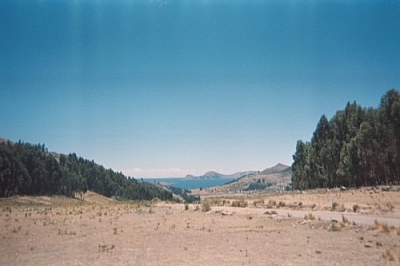 The island is supposedly visible from the village of Yampupata, but the trip out to it is about an hour or more from Copacabana.
I figured the hike /(slash) boat combo for getting to Isla del Sol would be more interesting than simply taking a boat from Copacabana, and I was right.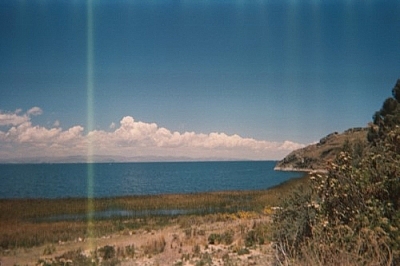 About 10-15ten to fifteen minutes from town, I paused in a village called Kusijata.
I inquired of two indigenous women, colourfully attired, if they could point me in the direction of El Baño del Inca, a minor ruin.
One of them said she would take me there, so off we went across a field inhabited by llamas, pigs, donkeys, sheep, and cows.
She was very talkative and friendly, pointing out a large cluster of eucalyptus trees more than a hundred years old.
Finally we arrived at the foot of a steep but thankfully short set of stairs, where she pointed me upwards and left me to go to her home, right next door.
When I reached the top, I was disappointed to see that the site was closed, but at least I got the chance to take photos of the village and its landscape.
I continued walking along the solitary dirt road towards Yampupata, up many hills, sometimes but rarely going downhill, passing through an eerily quiet village.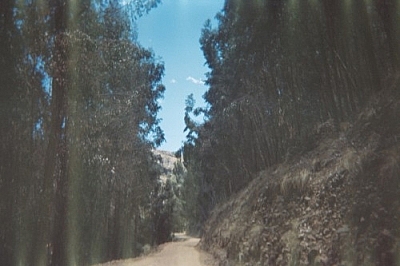 I was beginning to long for trees when a stretch of road lined by eucalyptus trees appeared before me, the lake peeping through on my left side.
I'd been told of a shortcut that follows a dilapidated Inca road uphill shortly after passing these trees.
My curiosity got the better of me and I left the main road only to rejoin it at the top of the hill. A breathless climb, but well worth it for the awesome view backwards from the top.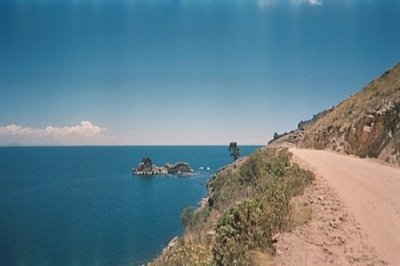 From there, I went down a loooong hill and entered the village of Titicachi, which is built lengthwise along the road and lake shore.
About halfway through the village, I sat on a stone wall and ate my lunch, resting for about half an hour, my journey about 2/3two-thirds done.
I'd walked about 2.5two and a half hours before stopping, and since speaking with the two ladies in Kusijata, I hadn't seen a soul.
Off I went again, expecting another 1.5 hourshour and a half to go before reaching Yampupata and hiring a boat for getting to Isla del Sol…
But a local boy stopped me for a chat 5 minutes later.
When he found out where I was going, he offered to bring me directly to Isla del Sol from Titicachi in a rowboat (for a fee, of course). I agreed, thinking it would be a much lovelier trip than in a motorboat.
Across the field to his house we went, where Ever (10), fetched his older brother, Willy (16).
Then we walked down to the reed-covered shore of the lake and got into a rickety old boat which we only used to get to a small sailboat anchored a mere 30 feet away (tied to the reeds, actually).
After transferring, Willy used a pole to get us out of the reeds while Ever set up two pairs of oars which were used once we reached the open water.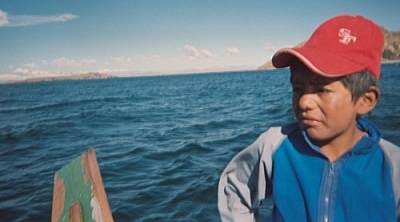 In the beginning, the lake was fairly calm, but eventually the wind rose and the water got pretty choppy. Not surprising for a lake that reaches several kilometres deep in some places.
Poor Ever got pretty tired not far from the island, so I took over for a while. At first, it was really hard; I couldn't get the right rhythm at all, but then I started to get the hang of it.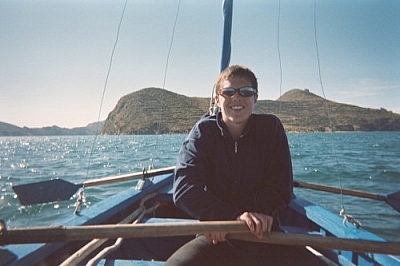 When we reached the rocky shore of Isla del Sol, I realized I didn't have anything smaller than a 100-boliviano bill, so Ever came with me to the village of Yumani, a 15-minute walk away (the first 5 climbing uphill, of course).
Once there, I paid for a hotel room, got change, and paid Ever, who'd asked for a tip for having to come ashore with me.
I also bought him and Willy each a bottle of orange Fanta (pretty popular here), as they didn't have anything to drink and the boat ride had been more than an hour.
I returned to the boat with Ever, where I thanked both boys and said my goodbyes, then I walked back to Yumani.
So in the end, I got most of the walking I'd hoped for, plus getting to Isla del Sol was way better than I could ever have imagined, in a super cool rowboat ride on Lake Titicaca!