My encounter with pacas was last night. I had just returned shortly before dinner from running some errands in Puerto Maldonado over the weekend:
Getting some laundry done, since nothing ever properly dries in the rainforest unless it's sunny for a few days;
Stocking up on provisions, since Joel and Elissa and their delicious baked treats are gone now, and as much as I love picking my own pineapple and papaya, if none are ripe, we have no fruit to eat;
Getting a haircut, since it had gotten long and it's been too hot working in this humidity.
The hairdresser didn't believe I actually needed a haircut, it being abnormal for women to have short hair in Peru. I repeatedly had to tell her to go shorter, but soon I was deep in conversation with a girl getting her hair dyed. I only noticed how short my hair had become when the woman doing the dyeing said something I didn't catch, and my hairdresser reacted by taking out the electric razor.
I glanced in the mirror and at once realized it was too late. It would have to be a buzz cut!
I put my foot down when she started putting shaving cream on my sideburns and neck, though. Seriously, there's a limit to everything.
It wasn't the last thing that wouldn't go as expected while I was running my errands in Puerto Maldonado.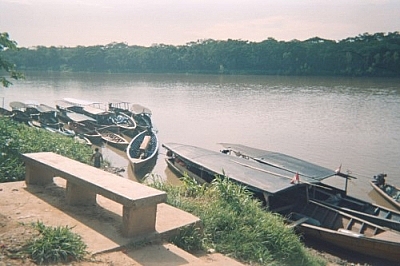 To get to Puerto Maldonado, I took the neighbouring lodge's boat /(slash) bus combo rather than the taxi-boat, shortening the travel time to three hours (plus it's free!). So far so good. I hoped to go back with them yesterday as well…
In the end, I can't decide if I was lucky or unlucky with my river transport yesterday. Tambopata Jungle Lodge didn't have a boat going upriver, so I was stuck in a peki peki, another 8.5eight-and-a-half-hour boat trip.
Since there are no taxi-boats on Sundays, though, I was fortunate to have met the one man who was going that far upriver yesterday.
Mixed blessings, I suppose.
While I was away running errands in Puerto Maldonado, I half-hoped Pico would have figured out the water situation before I got back. The leaky toilet cannot be what has drained our entire tank three times now. We've pumped water for hours, only to discover that half a day depletes our stock, even when we're being particularly scrupulous about our water consumption. But it still leaks, so we're still pumping water like mad.
It was nice to get a weekend off, in a way!
And now with Joel and Elissa gone, I'm glad Johanna from Germany arrived to help keep things lively around here.