I only spent a few days in Lima, two to be precise, and they were both pretty good.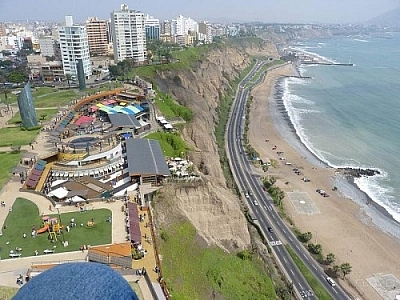 I met up with Percy on Sunday night and he showed me a few of the districts of Lima, as well as the beach and the Pacific Ocean.
We next spent about an hour with his cousin's family.
Angela, a cute little 7-year-old, showed me all of her school exercise books and taught me tons of Spanish words I didn't know for parts of the body and the nativity story.
Her little brother Nicolas, only 2, was scared of me — I thought he was going to cry when I tried to hug him goodbye!
On Monday, Percy and I toured the Monasterio de San Francisco, where monks still live in cloister and which has catacombs, an awesome library with thousands of antique volumes, and some very beautiful woodwork.
Unfortunately, it wasn't permitted to browse the books in the library. I cried inside my head.
Monday night, I also got to have a wicked dinner with my cousin at an Italian restaurant: ravioli stuffed with spinach and ricotta in a mushroom-cream sauce — yum!!
Stranger yet, since he and his wife Patricia both speak French and English as well as Spanish, the conversation was led in whatever came out first.
Most of all, though, it was weird to visit family so far away from home!
I'm glad I had a few days in Lima so that I didn't return to Canada with a negative impression of it based on a bad bus experience.
Find out what my cousin taught me on the night I left South America about
anticucho
, my favourite Peruvian snack, in
Memories of a Carnivore
.