Even though I didn't live in Seoul when I was in Korea, I did make extensive use of all types of public transportation, and since I was doing my best to make the most of my year abroad by hiking as many of Korea's mountains as possible, I got to know the parks system pretty well. That's why I feel confident recommending these trails easily seen from Seoul. Some are right in the city, and some are a mere bus or train ride away…
Gyeonggi-do
The three times I travelled to Gyeonggi province were to visit Seoul, and come on, there's far too much to see and do in Seoul to focus on hiking! Still, there are so many trails easily seen from Seoul that I got my fair share in, and I did a lot of city walking, too.
Bukhansan

National Park

As it turns out, one of my favourite days spent hiking Korea's mountains happened to be in Seoul, at Bukhansan National Park. Right from the start, the trail was fun, the scenery great.

At one point, I summited a peak and looking down, I saw a man standing on the ridge turn around and start to climb down. I thought I had to do the same and sort of got a bit wimpy, but still, I went down there and was about to make the attempt, when a man sitting there stopped me. He brought me around the peak and pointed me to the trail, which went around the steep descent.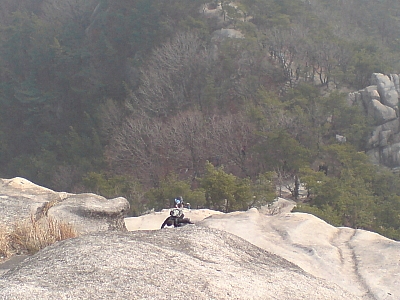 Oh, thank goodness!!! Because otherwise, this is what I would have climbed down. I saw a few people do it so I probably could have, but not without some sort of cardiac arrest.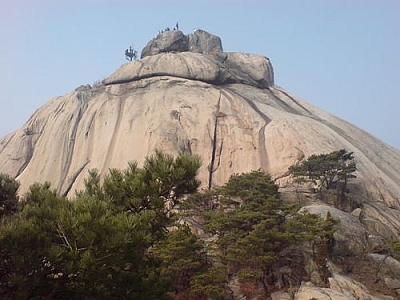 Later that morning, an ajuma adopted me for several hours. At first, she just stopped and waited for me every once in a while, I guess to show me where to go, although it was rather unnecessary given the crowds on the mountain. After a while we just hiked together, and stopped to have lunch together, but we parted at the first gate to the fortress we reached.
Towards the end of the hike (like, the last two hours up, at least), there were railings the whole time and everyone used them. I could see people pulling themselves up with their arms. It was that or plummet. Craziness! And it looks easier than it was. In truth, it was sooo scary! It's indescribable the feeling you get when you realize that all that's keeping you from sure death is a small steel cable that thousands of other people are also relying on.
Once at the peak, I looked around and took it all in. I couldn't believe it when I saw the free climbers on the opposite peak!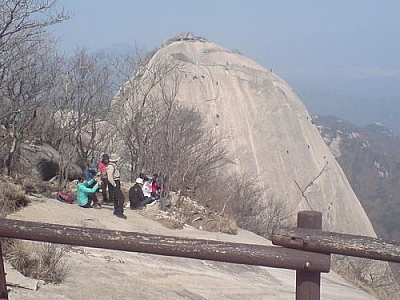 And it's hard to believe that's Seoul down there. Go figure — the toughest hike I did in Korea is accessible by subway... But the vast majority of the day, had I not known any better, I would have had no idea that a city lay so close to me. Apart from the crowds, I could have been in the bush for all I saw or heard!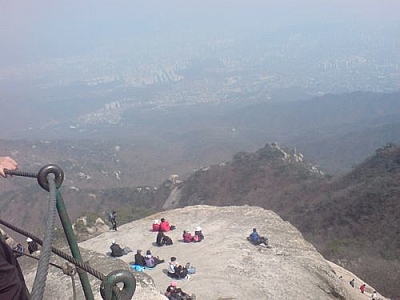 Inwangsan

and

Namsan

Park

It was just a short hike up Inwangsan to see this view of N'Seoul Tower perched atop of Namsan.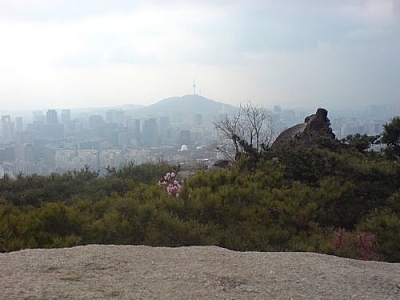 My hike up Namsan was much more eventful, however! I had a fabulous time hiking up and then down and around the mountain, exploring the various paths. I then continued the walk into the city on my way to my next destination, since I walked everywhere I could when I was in Seoul (or anywhere else in Korea, for that matter).
Chungcheongnam-do
Because I lived in Busan, I only ever made it into Chungcheongnam province once. I decided to pass through on my way to Seoul one time, for the sake of hiking another one of Korea's national parks. But Chungcheongnam's parks are actually full of trails easily seen from Seoul.
Gyeryongsan

National Park

Well, I had quite a few mishaps on my way to Gyeryongsan National Park, and I had to rush to complete the trail and catch the last bus out of the park, so I don't remember all that much of the hike. But I do remember that I refused to miss out on hiking Korea's mountains in this park because I'd seen an amazing picture of a beautiful waterfall surrounded by lush verdure, taken within Gyeryongsan. Which is why the only picture I stopped to take was of a waterfall, though it didn't turn out quite as dream-like as the one that had motivated me...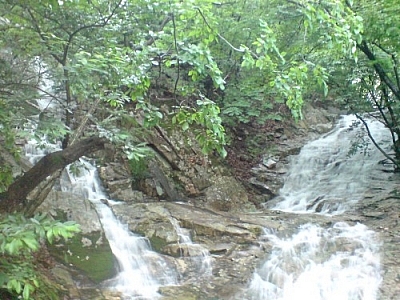 Gangwon-do
Being too far to attempt the trip from Busan even on a long weekend, I travelled to Gangwon only once, but this province has trails easily seen from Seoul on a weekend trip. As for me, I went during my week-long summer vacation. By this time, there were only a few months left before I returned to Canada, so hiking more of Korea's mountains was my sole purpose on this trip.
Seoraksan

National Park

Since Seoraksan is one of Korea's largest national parks, I decided to stay at a park campground and tackle two different day hikes. On the first afternoon, after settling in, I hiked a few hours and saw some lovely scenery — waterfalls! I was really looking forward to the morrow's day hike, but unfortunately, it rained all day and I didn't see much at all. Not once did I take out my camera, too cold and soaked all day to stop moving.

Still, those were some of the best nine or ten hours I've ever spent. What a trail! I remember many ropes, metal railings, and ladders anchored to the smooth rock face. These obstacles made it so much fun, it was hard to regret the dense fog. I've already written about what happened when I returned to the campground chilled to the bone...
Odaesan

National Park

This was a really fun half-day hike with spectacular views. Almost more impressive, in a way, was the campground at Odaesan. There was a cold, fast-running river next to the campground — the perfect place to sit and read, go for a dip, meet other campers...
Chiaksan

National Park

Chiaksan National Park was really unique, because instead of hiking from the temple to the mountain peak, like everywhere else I'd been, the trail led to the temple at the peak. What a different atmosphere! It was the most serene temple I saw.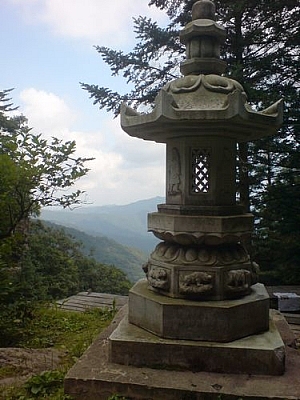 7 More Trails Easily Seen From Seoul
If I'd had the chance, I would have also loved to give some other parks near Seoul a try, too…
Day Trips
Namhansanseong

Provincial Park

Deoksan

Provincial Park

Chilgapsan

Provincial Park
Weekend Trips
Taebaeksan

Provincial Park

Tae-an

Seashore National Park

Gyeongpo

Provincial Park

Naksan

Provincial Park
Hopefully this list of trails easily seen from Seoul will be helpful to those looking to create their own Korean hiking bucket list!
Further Reading
For detailed trip reports on some of trails easily seen from Seoul listed above, including lots of photos, park maps, and other important information, check out the following articles from Klimbing Korean Mountains: