There are times when stuff happens, and there are times when stuff happens. Thanks to trail magic in South Korea, this story's not about hiking-related disasters.
Trail Magic in South Korea: Getting To and From a Park Near Seoul
In July, I went on a hiking trip which got totally messed up.
I woke up early and took a train to another city. My map showed the bus and train stations to be close to each other, so I decided to walk to the bus station to catch my connection to the park.
After 30 minutes, I still hadn't found it so I asked a man on a bike for directions. Unable to give me the info I needed verbally, he got off his bike and walked with me more than 30 minutes to get to the bus station!
I couldn't believe it! Why didn't he just tell me to take a cab? That he took so much time out of his day to help me was truly heart-warming.
Unfortunately, when I got to the bus station, I was informed that the bus schedule had changed so I would have to go back to the train station to catch a local bus. Grrrr!!!
I caught a cab but it took forever to find the right bus stop.
Finally, after wasting about 2 hours, I was on my way to the park.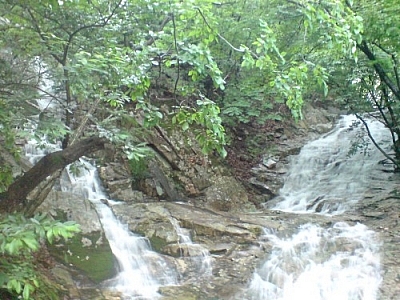 The hike was really easy and didn't take long, but I got to the other side of the park about 10 minutes after the last bus of the day had left.
I had rushed through the hike, barely taking any photos because I'd gotten a late start, and all for nothing!
I was stranded. The cab ride into town would cost about $30. In frustration, I kicked the curb and sat down on it, putting my head in my hands and trying to calm down enough to suck it up and pay the cab fare.
Just as I was coming to this conclusion, a man approached me and asked where I was going. When I told him, he invited me onto his tour bus since he would be able to drop me off at a subway station near Seoul, my next destination.
It would still take me an hour to get to my destination from there, but it was better than my current option!
I stepped onto the bus to see that I'd joined a women's tour — the man, who turned out to be the bus driver, was the only one present.
As I made my way forward, the women cheered and clapped. I sat down towards the back of the bus and was instantly surrounded by women plying me with food and beer. One rubbed ointment on my cuts and scrapes.
Others tried to find out more about me. Even though none of them spoke English, we conversed the entire time (a few hours).
At a rest stop, they spread blankets on the ground in the parking lot in traditional Korean fashion and invited me to partake of their feast.
And even though it was entirely out of their way, they drove me directly to the right subway station, instead of the one near their own destination. Wow!!!
Karma was truly on my side that day. Even though a bunch of things went horribly wrong, the amazing things that happened more than compensated for the bad stuff!
Trail Magic in South Korea: Camping at
Seoraksan
Now, I simply cannot talk about times of need when I was helped by strangers without mentioning one man in particular.
For my summer vacation, I decided to go on a camping trip in the country's northernmost province.
My first night was miserable — I hadn't brought along warm enough bedding or a mat to sleep on because I'd been fine on my last camping trip. But it wasn't quite so far north and the mountains weren't as high…
My second day was really rainy, but I still went hiking for 9.5 hours.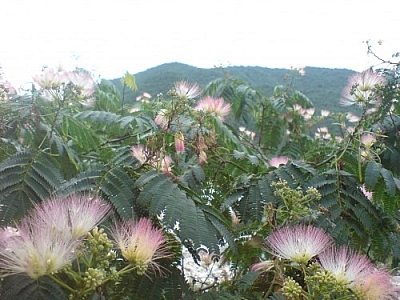 When I got back, I was soaked and dreading the misery that awaited me in my tent.
A man who was camping next to me approached me before I even zipped open my tent, and offered me his lantern to get the humidity out of there. When I unzipped the door, gratefully accepting his offer, he saw that I didn't have a sleeping bag or mattress and was just using a thin blanket.
He quietly walked over to his campsite and brought me a long, thick sheet of Styrofoam to sleep on. Best night's sleep ever!!!
I'm so very grateful to that man. I was stupid; I could have gotten sick.
He cared.
Conclusion
Trail magic in South Korea has been particularly amazing, but I've been the recipient of countless more random acts of kindness in this country. I can only hope that I'll remember them when I'm in my own country, that I'll always give help to those who need it.
And with 7.5 weeks left to go, I should be in a position to do that very soon! I definitely plan on continuing to CouchSurf once I get back home; it's the best way I know of how to help travellers!