For a dose of sports and entertainment in Busan, I finally attended a few events over the summer. The soccer game wasn't at all what I expected, and the movie was way better than I thought it would be.
Soccer Match
In July, I made it out to a soccer game, Seoul versus Busan. The game was in a huge stadium, but there were temporary bleachers set up closer to the field.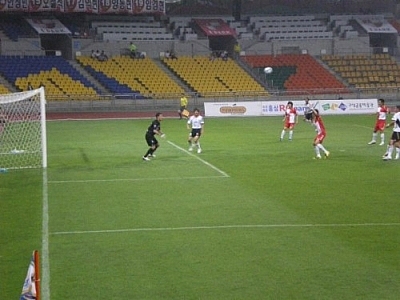 Only a few hundred people were in attendance. The Busan crowd wasn't making too much noise, understandably, but the Seoul supporters were raucous!
Seoul seriously outplayed Busan and was by far the better team. Losing 2-1two to one, Busan was pretty discouraged and it showed.
In the last ten minutes, though, Seoul got two red cards, giving Busan the opportunity to score the tying goal. Fun!
All in all, it was an interesting experience, but I'd still like to make it out to a baseball game to see how fans get when they're really into a sport. Soccer isn't as big here as I thought it would be.
"Foreign" Film
I also saw a Korean movie at the theatre in August. The movie was Haeundae, which is about a tsunami at Busan's (and possibly Korea's) most famous beach.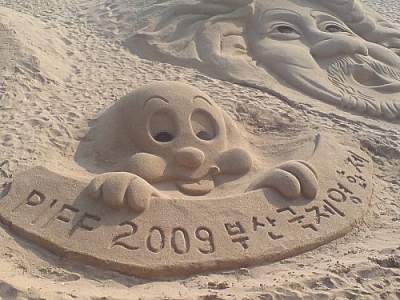 Even though there were no English subtitles, I was able to perfectly understand the plot. And not because my Korean is that good. It made me realise more than anything else how much we rely on language when actions, gestures, body language, and facial expressions can be used to communicate just as effectively.
When I told my most adept students about seeing the movie, they asked me if I'd understood, looking doubtful. After giving them a summary of the plot and explaining the relationships of various characters to each other, they confirmed that I had indeed understood the movie and even gotten some of the verbal jokes. And all the girls knew exactly who I was talking about when I told them I cried over the handsome guy who had died ;)(winky face).
The movie experience itself was only a little different than back home. The theatre had its scheduled posted outside its doors. Once inside, it was difficult to find the correct theatre as we couldn't see any signs and the theatres aren't all off of one big hallway. A different flight of steps leads up to each different theatre. There's a concession stand and bathroom outside each theatre rather than in a central location. Also, seating was assigned, but the seats were much roomier.