Katie and Eric left Friday morning to continue their honeymoon. For us, more work and play at Picaflor lay ahead.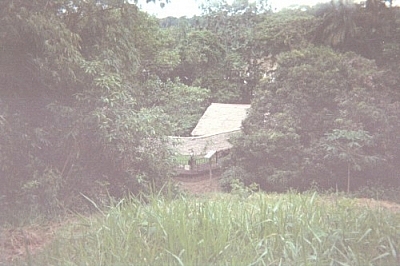 That day, Pico set Johanna and I to weeding the garden. Johanna really enjoys it, but I don't like gardening. In an impossibly bad mood, I shared my feelings with Johanna so that she would at least understand what was eating at me.
I wasn't expecting her to be able to help, but she came up with the awesome idea that I clear the paths in the seriously overgrown garden (it had been Laurel's), that way I wouldn't have to be selective about what I ripped out of the ground.
It worked! Soon I was happily removing everything in sight, though I paused to moan about the ladybug habitat I was destroying. Again, Johanna to the rescue. She remarked that since we were only throwing the weeds over the fence of the garden, the ladybugs didn't have far to go to recover their habitat.
I definitely like her positive thinking! She made work and play at Picaflor synonyms ;)(winky face).
For real play, Johanna and I went "swimming" yesterday. Picaflor's swimming hole is in the Quebrada Aguajalito, a small stream that dumps into the Tambopata. It's far less muddy and the entry point into the water is actually sandy. The point where the water gets deeper is perfect to just sit, water covering your shoulders. Who needs to swim when you just want to cool down?
Imagine, though. The first time I go skinny-dipping, I choose to do it in a waterway with caimans, anacondas, and piranhas! It was Johanna's bright idea — she didn't want to carry anything on the 20-minute hike out to the swimming hole. And I was bright enough to imitate her. But there were no horrific naked deaths, so all's good!