Six years ago, I went on a trip that took a lot of guts for me to take. I'd only been back from South Korea for about two months, but I was keen to get away from Ontario for the winter. So when I decided to take a Western Canada road trip and go backpacking British Columbia, the biggest hurdle was how to get there.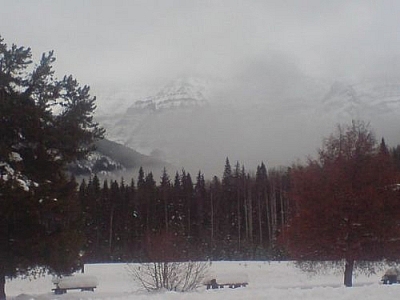 Heading Out To BC On a Western Canada Road Trip
What I would do and where I would stay were easy to figure out. Since the Olympics would be starting soon, Vancouver was buzzing with activity and job opportunities. I would get a gig as a server in some sports bar… And I had a friend out there who said I could stay with her.
But I wasn't prepared to pay for a bus ticket, so I posted to Craigslist and Kijiji for a rideshare. I'd been on several rideshare road trips, yet I was surprised when I received an offer for a ride from French River all the way to Vancouver, from a trucker who'd seen one of my posts. He sent me pictures of his rig and his dog, and we made plans to meet at a convenient spot.
I was nervous. I was glad to be getting a guaranteed ride the whole way, and it was nice to know I'd always have a free place to stay since the truck was equipped with bunk beds, but I wasn't sure how I felt about committing to such a long ride before I'd even met the driver.
So, I asked my father to come drop me off — a precaution I took since he's a good judge of character. Once there, he shook the driver's hand, talked to him for a bit while I gathered my things, then hugged me goodbye.
I couldn't believe it! I thought for sure he'd tell me I shouldn't go, but I just hugged him back and got in the truck. And so began my first Western Canada road trip!
It was already dark out when we left French River, but still I was excited. We didn't drive all that far, stopping in Wawa for the night.
The next day, I got my first-ever views of Lake Superior as we drove on and out of the province, spending our second night near Portage la Prairie in Manitoba.
By this time I was getting used to rolling with the pros, and sharing jokes with other drivers over the CB. One of the drivers always seemed to have another yarn up his sleeve, so I succumbed and called my father to get a few more good ones to tell ;)(winky face).
On the third day, we drove into Saskatchewan, and checking the weather forecast, discovered that the mountain passes through Banff were snow-covered. Since those through Jasper were clear for the moment, we headed north through Saskatoon, crossed into Alberta, and stopped on the outskirts of Edmonton for the night. We would save the mountains for the last leg of the trip.
At last, we were on our way into BC! We stopped to chain up before ascending into the mountains. The scenery was stunning, pine trees peppering the snow-covered mountains rising up beyond the clouds in every direction.
Every day we stopped to walk the dog, a little Pomeranian. This day we stopped at Mount Robson Provincial Park and walked for about an hour. When we returned, we climbed into the truck, but something was wrong.
Richard, the driver, cursed his bad luck for not leaving quite enough room to turn the truck around the bend in the parking lot as we got stuck in a snowbank. He had to call a special heavy equipment tow truck; and then we waited.
Another hour! Finally, the tow truck moved us a few feet, and we were on our way again. I snoozed away most of the afternoon, hoping to make the rest of the voyage quicker.
It was dark when we reached Vancouver. After dropping off his load, Richard drove me downtown, only a block or so from my friend's place. Amazing! I've always been incredibly grateful to Richard for this fun Western Canada road trip.
Returning to Ontario On a Western Canada Road Trip
Four months later, once I was ready to leave Vancouver and begin another Western Canada road trip, I found a rideshare to Kelowna. I stopped there for over a week as I worked on a writing contract, and did a little hiking at Knox Mountain as well.
From Kelowna I took a bus to Nelson to visit my great-uncle and fellow writer, Aurélien Dupuis. On the morning of my departure, he drove me to the highway and dropped me off at a spot where he assured me I would get a good ride.
Sure enough, within five minutes I was on my way, this time to Invermere to visit an old hometown friend. Another few days later, I stuck my thumb out again, which got me to Banff, where I had to wait the longest yet for a ride, about 20 minutes.
Most of the people who picked me up were fatherly figures who told me I reminded them of their own daughters, so they were happy to offer a ride to make sure someone else's daughter was safe (smiley face).
My next ride dropped me off in Calgary, where I visited with another old hometown friend for a few days, and explored a little of the city and its parks.
From here I looked online for a rideshare, and found one the whole way back to Ontario! The first afternoon, Annie let me drive her car while she took a nap through the Prairies.
Stifling hot, all the windows closed, no radio, the glare of the sun on the road blurring my vision, my head nodded once and my eyes shut for a moment. Annie awoke as the car swerved, and grabbed at the wheel. We spun off onto the grassy area separating the divided highway, coming to a stop at a 180 degree angle from our direction. Another car stopped to see that we were alright, and since I was shaken up, Annie took the wheel as we continued our Western Canada road trip.
We CouchSurfed in Winnipeg that night. Our host kindly allowed us to arrive around midnight, then even took us and Annie's dog for a walk in one of the city parks. It was late by the time we got to bed, but we still got up early to carry on our drive.
We crossed back into Ontario on our second day of the trip, and stopped for the night in Nipigon. The next day, I got Annie to drop me off in Blind River as she continued on to Elliot Lake. There I waited for my parents, who insisted on coming to get me even though I was by now a seasoned hitchhiker ;)(winky face).
Conclusion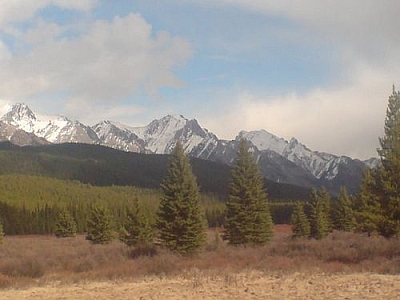 Each direction of my Western Canada road trip was a lot of fun, though they were both so very different. It was definitely nice knowing I had a safe ride with accommodations the whole way out there, especially since it was winter. On the other hand, the uncertainty of the road has its appeal!