While I was backpacking British Columbia, I used CouchSurfing a lot to meet people, join social events, and organize activities. It's one of the many uses of CouchSurfing! So as I was busy exploring Vancouver, I also planned a trip hiking the Sunshine Coast Trail.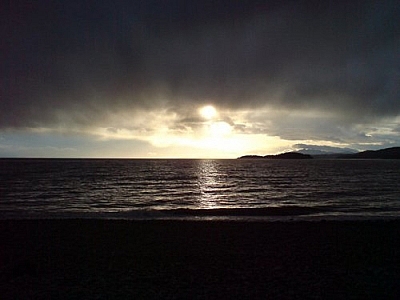 A week or two beforehand, our group had met to discuss the trail plan and other backcountry considerations, namely food, bears, and cougars. The members of the group were all CouchSurfers backpacking British Columbia: Estelle from France, Max from Belgium, Karel from the Czech Republic, Gabriel from Québec, and myself. Max and Karel and mountaineering experience, but overall, we were a rather inexperienced group.
Still we made our plans, and called the Sunshine Coast Trail office a few times to check on weather and snow conditions. Just before leaving for Squamish, I'd been told that the mountains were clear of snow, so when we left Vancouver, finally ready to go hiking the Sunshine Coast Trail, we were in high spirits despite the cloudy skies.
We jammed all our gear into Gabriel's tiny car trunk and much larger rooftop cargo carrier, then squeezed ourselves into the car. Before long, we were at the ferry crossing to Saltery Bay, and disembarked to stretch our legs. The scenery on the ride across was amazing!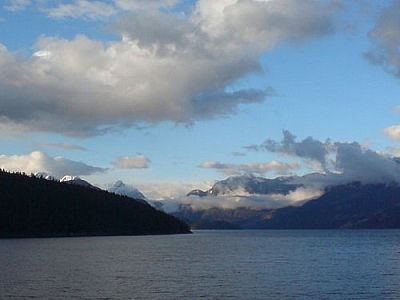 We didn't have very far to go once back in the car — we'd just be staying at a campground that night. We'd start hiking the Sunshine Coast Trail the next day.
We set up our tents, made a campfire, talked and laughed, and took advantage of having the cars nearby to eat some treats before roughing it for four days.
Our intention was to cover only a small portion of the trail, but it would still be a challenging hike, covering just over 50 kilometres. The tallest peak we would summit would be Mount Troubridge at 1305 metres.
We began hiking the Sunshine Coast Trail early in the morning, and the day went well. There was only one minor incident, as far as I recall. Gabriel had mentioned pain in his chest a few times, and finally not being able to take it anymore, he lifted his shirt and discovered a tick!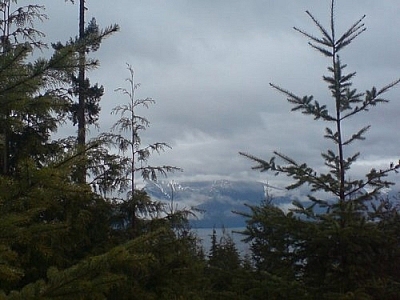 Luckily, someone had a tweezer. The tick was implanted not far below Gabriel's heart. I carefully removed it without breaking the head, but this was my first experience with ticks &28212; I didn't know that we should preserve the tick in alcohol and have it submitted for testing. We simply discarded it. But from then on, I started carrying a tweezer in my first aid kit — and it's a good thing, too!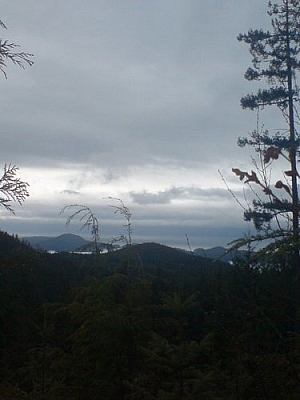 That night, we set up camp by the side of a mountain lake. We arrived at our site just in time to set up our tents before dark. We got a fire going, ate dinner, and relaxed before settling each into our own tents.
Everyone was awakened by the thunderstorm that night. I don't know about the others in the group, but I wasn't concerned. I'd brought rain gear. I fell back asleep.
The next morning, we looked towards Mount Troubridge on the other side of Rainy Day Lake, where we were camping, and noticed that its peak was now snow-capped. Uh-oh.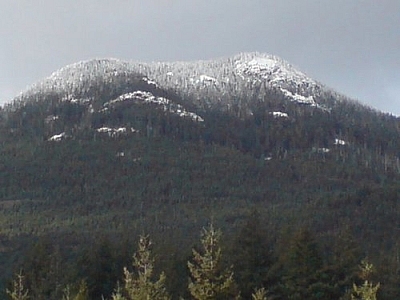 We decided to carry on hiking the Sunshine Coast Trail anyway. It couldn't have snowed that much overnight, right?
What a mistake! The first few hours were fine, not a sign of snow. But once we crossed a hydro access road, it wasn't long before the snow was so deep that only Karel had enough strength and endurance to break the path forward for any extended period of time.
Everyone had rain jackets, hats, and gloves, and some form of protective pants. But it wasn't enough. We frequently talked of turning back, but no one wanted to quit climbing the mountain.
Once we got to the summit, though, we wasted so much time looking for the trail onward. It must have been buried in snow somewhere… At this point, we were probably only about three kilometres away from our next campsite.
But by this time, we realized that if we continued hiking the Sunshine Coast Trail, we'd have to camp in the snow that night. And who knew what the next portion of the trail would look like, or whether more snow was on its way? The forecast hadn't called for any rain or snow the previous night, so we couldn't rely on the information we'd gathered before we'd left.
Someone suggested that we turn back and take the hydro road down the mountain, otherwise we'd have to camp at Rainy Day Lake again, and we were all wet and cold. We were able to slide down on our feet a lot of the time, so it went pretty fast until we got to the road. If only the way up had been so easy!
The hydro road took us all the way down to the parking lot where we'd left Gabriel's car. It took hours, and it was already dark when we got there, but we were too happy to have gotten out of that situation so easily to care.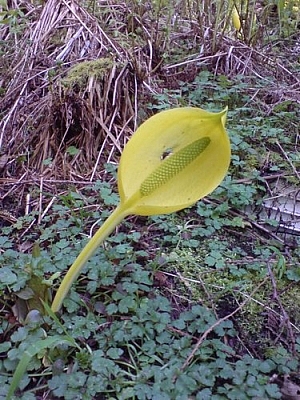 We drove to Powell River and found a youth hostel where we could spend that night. Once we were warm and dry, we found a pub that was still serving dinner. We were famished, and we couldn't very well start a campfire and cook our food under our bunk beds! After we ate, we stuck around for karaoke night ;)(winky face).
But since we thought we'd be away for two more days, the next day, instead of driving back to Vancouver right away, we took our time. We went for a walk along the seashore, and played a game of mini-putt before finally getting back on the ferry at Saltery Bay. And while on the boat, we sat on the floor and played cards.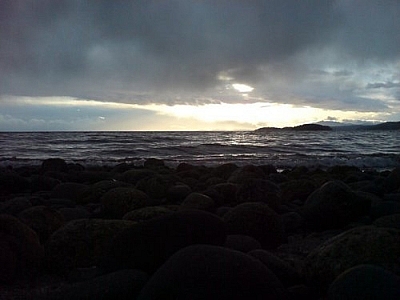 We returned to Vancouver, where I only spent a few days before completing my Western Canada road trip on my way back to Ontario. Although hiking the Sunshine Coast Trail didn't go as planned, we still had a lot of fun, got to know some great people, saw some amazing scenery, and learned a whole lot about camping in mountains!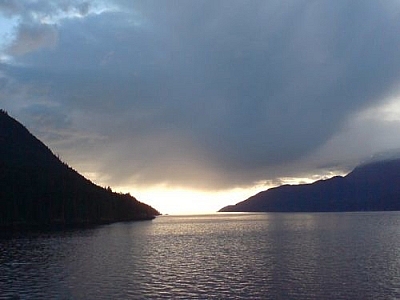 All in all, we must have hiked about 30 kilometres, not counting the distance covered on the hydro road. It turned out to be a memorable two-day trek, and it was an experience I wouldn't trade for the world (smiley face).
More Info on Hiking the Sunshine Coast Trail
The Sunshine Coast's Recreation Map and Activity Guide is available from the Powell River Parks and Wilderness Society.