Most of us tend to spend the holidays visiting with family and friends, though some people like to travel, since for many, this is also vacation time. Either way, sometimes it's hard to come up with something different to do, especially for special occasions. If you'll be celebrating the holidays in the North, here are some festive ideas for a jolly good time throughout Ontario.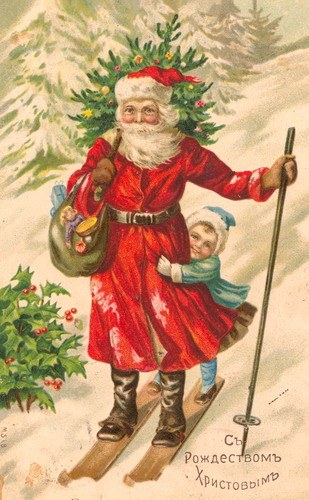 Celebrating the Holidays Outdoors
For many, Christmas in the North means snow, and lots of it! If you're looking to play with the fluffy stuff during the holidays, the activities below are sure to get you going.
Christmas Bird Count
Scenes of winter birds flitting about delight us every year on greeting cards, gift tags, wrapping paper, seasonal decorations, and even, television and movies. Why not count those winter birds for a good cause? 'Tis the season for giving back, after all!
Every year, the Christmas Bird Count takes place all over North America between December 14 and January 5. It is coordinated by the National Audubon Society along with partners such as Bird Studies Canada and Ontario Nature. This avian census brings volunteers together—spending the day outside and sometimes hiking many kilometres—to count birds and bird species. The valuable scientific data gathered helps in assessing the health of bird populations.
The volunteers have a lot of fun, too! Activities are different at every event location, but for instance, this year in the Windsor area, the Point Pelee National Park Christmas Bird Count will be followed by a chili dinner at the Visitor Centre. It takes place on December 19, beginning at 8 a.m. Those interested in participating should contact the park at pelee.info@pc.gc.ca.
To join a Christmas Bird Count, make sure to check out the NAS and BSC event maps to find one near you. Some have registration deadlines, some are already full, and some require birding experience, so make sure to get in touch with the person listed for specific details before heading out.
If you're celebrating the holidays with youngsters, then take a look at the Christmas Bird Count for Kids. The Sudbury event will take place on January 7, 2017, from 9 a.m. to 2 p.m., leaving from the Lake Laurentian Conservation Area Nature Chalet. To sign up, email lakelaurentian@gmail.com. Or, find another location on the CBC4Kids event map.
Winter Sports
Most winter resorts and lodges offer a variety of seasonal activities to keep you busy. Take a look at this list of Christmas and New Year's Eve getaways in Ontario, for starters. Some unique things to do include:
Native Crafts
While you're celebrating the holidays in the North, you'll need to keep warm! Lure of the North offers complete DIY kits you can order online in time for the holiday season. Learn to make your own winter moccasins, mittens, and anoraks—the kits make a great gift, but so do the finished products! Or use them as a family-friendly activity before or during the holidays.
And while you're at it, why not go the extra mile and make your own traditional snowshoes or toboggans? Imagine how exceptionally satisfying your expedition will be if you've made most of your own gear (smiley face).
Celebrating the Holidays Traditionally
If you're tickled pink by the seasonal postcard-perfect scenes of brightly lit, snow-covered rural villages, or the old-fashioned scenes of cozy, gaily decorated living rooms, then here are a few traditional activities for celebrating the holidays in the North.
Victorian Christmas
Visit a Victorian homestead during the Christmas season at splendidly decorated Bronte Creek Provincial Park in Oakville to learn about the holiday traditions of the era. Until December 18, you can put on a Victorian costume while posing with Santa, make hands-on crafts with historic tools, experience seasonal stories and songs in a farmhouse parlour, and more.
Holiday Spirits
For a truly unique twist on the traditions of Victorian Christmas, fans of Charles Dickens's A Christmas Carol should go on a ghost tour! In Toronto, the Nightmare Before X-mas at Black Creek Pioneer Village and the Ghosts and Spirits of the Distillery – Nightmare After X-mas tours explore unusual and creepy holiday traditions from around the world.
Of course, there are other traditional holiday events and activities at Black Creek Pioneer Village as well. Until December 23, learn about holiday customs, marvel at old-fashioned Christmas feasts, try some Victorian dancing, and hear a classic Christmas tale during story time with Santa. In the evenings on select dates, you can also take a lamplight tour of the decorated village, aglow with the flickering of candles and fireplaces.
Holiday Film Festival
It's become a family holiday tradition for many to watch an old seasonal favourite movie or two in the month leading up to Christmas. New this year, see classic holiday family films almost every day until January 8 at the Science North IMAX theatre in Sudbury. Admission is only $6 per person, but you can save an extra $2 by printing a discount coupon. On certain event dates, you can also watch a film while eating pancakes in your PJs.
Celebrating the Holidays with Winter Lights
Despite the dark and dreary greys of winter days, nighttime is known for its festive brilliance. Holiday lights and seasonal displays twinkle and shine, brightening our hearts with childlike awe. Add some Christmas sparkle to your plans with the following suggestions.
Festive Fireworks
Every Saturday night at 8 p.m. in December (plus on Christmas and New Year's Eves), there will be fireworks over Mill Pond at Blue Mountain Village near Collingwood.
Christmas Eve Torchlight Parade
Catch a show like no other at Hidden Valley Highlands Ski Area in Huntsville. Watch from the chalet or the base of the slope as instructors and patrollers ski downhill to form a beautiful procession of lights. Santa even joins in the parade!
Christmas Panorama River of Lights
From 5:30 to 11 every night until January 1 in Simcoe, be dazzled by thousands of lights and themed displays as you stroll about downtown or take in the sights on a horse-drawn trolley.
First Light
Over 5,000 candles illuminate the paths at Sainte-Marie among the Hurons in Midland until December 10, where traditional activities from the 17th-century can be experienced. See a historic blacksmithing demonstration, make dolls from corn husks, and on Thursday evenings only, enjoy a fireworks display. Plus, listen to traditional First Nations drumming and singing, French-Canadian folklore songs, and seasonal favourites performed by choirs.
Alight at Night
At Upper Canada Village on the St. Lawrence south of Cornwall, close to one million lights adorn the grounds, creating a magical backdrop which can be seen from the top of the park's Ferris wheel at a height of 50 feet! Other holiday activities available until December 23 include old-fashioned carolling, a sound and light show, and a mistletoe maze.
Magical Holiday Lights
Is it possible to list Christmas-themed events and activities without mentioning Bracebridge's Santa's Village? Until December 29, the spectacular display of SantaFest captures the wonder of the season, with plenty more to keep the family occupied.
Portage Flyer Christmas
On December 17 from 5 to 8 p.m., surround yourself in the holiday spirit at the Muskoka Heritage Place Rotary Village Station in Huntsville, where you can enjoy complimentary cookies and hot chocolate, and sing a few Christmas carols while waiting for the train to arrive. Then embark on a 1-kilometre journey along the Muskoka River to Fairy Lake, where Santa awaits. The open-aired coaches are covered with thousands of lights, sure to be an impressive sight.
Christmas Lights across Canada
Every year, each of Canada's capital cities presents dazzling illuminated displays. If you're celebrating the holidays in Ontario, then check out the ones in Ottawa and Toronto. And if you'll be in the westernmost parts of the province, it's not all that far to see the one in Winnipeg, either. The regular displays will be up until January 7, but on Parliament Hill, a winter lightscapes show is also presented every night until December 25 from 5:30 to 11 p.m.
Conclusion
There are a lot of options to choose from, but no matter where in Ontario you'll be celebrating the holidays this season, I hope this list helps make planning your outing a little merrier.
Happy Holidays!
Popular in Arts & Culture
Add some Christmas sparkle to your plans with these suggestions :) Click To Tweet