There are several good hiking opportunities on Manitoulin Island, though Misery Bay is the only operating provincial park on the island. Even so, it's unique in that it's not staffed. Instead, it's run by volunteers. Because Misery Bay Provincial Park is operated by its Friends organization, entry fees are also lower than at other parks. At $2 per adult or $1 for students and seniors, it's easy to spend a day here! And with four year-round trails to discover and an eco-friendly, solar-powered Visitor Centre to explore, who wouldn't want to?
We did just that a few weeks ago, and were rewarded with magnificent shoreline scenery. As usual, the day was not without its adventures ;)(winky face).
We began by checking out the Visitor Centre since we intended to hike all 20 km of the park's trails, and we didn't expect to be back before closing time. We're very glad we did, because thanks to the computerized interactive display, we were able to identify many of the fascinating rock formations we saw along the trails.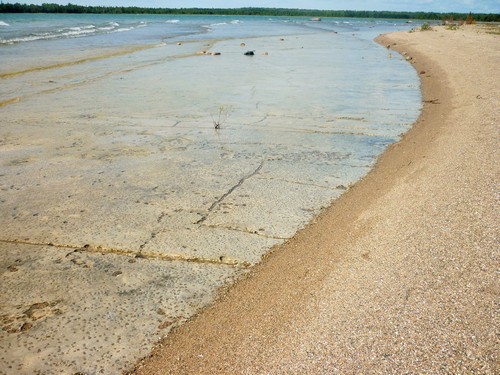 As we departed from the Visitor Centre, we followed the only trail marker in view and turned towards the right, even though we'd seen people coming from the left. We thought nothing of it, assuming we'd be returning on a loop trail.
We walked along a wide, well-cleared trail, and although we noticed there weren't any trail markers, it was obvious that they weren't needed, so we continued on. About 10 minutes later, the trail ended at a clearing full of old trailers and campers. There were multiple ATV trails leading away from the clearing, but without any trail markers, we were at a loss. We decided to go back and look for a marker we might have missed.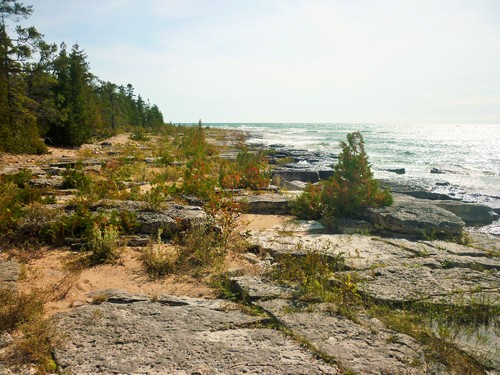 Lucky we did! We went all the way back to the Visitor Centre, where we noticed that the trail marker we'd followed to the right was now pointing left. Directly ahead of us, maybe 20 feet, was another trail marker. Evidently, this was the correct direction…
There were a few different tour groups running around outside while we were in the Visitor Centre — a kid must have played a prank with the marker, and a volunteer must have noticed while we were gone. We knew we'd been duped, but moved on cheerfully, happy finally to be on the right track.
Misery Bay Trail
Shortly afterwards, we reached the junction that would lead us to the Misery Bay Trail, a moderate to challenging 5 km loop that passes by "the largest open alvar pavement in the park. Old glacial beaches, alvars, glacial boulders, rare and interesting plants, glacial striations, grykes, and erratics are just some of the things" to see on this hike. 1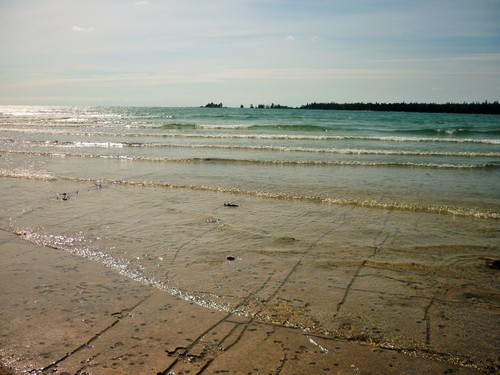 But first, hikers must cross the wetland at the bay head, which has become fairly impossible without advance preparation. The area used to be fronted by a sandy beach, but the water level has risen so much that only a muddy wetland studded with creek crossings remains. Since this is an ecologically sensitive area, it's supposed to be important to stay on the trail; yet, there was no trail in sight, the only trail marker pointing directly into the water towards the opposite shore.
We did our best, at first sticking to the Misery Bay shoreline as much as possible, then taking wide detours to circumvent marshy areas and retreating further inland to find narrow places to jump the creeks. A little more than half-way across the bay head, we admitted defeat and turned around.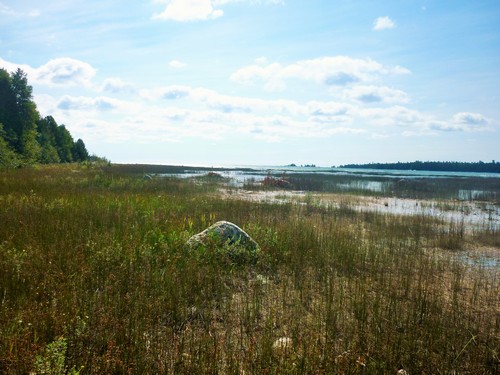 Soon we met with an elderly man whose pants were rolled up to his hips, carrying a camera and tripod, and wearing water shoes. I joked that he must already be familiar with the obstacles up ahead. He guessed that we had quit, and when we confessed that we didn't want to remove our hiking boots to wade across the next creek, he told us we'd be stripping off more than that to cross the one afterwards, which is more than waist-deep!
It seems that this is a trail to attempt in the summer months, when the water is warmer.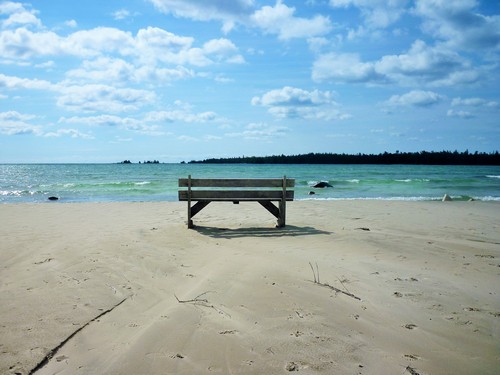 Coastal Alvar Trail
Back at the junction, we continued fairly easily along the shoreline of Misery Bay, now on the Coastal Alvar Trail, a moderate 8 km loop that interconnects with the park's other trails. We paused frequently to snap photos or film videos of the waves, which grew bigger the closer we got to the mouth of the bay.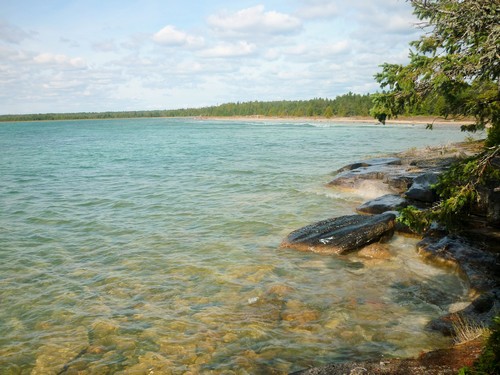 Heading around the southern tip of the park, we feasted our eyes on the distant views of Georgian Bay. Travelling eastward along the shoreline, we were saddened when we eventually reached the end of the coastal portion of the trail after an uninterrupted 3.5 km stretch.
Just after turning north to follow the trail through the woods along a glacial shoreline ridge, we reached the next junction.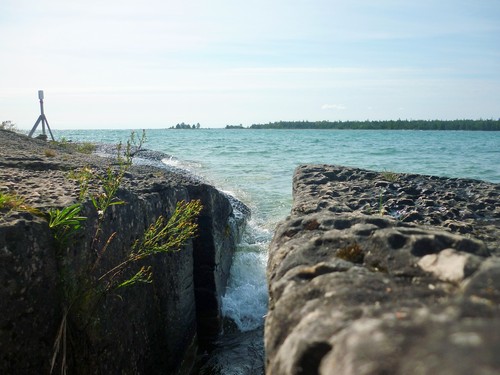 Mac's Bay Trail
The Mac's Bay Trail, an easy 1 km linear trail through a cedar forest, abuts at the Mac's Bay Conservation Reserve. Instead of the expected lookout point, there's actually a stretch of shoreline among tall reeds that's perfect cover for observing birds. Since we were there for hiking, not birding, it was a quick round trip to resume our place on the Coastal Alvar Trail and finish our hike.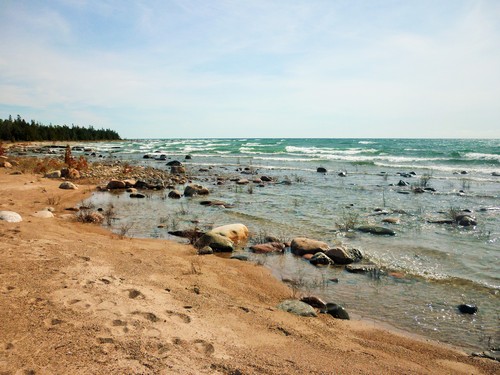 Inland Alvar Trail
We didn't get the chance to walk the Inland Alvar Trail due to our mishaps earlier on in the day, and the impending long drive home to French River. But since this easy 5 km loop joins the Coastal Alvar Trail at three or four locations on Misery Bay, we got to experience some of the interpretive signage it features, and would be more than happy to return to see the rest!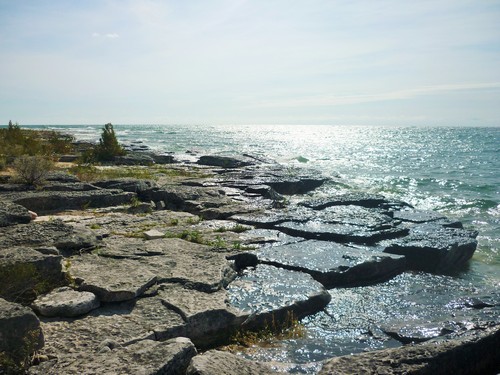 Conclusion
Once back at the now-closed Visitor Centre, we spotted a lone late-comer who was poking around, looking for trail information. Stopping to discuss a few doable options given the late hour, we also gave her our park map — it's always nice to end a hike with good trail karma, especially one that began in misfortune!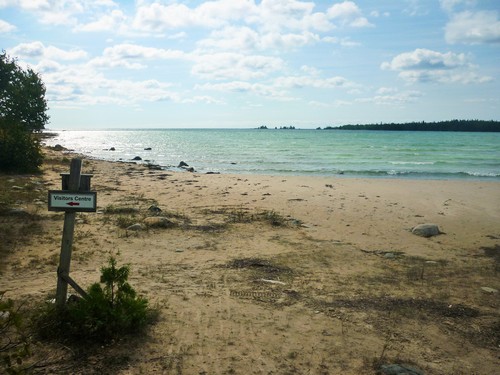 More Info on Visiting Misery Bay
Popular in Travel & Trekking
Head around the southern tip of Misery Bay Park to feast your eyes on distant views of Georgian Bay :) Click To Tweet