I recently shared our hiking meal plans and packing lists, and I gave out some great packing tips, too. Since we go on the occasional short canoe trip as well, we have meal plans, packing lists, and packing tips for casual backcountry paddlers as well. In fact, since we're always packed and ready to go, our paddling meal plans, packing lists, and tips are actually adaptations of our hiking lists.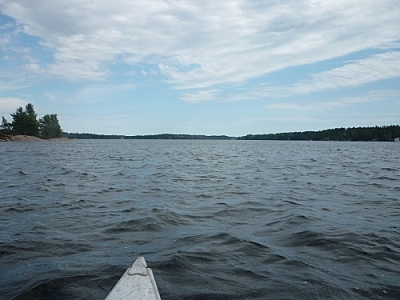 It's really simple once we take a few key factors into account. For instance, as much as we feel that the lighter the better when we're on a hiking trip, we tend to allow more weighty items when we're paddling. Not too much, since we don't want the portages to be tougher than necessary, but a little bit more variety or luxury can be okay.
Since we usually paddle in to a campsite and stick to one spot for the weekend, we haven't got much by way of special paddling gear, which is why I stress these lists and tips are for casual paddlers.
Here's how we decide what to pack on our casual paddle trips.
Meal Planning For Casual Backcountry Paddlers
Our meal plan for paddle trips is practically identical to our meal plan for shorter hiking trips. The rationale behind all our meal planning decisions is in the article Meal Plans for Backcountry Hikers, which I highly recommend to casual backcountry paddlers as well. Our meal plan for shorter hiking trips is detailed within and can easily be applied to casual canoe trips of any length.
The only thing we do differently on paddle trips is that we choose lower-calorie dehydrated meals. We've noticed that we don't burn as many calories while we're paddling, so we save the high-calorie dehydrated meals for longer hikes.
Packing Lists For Casual Backcountry Paddlers
I mention in Packing Lists for Backcountry Hikers that it's useful to think of backcountry gear in five categories: food, cooking gear, hiking gear, camping gear, and organizational gear. The same gear is needed by casual backcountry paddlers, so I recommend that article to anyone looking for advice on packing for a backcountry trip, especially since it's got a free printable hiking, camping, and cooking gear packing checklist you can download. But in addition, paddlers need another category as well: paddle gear.
Paddling Gear Packing List For Casual Backcountry Paddlers
Here are the basic items needed on a short and casual backcountry canoe trip. This list suits our needs perfectly, but experienced paddlers and others headed on longer or more difficult trips will in all likelihood find it insufficient for theirs.
Too crucial to omit!
Personal Floatation Devices (PFDs)
Call them life jackets if you will, just so long as you wear them…
We bring one per person, and ever since we broke a wooden paddle mid-trip while canoe camping in Killarney, we now also bring one of our lightweight collapsible paddles, just in case!
that
This should, at minimum, include buoyant rope, a whistle, a waterproof flashlight, and a hand-bailer, though legal requirements vary depending on the type and size of the boat, even for canoes. Most people have probably seen the standard orange plastic boat safety kit, which comes pre-packed with the essentials for boating safety.
For those who bring their own canoe on trips, you've gotta get it there first. We use foam blocks like the Attwood Car-Top Canoe Carrier Kit to transport our canoe on top of our car. We leave it all in the car during the trip, of course!
And that's it! There isn't much needed to turn a backcountry hiking trip into a backcountry paddle trip!
Hiking Gear Packing List For Backcountry Paddlers
True as that may be, combo trips require even more gear. Our paddle trips are usually short and casual because they're actually hike and paddle combo trips. We like to paddle in, set up camp, hike around from there, and paddle out.
So, while we bring all the same hiking gear mentioned in Packing Lists For Backcountry Hikers, we also bring the following few additional items:
When we're not carrying any packs, we have water bottle holders with shoulder straps which are really convenient. Actually, I also like to use one of these in the canoe, since I can strap the water bottle to one of the canoe's crossbars rather than reaching into my pack's side pocket all the time.
We bring an easily packable day bag in case the hike we're planning is longer and we'll need to bring more gear: emergency kit, raincoats, bug vests, extra snacks, etc. If we know we're not planning any long hikes, we can usually fit the stuff we need in our pockets, however, so this item depends on the trip we're planning.
Packing Tips For Casual Backcountry Paddlers
Frankly, we don't do very much differently when packing for a backcountry paddle trip. Our Packing Tips for Backcountry Hikers pretty much cover it all! There are a couple things we do, though, that make life on a paddle trip a little easier.
Our best tip is that we place everything we need during the actual paddle time in our dry bag, which we clip to one of the canoe's crossbars. That way we keep valuables protected and useful things close and handy. This includes the camera, bug vests, sunglasses, sunscreen, snacks, maps, and whatever else we may need.
We stash our backpacks in large plastic garbage bags while we're paddling, just in case. This keeps water splashing from our paddles off of our bags, plus it keeps the dogs' wet, muddy feet off of them, too. That's probably our biggest reason. The dogs are always trying to sit on top of our stuff instead of beside it!
Also, we tend to make seat cushions out of our raincoats. It doesn't matter if they get a bit wet, and it's a bit comfier on our behinds.
I clip the boating safety kit to a crossbar as well. It's easier to access and can just stay there during portages.
These are all just little things we've learned to do to make our lives smoother during casual backcountry paddle trips. If you've got any other tips we should know about, please leave a comment below!
Following Up
The Backpacking Meal Plans, Packing Lists, and Tips for Hikers and Casual Paddlers series is now complete! Check out the previous posts in the series:
Happy trails!