A week after my Northern bush excursion, I decided to try a longer walk, minus my heavy pack (I brought a day pack only). I set off from Toronto's Beaches and walked to the access point of the Don Valley recreational trail along the Lakeshore. To my surprise, it was closed for construction.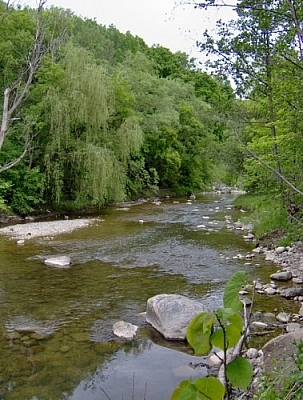 Deciding that I would skirt the construction site rather than follow the city streets (I didn't know where the next access point was), I jumped a fence and followed the construction site's fence. Alas, I still ended up on the site itself.
I soon bumped into a worker and explained my situation. He offered to escort me across the site, but we were waylayed by one of his supervisors. Forced to turn back, he brought me before another of his supervisors, who drove me two minutes to the other side of the site (we couldn't walk for fear of meeting the first supervisor).
I finally got back on the trail, relieved that I was finally properly on my way.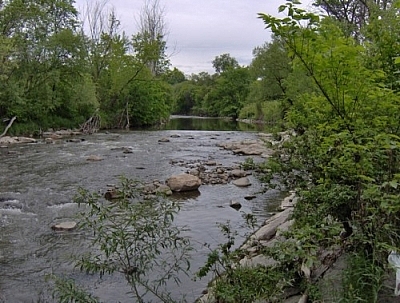 The Don Valley recreational trail, while paved, is a pleasant walk. I thought I was near Taylor Creek Park when I spotted an unpaved footpath with bike tracks. I figured some people preferred to fully escape the city's concrete and that the trail would eventually return to the paved bike path.
I followed the footpath and couldn't believe how isolated I felt! I was thrilled at finding myself in a forest in Toronto (with the occasional view of skyscrapers or apartment buildings).
After perhaps an hour, I entered a large field where the trail disappeared. I headed towards the direction where the bike path should have been, but it was no longer there, having been replaced by train tracks.
I followed these north until I saw a group of men on my left and realized that they were playing golf. I asked them my location and discovered I was nearly at the intersection of Eglinton and the Don Valley Parkway!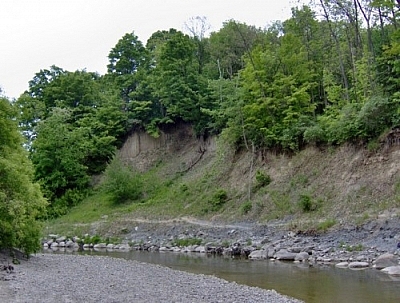 Since the rest of the train track skirted the edge of the golf course, I tried to make my way to Eglinton by picking my way through the bush.
But when I landed in an almost-dry swamp, my progress became too slow and difficult, so I returned to the railroad tracks.
I really hadn't foreseen bushing it through the Don Valley anyway.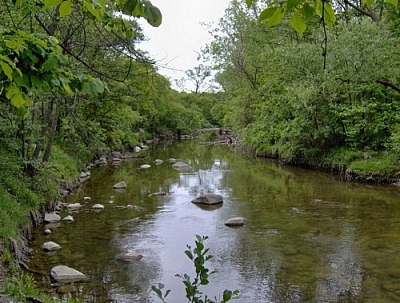 I reached Eglinton and climbed up to it, then got directions to the bike path. It had swerved westward while I had gone slightly more east. At ET Seton Park, I once again descended into the ravines of the Don Valley and started to make my way home.
I followed signs to Taylor Creek Park, expecting to return to the spot where I'd left the bike path hours earlier. Instead, I went east again, passing through beautiful scenery and coming out on Dawes Road, North of Danforth.
Lost again, I got directions and found that I was at least another 45 minutes from home, so I found the nearest subway station (Maine) and called it quits after 5.5five and a half hours of walking.