Mashkinonje Provincial Park's got some great snowshoeing trails, so we were surprised that the Blandings Access Point wasn't ploughed the few times we drove passed there this winter, and it looked like it hadn't been done all season. But on our snowshoeing trip, it wasn't a big deal — we just drove a little further on for a snowshoe hike on the Loudon Peatland Trail instead.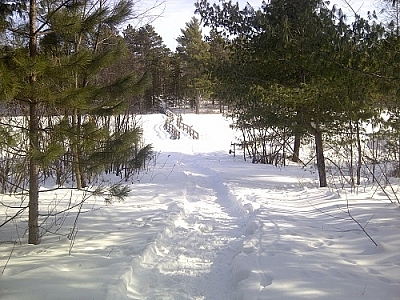 It was an absolutely gorgeous afternoon to be outside, and since the Loudon Peatland Trail is shorter than what we'd planned for that day, we dilly-dallied quite a bit, amusing ourselves by comparing seasonal differences in the landscape.
We took off our snowshoes at the observation tower and climbed up, taking our time admiring the view of the Loudon Peatland from the top.
Each of the lookout points along the Loudon Peatland Trail overlooks the Loudon Peatland, but even from the observation tower, the vastness of this large wetland can't be fathomed.
Take a look at this picture to get an idea of what approximately 1,067 metres in diameter [16,500kb PDF] looks like. Pretty amazing, huh?
All too soon, we returned to the trail head, having barely had time to get cold. At only 2.9 kilometres, a Mashkinonje Park snowshoe hike on the Loudon Peatland Trail was just perfect for a fun, relaxed afternoon outdoors.
Photos of This Snowshoe Hike on the Loudon Peatland Trail
Info and Links About Snowshoe Hiking on the Loudon Peatland Trail