For us, visiting the area's most famous historical site is an annual tradition, whether we're hiking or snowshoeing along French River to Récollet Falls. The last time we went was a snowshoe trip on a sunny day that gave us a colourful perspective of the always beautiful scenery.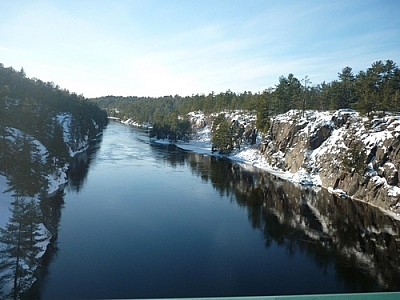 Its trail head located just outside the French River Visitor Centre on Highway 69, the Récollet Falls Trail is 4 kmkilometres long (return), and it's rated as moderate. Although the visitor centre is closed for the season, the parking lot is always ploughed, so access is easy.
Such convenience means that a lot of highway travellers stop to stretch their legs and use the trail without snowshoes. The footprints can make for a bumpy, uneven snowshoeing trail when the snow is on the deeper side.
Snowshoeing along French River to Récollet Falls takes about 40 minutes each way. There are lovely views of the river much of the way, but the best ones are at the beginning and end of the trail.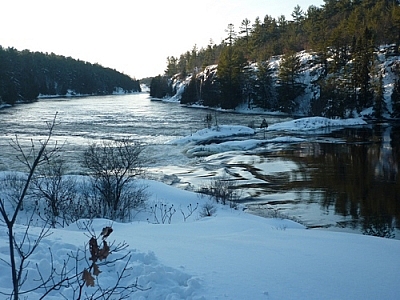 From the visitor centre, the William Small Snowmobile Bridge provides a spectacular view of the French River Gorge. Winter visitors should of course be watchful for traffic while in the vicinity of this iconic suspension bridge.
The bridge itself is an interesting attraction — it's Canada's longest cable-supported snowmobile bridge. Spanning 300 feet across, it rises 50 feet above the French River.
At the other end of the trail, more stunning scenery awaits after snowshoeing along French River to Récollet Falls. These small but powerful falls are historically known for having capsized colonizing missionaries.
The portage here, used by today's canoeists and walked by thousands of tourists, was also trod upon by the First Nations, voyageurs, and fur traders of the past.
Snowshoeing along French River to Récollet Falls is free, and it's a great way to spend a few hours outdoors.
Happy snowshoeing! (smiley face)