It's a lot of fun going to different places to discover new trails. Most recently, we ventured out to North Bay so we could go winter walking the Laurentian Escarpment Trails. Part of a conservation area, there are perhaps seven or eight kilometres * of interconnecting non-motorized multi-use trails overlooking the city.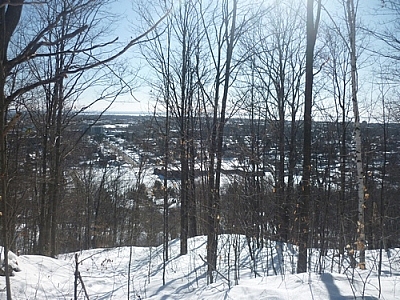 We brought our snowshoes along with us, knowing the woodsy trails would be snow-covered. As it turns out, so many people use the trails that the snow is packed down hard. And of course, wherever the trails cross or follow a pole line, snowmobiles have left their tracks. Walking in warm, sturdy footwear is more pleasant on trails like this. It also makes for a nice change from cutting fresh trails in snowshoes!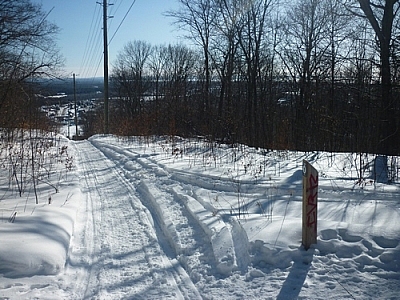 There are two main stacked loops which make up the Laurentian Escarpment Trails:
The McNutt Family Trail loop is approximately 2 kilometres

*

in total, and it generally takes about 40 minutes to complete.
The Richardson Ridge Trail loop is over 6 kilometres

*

long, and completion time is estimated at 3 hours.
While the trails are rated between moderate and difficult, we found them easy and walked both trails in about 3 hours. We took our time, stopping frequently to take pictures or to chat with other dog owners also taking advantage of winter walking the Laurentian Escarpment Trails to exercise their pets.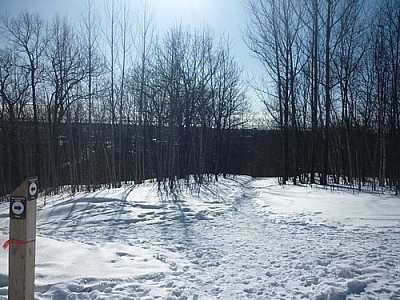 The best part of winter walking the Laurentian Escarpment Trails is probably getting to enjoy the multiple scenic views of North Bay, Lake Nipissing, and Trout Lake. These are most frequent along the southern portions of the trails, though there are also a few along the northern portion of the Richardson Ridge Trail.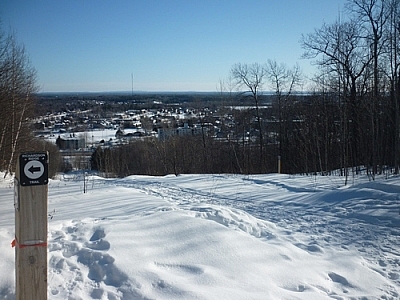 Those who relish the thrill of speeding downhill might want to spend a whole day here, for winter walking the Laurentian Escarpment Trails isn't the only activity available. Since the main trail head is located at the entrance to the Laurentian Ski Hill, there's a convenient place to warm up and get hot drinks or snacks. But if you're not a skier or snowboarder, it's still entertaining to stop and watch for a while.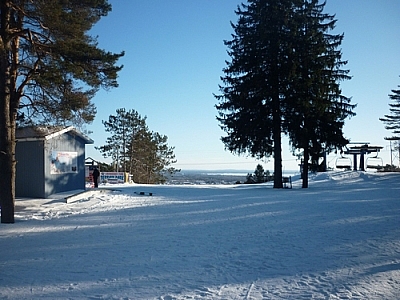 If you'll be winter walking the Laurentian Escarpment Trails, make sure to pick up a Laurentian Conservation Area pamphlet at the trail head. It includes a trail map, descriptions of points of interest along the trails, and a historical overview of the Laurentian Escarpment. There are no fees to access the trails or pick up a map, but donations are accepted.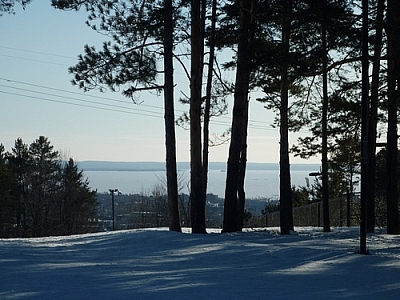 More Info on Winter Walking the Laurentian Escarpment Trails
* While the website indicates that there are under seven kilometres of trails in the conservation area, the trail map shows that there are over eight kilometres of combined trails.