Last spring, we were tempted to head south for the chance at a snow-free day hike a few weeks earlier than in our own area. We were already planning to go on a backcountry gear shopping trip to Mountain Equipment Co-op in Barrie, which would only take a few hours, so this would be the perfect opportunity to discover new terrain. Since we both love the Georgian Bay, we naturally looked for something suitable close by, thinking that exploring the Bruce Trail while hiking at Pretty River Valley and Nottawasaga Lookout seemed promising.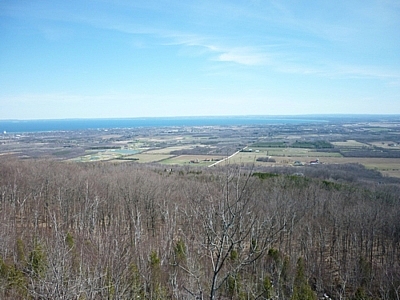 Our criteria for choosing a trail were simple:
We didn't really want to have to drive much further than half an hour or so from Barrie.
We were looking for free trails to hike.
The trail system had to be at least 10 to 15 kilometres.
We had to be able to find a nearby spot to sleep in our van, and it had to be somewhere we could easily take the dogs out.
In short, we were basically looking for something in the countryside near the city. Lol. Hiking at Pretty River Valley and Nottawasaga Lookout seemed like the perfect fit.
So on a sunny Saturday in April, we made our way to Barrie. We knew shopping at that MEC location with the dogs would be easy since the store is surrounded by a large, grassy hillside, so one of us could walk around with them while the other was inside.
Once finished shopping, it turned out that the Pretty River Valley trail head was a great place to park overnight. Thank goodness we'd found these directions online, otherwise it would have been a bit tough to find in the dark.
Parking can be found in two "obvious" places and one not so apparent location. First there is a gravel parking lot on the south side of Pretty River Road about 500m west of the Collingwood-Clearview Townline Rd. This seems to be maintained for the benefit of a snowmobiling club, but everyone uses it. Then there is the "widening" of the Pretty River Rd. about 2km west of that same intersection (usually parking on the north side). Finally, in-between those two, where the Bruce Trail crosses Pretty River Valley Road you'll find a small gravelled lot on the north side of the road (kind of hidden) that holds three cars, if the first car parks properly.
On Sunday morning, we were finally ready to hit the trails. We'd found a map for exploring this section of the Bruce Trail, which we had downloaded and printed (see the links below). We started by hiking at Pretty River Valley Provincial Park. If we had time, we would make our way to Nottawasaga Lookout Provincial Nature Reserve before heading back home.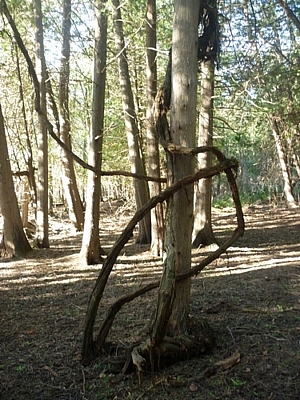 From the Pretty River Valley trail head (located at 45.4 on the map), the route we chose took us through a wooded area until we reached a stream. We followed along the bank, which was lined with cedar trees.
We soon gained elevation, and left the main trail to follow the John Haigh Side Trail, where at 540 metres, the highest point on the Bruce Trail can be found.
Instead of following the Bruce Trail into the Petun Conservation Area, we chose to walk on the 6th Sideroad and re-enter Pretty River Valley Provincial Park from the Russ McConnell Side Trail.
Once back on the main trail, we ducked onto the Pretty River Side Trail to return to our vehicle. We had a bit of time left to check out Nottawasaga Lookout Provincial Nature Reserve before having to drive home.
Although we had a bit of a tough time finding the Nottawasaga Lookout trail head, we managed ;)(winky face). Unfortunately, it took a chunk out of the time we had left. Still, we were really excited to see the Standing Rock and Caves Side Trail. Since we'd since some lovely views of Nottawasaga Bay while hiking at Pretty River Valley, we decided to forego the lookout trail in favour of the caves.
Are we ever glad we did! The experience was definitely worth it — it was surreal down there! Not really caves, but rather, a series of winding crevasses, the atmosphere was completely different.
We'd been hiking all day in nothing more than sweaters, spring blooming all around us. Now, despite the sunshine, we put on jackets and gloves. Not only was the temperature noticeably lower, but the ground was still snow-covered and ice still clung to the rocky cave walls.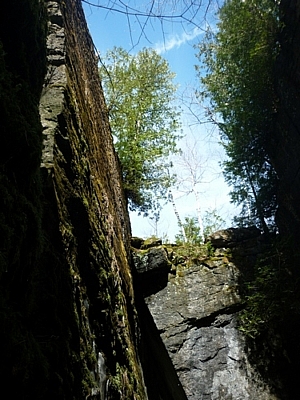 Once back on the trail on the other side of the caves, we debated looping back along the main trail to our vehicle. But the caves were so cool, we opted to return the way we'd come instead. Besides, the dogs were thrilled to be rolling around in the snow (smiley face).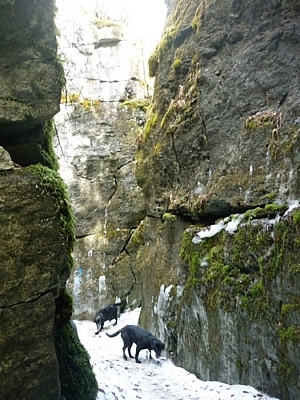 Exploring the Bruce Trail while hiking at Pretty River Valley and Nottawasaga Lookout was a lot of fun. Our hike wasn't exactly a day trip due to time constraints, but the Bruce Trail continues in either direction from both parks, so it would be easy for those with more time to extend this hike.
Info: Hiking at Pretty River Valley and Nottawasaga Lookout While Exploring the Bruce Trail
Bruce Trail
Pretty River Valley Provincial Park
Nottawasaga Lookout Provincial Nature Reserve