When I set myself a goal, if I put it in writing, I'm much more likely to achieve it. Posting my Hiking Hit List for this year didn't so much feel like making a commitment than as making a reservation. I got super-excited to see some of the special spots I'd been dreaming about all winter, feeling like I'd booked a flight and pumped for a vacation. Well, it's been an awesome spring which introduced me to new trails and reacquainted me with some beloved paths. We've already done four of the seven spring day hiking trips on our list!
Spring Day Hiking at Dokis First Nation
We only hiked the two shortest trails on this first drive out to Dokis First Nation, the Tikibi and Chaudière Trails, which pass by lovely views of the French River, including the Chaudière and Cradle Rapids. We'll definitely make another day trip out there to hike the 9kmnine-kilometre--linear Papase Trail this summer! This lone spring day hiking excursion was certainly not enough.
Spring Day Hiking at Arrowhead Provincial Park
This day excursion to the Huntsville area turned out to be an expensive weekend adventure which convinced us we should sign up for CAA.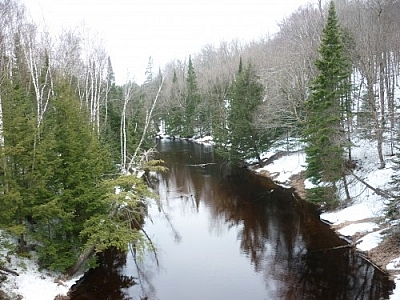 At the end of an easy spring day hiking trip, we had a long drive back home on remote roads, so we decided to stop for gas at the first Northbound exit on Highway 11, in a little town called Novar. We filled up and made a few stops and turns on the way back to the highway, but the last stop really was the last for us.
Mechanically uninclined, all I know is some kind of balls or joints or something broke and the next thing we knew, the front of our vehicle was sinking. Marc managed to pull over enough to get us out of the intersection and I jumped out to see what had happened. A lady in a stopped car was staring open-mouthed, so I knew it had to be bad. Sure enough,  the front driver-side wheel well was resting on the tire. The woman offered to help, and finding out that our cell phone battery had died, she brought us to her friend's place a few houses down to call home and wait for the tow truck.
Luckily, I have a cousin who lives in Huntsville, so she was able to recommend a tow truck company and mechanic. The tow truck driver was nice enough to bring us and the dogs to her place on the way to the garage, so we spent the night there while waiting for my father to come get us the next day. A few days later, we made the trip back down to Huntsville yet again to pick up the car.
So, we've had two car incidents in less than one year (recall the even worse situation that stymied us in Temagami after our Rib Mountain trek). That's enough for anyone to swear to sign on with CAA! ;)(winky face).
Spring Day Hiking at McCrae Lake Conservation Area
This was a beautiful spot and we wish we'd had more time to explore since the trail continued on from the lookout. This is one to remember to go back to for more spring day hiking next year, for sure…
A few tips to those heading here for the first time:
The trail head and parking lot are located on the Southbound ramp at Georgian Bay Road / Crooked Bay Road (Highway 400, Exit 168).
Yes, that's right, actually on the Southbound ramp. We never would have found it had we not seen the one lone car drive by who oh-so-thankfully stopped when we waved it down. We had been to Barrie that day for some shopping at MEC, so we were already Northbound and there was no way we would have tried to go Southbound because we didn't want to end up having to go back South one exit to turn around.
It's a bit tough to find the actual trail. There's a large wide path down to the lake which seems to end there. We just headed uphill to the left and explored the bush until we found the trail we knew would lead to the lookout point. It was easy to follow once we found it, but on the way back, we lost the trail again around the same place we had found it and just decided to head back down the hill the way we had come.
Spring Day Hiking at Mashkinonje Provincial Park
We finally did the periphery loop of the Mashkinonje trails, which we calculated at approximately 17 kmkilometres. Despite the length of the loop, the trails that skirt the park are easier than Atakas, so the day really wasn't much longer, if any at all, than if we'd done either the northern or southern loops using Atakas to cross the park.
Our route for this spring day hiking trip began at Samoset Trail, joined up to the Lapin Beach Trail, continued along Lake Nipissing via the Coastal and Pebble Beach Trails, cut across Martin's Pond Trail and then down the ridges of Heron Trail back to our car at the Samoset trail head.
Spring Day Hiking at Pine Creek
Close to home and a great place to see wildlife if the Spring isn't too wet…