After breakfast on Saturday, I headed uphill from Yumani, hoping to find some of the well-marked trails I'd heard of to go hiking on Isla del Sol. Thinking I'd found one, I followed a clear path.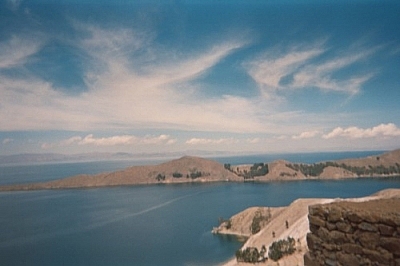 Isla del Sol itself seems kind of dry and brown. Can it be the time of year? It needs more verdure!
But the surrounding scenery is absolutely sublime! Across the lake in every direction, snow-capped peaks rise into the sky, fuzzily mixing with the clouds.
After a short while, the trail I was following disappeared but I quickly found another one. This happened several times until I found myself on a mountainside.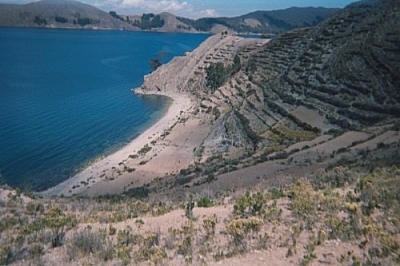 I pondered what to do. My first thought was to go back the way I'd come from, but looking down, my legs got shaky and I decided that going up would be easier.
There were several ledges that I could see to the top of the mountain. Since I'd checked out of my room already, I threw up my two small bags to the first ledge and began to climb, repeating the motions of throwing up my bags and following after them.
I was taking a breather on the second or third ledge when I looked up to plan my next route.
Holy shit! A donkey was staring down at me!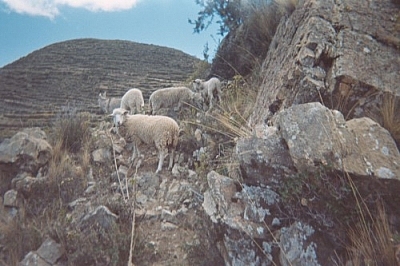 That settled things. I knew there had to be a trail nearby, otherwise how else had the farmer brought his donkey there? They tie up their animals with fairly short ropes so the donkey couldn't have wandered off on its own.
I chose to avoid the ledge where the donkey was standing and went right instead. When I reached the donkey's level, I saw several sheep, too.
I climbed up just a bit higher and saw some indigenous farmers — men, women, and children — tilling the soil. At last I'd found a trail!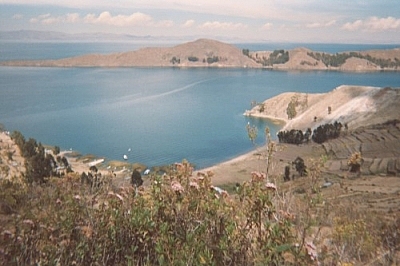 I soon found a nice rock where I sat down for a snack. I sat for at least 30 minutes, admiring the view.
Then I returned to Yumani the easy way. I must only have been out there about 1.5 hours, but I realised that I wasn't in a hiking mood after my unexpected adventure climbing ledges surrounded by a barnyard.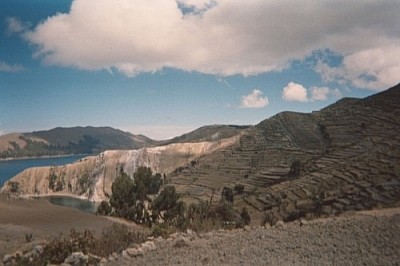 I ordered a cerveza grande at a restaurant in the village, sat on a sunny patio overlooking the lake, and just relaxed for the rest of the afternoon. Just what I needed. I guess your mind and body let you know when you've had enough action, and I've been getting plenty lately!
I took a motorised boat back to Copacabana in the late afternoon. It was a pretty good trip, alternately watching the sun sink lower in the sky and the prow of the boat cutting into the water.