I'm back in Cusco after a much-needed break from the city in Copacabana and Isla del Sol in Bolivia's Lake Titicaca area, and thought I'd try to see a bit more of the city in my spare time while waiting in Cusco to begin the next part of my trip.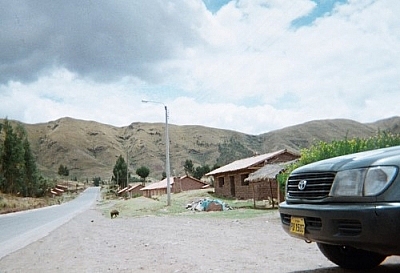 I've got mixed feelings about Cusco. On the one hand, it's got magnificent colonial architecture and it's spotted with Inca ruins, making it a very pretty town indeed. The local areas are vibrant, with superb mercados.
On the other hand, the centro and surrounding tourist districts are just that — very touristy.
Last Friday, I wandered the local streets and loved everything I saw.
Yesterday I was pretty much stuck in San Blas and initiated a desperate search for an authentic restaurant with almuerzos (set meals). Nada.
I did find a neat restaurant which funds a local school and other social programs. Beware: walking in, you'd think you'd gone back to kindergarten ;)(winky face). The food was fantastic and I even returned later on to donate some clothes.
And so now I've just visited the cathedral in Plaza de Armas. It had been highly recommended to me, but I was disappointed. Too much gold, which in either case I couldn't help remembering was pillaged from Inca sites.
The artwork in the cathedral wasn't very remarkable either. Only two paintings stood out.
At the back right, a depiction of the Last Supper shows a main course of what is supposedly a guinea pig (cuy is a traditional local dish). But, I thought it looked more like a werewolf fetus. (Halloween's tomorrow; maybe that's what's got a hold of my imagination.)
The other painting was in the last chapel at the back left. It was of the Crucifixion, very angular. Jesus actually looked broken.
If you're ever visiting Cusco, watch out for people asking for voluntary donations to enter the cathedral. You need to buy an admission ticket at the office, otherwise you risk getting kicked out, which is almost what happened to me. I left voluntarily since I was on my way out anyway, not finding anything particularly interesting.
Now, even if it's not fun to be taken advantage of like that, I do like that my money went to a local woman (instead of the Church…).
Today's a busy day as I'm nearly done waiting in Cusco. I'm getting ready for the next few weeks in the jungle. I'm so excited that I'm going to be settled down again! It's nice to break up all the travel with a little stability, but too much gets boring. I think, though, that being truly in the rainforest, surrounded by trees and animals and rivers, away from mountains and breathlessness, won't get boring in a hurry!
Popular in Travel & Trekking