I ended up staying in Cusco one more night, for the simple reason that I mistimed my arrival in Puerto Maldonado. Since getting to Picaflor Research Centre for my volunteer commitment on the day I'd said I'd be there had become impossible, I took a one-way flight to the jungle.
I was disappointed, for I was looking forward to seeing the scenery change from mountains to rainforest, but there's always a positive side. The aerial view of the Andes was majestic (that is, worthwhile).
Once I landed from the hour-long flight, I was overcome by heat and humidity… And I had to wait nearly an hour for a taxi to bring me into town since my bag was one of the last unloaded.
The taxis here are so cool: dirt bikes converted into three-wheelers with elongated chassis and open-sided bodies placed on top. There are hardly any cars in Puerto Maldonado; everyone drives a motorcycle. It contributes to the city's rough-around-the-edges feel, appropriate for a jungle town.
Getting to Picaflor Research Centre in a Peki Peki
From Lonely Planet:
In Peru's Amazon basin, boat travel is of major importance. Larger vessels ply the wider rivers. Dugout canoes powered by an outboard engine act as water taxis on smaller rivers. Some of the latter are powered by a strange arrangement that looks like a two-stroke motorcycle engine attached to a tiny propeller by a

three-metre

-long propeller shaft. Called peki-pekis, these canoes are a slow and rather noisy method of transportation.
Get South America on a Shoestring by Lonely Planet.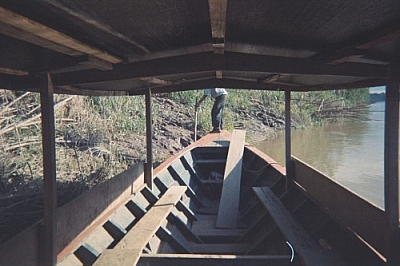 The next morning, I awoke at 6, dashed to the mercado to purchase supplies for the day, and was at the port 30 minutes before my boat's departure.
The boat was very long and fairly wide, mostly covered with open sides. I think the type of boat is called peki peki. The motors used on these boats are strange: outboards welded onto a long metal rod with the tiniest propeller at the end.
No wonder it took us 8.5eight and a half hours getting to Picaflor Research Centre!
The journey was pretty cool, though. The Tambopata River is very muddy, with a fast current, and we headed upriver.
One of my travelling companions was a young boy who warmed up to me quite a bit once I gave him some food.
The boy's mother had a 20-day old squirrel monkey (my best guess based on animal books at Picaflor). Trafficking or a deceased parent? I didn't ask…
I didn't ask to hold the monkey either, just asked questions and watched, but eventually the boy took it from his mother and offered it to me. I took it and fawned all over it until it peed on me. Not a stranger to being peed on by animals, I didn't freak out; I simply laughed it off and returned the "pet" to its "owner."
Our boat ride had been blessed with sunshine all morning, but the afternoon brought us a thunderstorm with awesome lightning. Plastic sheets lining the sides of the boat's roof were lowered to protect us from the rain, and despite a slight chill in the air, I was comfortable.
No, wait. Comfortable?
Only as much as possible considering there was no toilet. Men went over the sides of the boat, children went in buckets their mothers gave them, but women just didn't go at all.
I was waiting to see what they would do — take my cue from them kind of thing — but they all had exceptionally large bladders and never needed to pee. I was full to bursting, with all the time we'd taken getting to Picaflor Research Centre.
The boat dropped me off on the riverbank, a broken stairway hopefully leading to the lodge above.
Happily, two other volunteers, Americans named Joel and Elissa, soon appeared to assist me, having heard the boat and expecting supplies. I learned that Laurel, Pico, and their child were not at home.
In fact, Laurel would not be showing up as she now lives in Puerto Maldonado with her son, separated from Pico. Ah, so I wouldn't be living with the family, then. Pico, it seemed, had gone to Puerto Maldonado to fetch the refrigerator repairman two days ago.
Pico showed up a few hours after I did (without the repairman), brought me to my room to settle in, and left to make dinner.
Sweet deal then: he makes most of the meals.