During my first days at Picaflor Research Centre, Pico took me on a small introductory tour of the trails behind the house (reed roof, walkways, screens instead of windows — very exotic). He pointed out various things to eat, like Brazil nuts and guanábana. We even saw two red macaws, a monkey walking high above in the canopy, and staggering amounts of leafcutter ants.
These little critters are amazing. They actually have miniature roads they use throughout the forest, leading to and from their massive ant farm. They cut up leaves into small circles and bring them back to their colony, where they're cultivated to make a unique fungus which is the ants' food!
I returned to explore the trails more than once during those first days at Picaflor…
There's an abundance of wildlife around the house as well, mostly the weirdest bugs ever, but lots of other stuff, too.
There's a resident frog in the bathroom, about the size of my fist. We've got a cat called Campeona (Champion) who demonstrated her skills as a mouser to me last night. And of course, there's Ron the capybara.
That's right, a capybara. The largest rodent currently in existence.
Ron's only 9 months old, so he only weighs about 40 lbs., but he's expected to gain another 80 lbs. by the time he reaches his full size.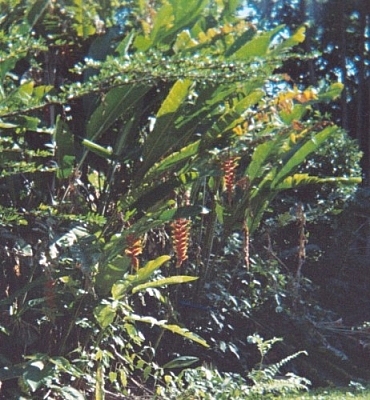 Last night, Ron tried to climb onto the hammock where Joel was reading. Joel scampered off and we all had a good laugh at Ron's unsuccessful attempts.
Otherwise, there are lots of colourful birds and butterflies. I saw a blue morpho butterfly, electric blue, and a really cool pale blue butterfly lined in black.
Today at lunch we saw an agouti, a mid-sized rodent described in as a cross between a small deer and a tailless mouse — pretty accurate, I'd say.
Between the well's pump and the water tank, somewhere along the path, there's a tarantula's nest. I haven't seen the babies within, but mama's very imposing!
All in all, there's no lack of wildlife here, considering I haven't been here three full days yet.
There are also some beautiful flowers around the house, including lobster claw bromeliads, and the continuous cacophony of birds, insects, and mammals is the most relaxing music imaginable.
So far so good for my first days at Picaflor!