Yesterday saw me crossing the Ecuadorian-Peruvian border. I travelled alone from Loja to Piura, Brandon having gone to Vilcabamba in Ecuador.
A Brilliant Bus Ride in Ecuador
The scenery from the bus was just amazing! There were some pretty cool trees which a local man told me are called ceiba. The ceiba trees I saw grow in all kinds of funny shapes, their branches twisting at odd angles and their trunks bulging in places. They remind me of a fat baby's leg, with the same soft creases at the joints.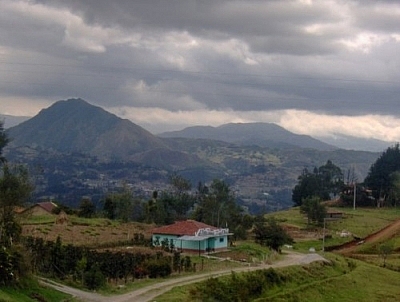 The man who pointed them out to me works on an international organic farm project that's affiliated with a university, and so he was very knowledgeable about the natural environment. My limited Spanish permitted me to understand that many trees in the Andes, south of Loja on the way to Macará, lose their leaves in the dry season due to (duh!) lack of rain.
So snow and cold aren't the only things that can create that phenomenon, eh? Didn't know.
All this leads me to say that I love bus travel. It's truly an awesome way to see a country, and it's often the only way to exchange the hubbub of a city for the tranquility of the countryside.
I'm grateful that for me, crossing the Ecuadorian-Peruvian border was a bus trip, and an experience I'll never forget (smiley face).
Anyway, I also met two German travellers, Pia and Jakob, on the bus sometime before crossing the Ecuadorian-Peruvian border. Looking through our guidebook, South America on a Shoestring by Lonely Planet, we decided on the same hostel, then figured we would share a cab.
Mishaps in Peru
After crossing the Ecuadorian-Peruvian border, once in Piura, our cabbie tried to help us change American dollars to nuevos soles, but he took us to a van that seemed really sketchy, parked on a dark street near one of the bus terminals.
Doubtful, I said I would change $20twenty dollars, but they answered it would be best to change $30thirty dollars. Holding the money tightly and refusing to hand it over until I saw what was being given to me, I couldn't help but feel uncomfortable at how shady the whole operation was. I looked up at that moment and saw a huge poster with the word "shaday" spread across it.
"Close enough to shady," I thought. "It's a sign!"
The woman in the van then caught my attention and offered me 81 soles for my $30thirty dollars. It should have been 90 soles, so I refused the transaction and returned to the cab to explain what had happened to Pia and Jacob, who don't speak any Spanish.
From there, we went to the hostel. We (I) had to haggle with the taxi driver, who wanted to charge us extra for going somewhere else before stopping at the hostel.
Then we (I) had to haggle with the man at the reception desk. Once we finally agreed on a price and he assured us that we could pay in American dollars (that's all we had), we thought we were finally free to relax.
Alas! the man didn't want to accept one of our bills because it was crumpled, and he took back our keys.
Snatching them back, we (I) convinced him that since we were satisfactorily able to pay for two out of three people, it would surely do no harm to let us deposit our bags in our rooms, go to a bank machine, and pay the balance that same night.
It must've already been 10 p.m. by this time and we were exhausted! I never had a hard time like that in Ecuador and I hope Peru won't always be so challenging.
As a result of our troubles and not being able to communicate for themselves, Pia and Jacob and I will be travelling onward together, at least for today.
Popular in Travel & Trekking