I've found myself a travelling companion for the next few days. I met Brandon, from San Francisco, shortly after arriving in Baños on Tuesday. We were sharing a dorm room and realized we had similar short-term travel plans, so once we decided on the same activities yesterday, the rest just fell into place. And that turned out to be repelling in Baños.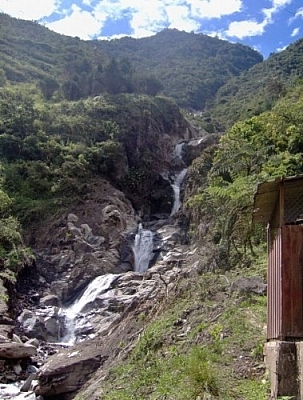 Yesterday was by far the most exciting day I've had yet in South America.
In the morning, we went canyoning, which involves climbing or repelling down waterfalls.
The first waterfall we did (twice) was about 15 metres and had a lot of water. The pressure was so hard on my legs that I didn't think I would be able to avoid slipping and breaking my teeth.
Miraculously, both descents went splendidly.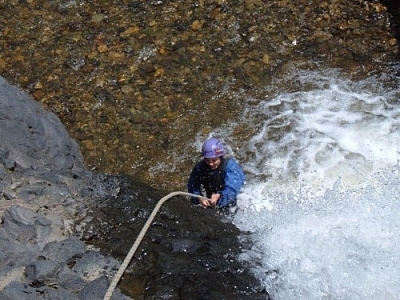 The next two falls were smaller and had less water — no problem there!
But when we got to the last fall, I seriously started to doubt our guide's sanity.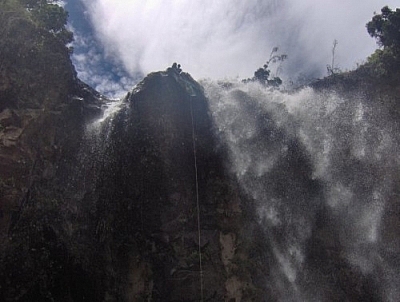 45 metres!!
Patricio insisted that it was the easiest one.
Still, I let Brandon go first…
While I was waiting for my turn, sitting on a rock in the middle of the shallow river, scared shitless and wondering if it was too late to back out, I looked up and paused.
Relax.
Breathe in.
Mere feet before me, a beautiful flower grew on the side of the cliff next to the waterfall, dangling prettily in the air.
The serenity that washed over me at the sight of its delicate petals next to the waterfall's powerful flow of water invigorated me, and moments later, I was climbing down to where Patricio was waiting for me on a ledge, only 15 feet below me.
When I reached him, my panic returned. A sheer drop!
How exactly did he expect me to climb down?
With much coaxing, I started the descent but after a few feet, the mountain wall vanished, receding beneath the ledge.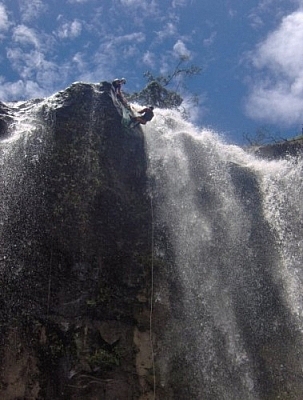 Patricio kept shouting at me to go! go! go! so I figured the rope that secured me to two anchors would swing me to the wall once my weight was on it.
Here goes…
Whoa! Not what I expected!
Just dangling there, understanding dawned on me. We weren't climbing down anymore, we were repelling the whole way! It was amazing!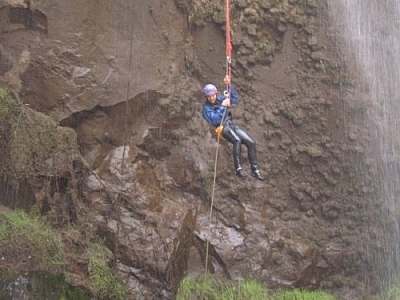 When I got down, my legs were shaking madly, but I was eager to give it another go and to have the chance to enjoy it more (now that I was rid of my fear).
The second time was just as cool as the first and we returned to Baños with a huge adrenaline rush.
And repelling in Baños was just how we spent the morning! Read about our afternoon hiking expedition in the hills surrounding Baños…
Popular in Travel & Trekking