"Julia, viene."
"Si, Pico."
Being used to Pico's orders by now, and orders they are, I got up from the chair I was curled up in, reading, and followed Pico to the main steps of Picaflor Research Centre, noticing through the screen windows of the library that he held a flashlight in his hand.
"Tus zapatos." My shoes.
I put them on and descended the short flight of steps, treading behind Pico.
A few feet further, the light spilling from the library was engulfed in darkness.
As I stepped into the shadow, I wondered when Pico would turn the flashlight on. Every few feet he would click it on for the briefest of instants, only long enough to see the next bend in the trail.
Eventually he stopped clicking the flashlight on and I walked smack straight into him.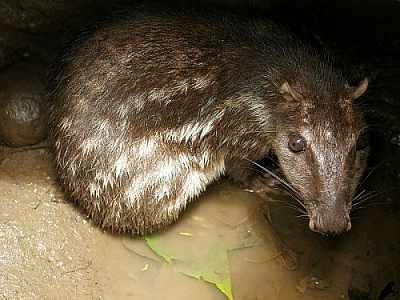 He took my hand and led me forward into the black night. When he stopped, he placed me before him and put pressure on both my shoulders, signalling to me to crouch down. He crouched behind me and pointed his flashlight ahead and slightly to the right.
Pacas. Two of them.
Cousins of the agouti, they're slightly smaller, striped white along the length of their bodies.
Until this moment, I'd had no idea what Pico was up to, but it then dawned on me that 20 minutes earlier, Pico had asked me if I'd seen pacas before. When I responded in the negative, he must have gone into the dark, looking for the reflection of their eyes or listening for the sounds of foraging.
Too cool. I got to see pacas at Picaflor!