We're always in a good mood when we head out to Killarney, and even though it was drizzling rain and really foggy the last time we went, we were still upbeat. We weren't sure exactly what we'd be doing that day, but we knew we'd be spending at least some time hiking around Killarney's lighthouse. We thought we might also hike the George Island Wilderness Trail, so we'd called ahead and, finding out how wet the trail was after all the rain over the long weekend, we decided to bring along our rubber boots, just in case. Our moods must have been good if we were willing to do that!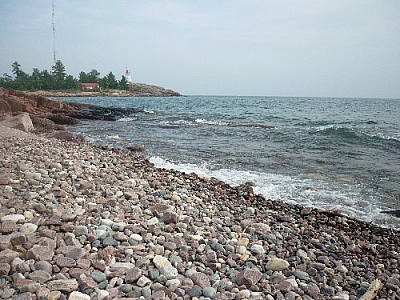 But when we got to Killarney Mountain Lodge, which provides boat transportation to George Island for the very reasonable rate of $3 per person (children and pets ride free), we talked to staff in the boathouse and realised even our rubber boots wouldn't be enough at some spots on the George Island Wilderness Trail.
So we turned our thoughts to hiking around Killarney's lighthouse. I'd read about the Tar Vat Bay Trail online, but one staff member told us the trail was overgrown in places. We thought that sounded like fun, so part of a plan was starting to take shape. Another staff member suggested the Lighthouse Trail, which leads from the lodge to the lighthouse. Now we had enough info to put a plan into action! We stopped in at the reception office to pick up a few trail maps and trail guides, and off we went.
Hiking Killarney's East Lighthouse Trail
The Lighthouse Trail entrance is located just next to Killarney Mountain Lodge's tennis courts at the end of Commissioner Street, and it leads to the East Lighthouse at Red Rock Point. There's a large grassy area next to the tennis courts that hikers can use for parking. Make sure to stop by the reception office for a Lighthouse Trail Guide, a pamphlet that includes a general trail overview and some technical trail information, a trail map, and detailed descriptions to accompany the numbered stops along the trail.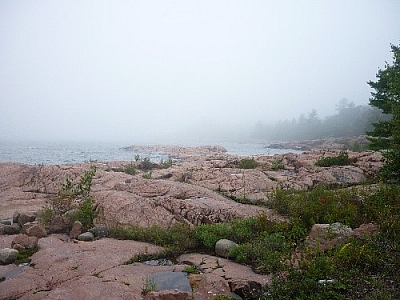 This self-guided interpretative hike is only four or five kilometres long, depending on which trail guide you consult. The Lighthouse Trail Guide says it's a five-kilometre round-trip hike, whereas according to Killarney Mountain Lodge's Guide to Day Hiking Trails in the Area (a pamphlet containing brief descriptions of all the trails in Killarney), the trail is only four kilometres long. But there's no question that it's a linear trail that has been rated at a moderate difficulty level.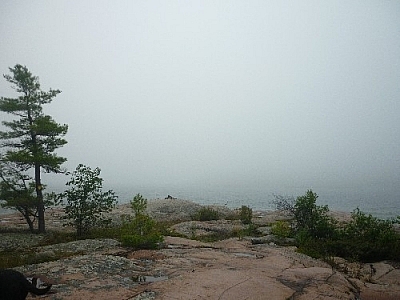 Killarney's Lighthouse Trail begins in a field and quickly ducks into the forest. It meets the Georgian Bay and follows northeast along its shores, coming to an end at the lighthouse.
We thought the trail was on the easier side of the moderate spectrum. Even slippery as it was with all the rain and fog, the trail is level enough to make it more than manageable while still challenging enough to make it fun and interesting ;)(winky face).
And even though it's "just" a short, free trail, it was definitely worth it. What little scenery we saw through the fog was Georgian Bay stunning! But because of the heavy fog, we never saw the lighthouse until we came directly upon it.
Still, we knew we'd gotten close when we began meeting people walking slowly along the shore towards us, quite a few of the ladies in skirts and flip flops. These weren't hikers!
Visiting Killarney's East Lighthouse
Reaching the lighthouse parking lot, there was no longer any doubt in our minds despite still not having any visual confirmation. We walked towards the lighthouse and, coming around a bend, we finally saw it perched on a large rock outcrop looming over the Georgian Bay.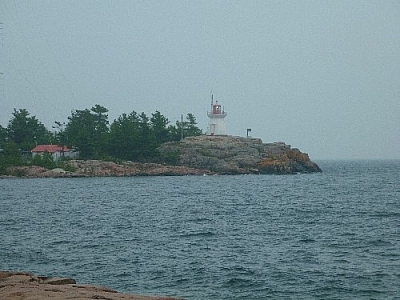 Our timing was perfect. From Killarney village, Lighthouse Road via Ontario Street leads to the East Lighthouse on Red Rock Point. Lucky for us, the other lighthouse visitors were all just leaving, so we had the place to ourselves while we ate our lunch.
But of course, more people arrived soon enough, and the dogs started pulling at their leashes, excited. I took a few more pictures around Red Rock Point, then off we went to explore more of the trails around Killarney's East Lighthouse.
Hiking Killarney's Tar Vat Bay Trail
We were fortunate to be able to get more information about the Tar Vat Bay Trail while at Killarney Mountain Lodge, but there still even now remain some points of confusion to clear up.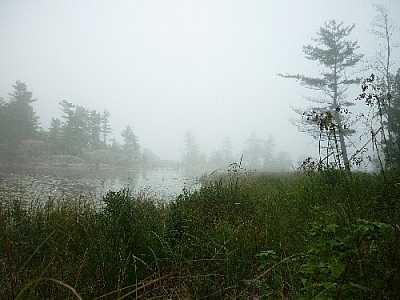 I'd found a trail description on the Municipality of Killarney's website which indicated we would be hiking a seven-kilometre loop from the East Lighthouse through Tar Vat Bay to Pond's Point and back again. But according to Killarney Mountain Lodge's Guide to Day Hiking Trails in the Area, the trail is a three-kilometre linear route. Since the Guide to Day Hiking Trails in the Area marked the Lighthouse Trail we had just finished as a four-kilometre linear trail as opposed to the five-kilometre linear return route which is described in the Lighthouse Trail Guide, we figured that the trail's total length was closer to the seven kilometres I'd read about online; but would it be a loop or a linear trail? We'd just have to wait and see what we'd find at Tar Vat Bay...
It's too bad I hadn't brought our Killarney Provincial Park backcountry map — our questions would have been quickly answered!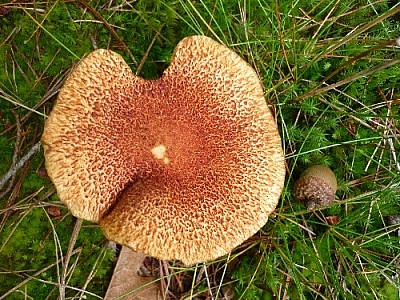 The Tar Vat Bay Trail begins at the East Lighthouse parking lot and mostly follows the Georgian Bay shoreline northeastwards, though it does cut in and out of the woods a little. This trail was a little more rugged than the first due to the rockier and more uneven terrain while in the woods.
We kept expecting overgrown sections since the staff member from Killarney Mountain Lodge had said there were times last year when she wasn't sure whether she was even following a trail, but with boardwalks over wet areas and only a few slightly bushy spots, the trail was always easy to see and navigate. Even the Guide to Day Hiking Trails in the Area describes the trail as overgrown, so either the trail has been cleared since Killarney Mountain Lodge staff hiked it last, or quite possibly, we never got that far along the trail.
It was around this time that I started taking lots of pictures of mushrooms. The trails around Killarney's lighthouse were covered with them! Check out the photos in Season's End Plant Life on Georgian Bay: Mushrooms, Flowers, and Berries.
Of course the scenery had been foggy all day and we could barely see the waters of Georgian Bay, so we were thankful for the bright pink rocky shoreline!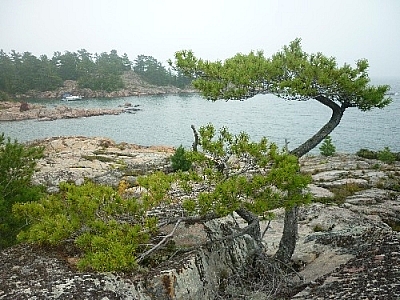 We knew we had reached Tar Vat Bay when we saw black tar smeared over the pink ground in crisscrossing patterns. Tar was used to coat fishing nets back in the day, to help preserve them. I wasn't surprised to learn this since I had helped paint the bottom of a building with tar when I was volunteering at Merazonia Animal Reserve in the Ecuadorian rainforest, then to protect against termites.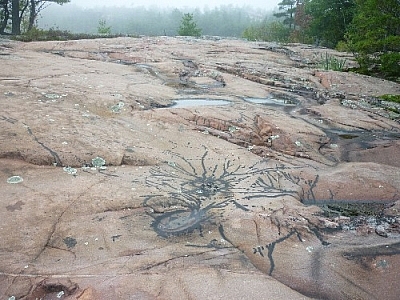 Nearby, we saw a man rowing his daughter to shore, obviously come from the big boat anchored behind them. We took pictures of Tar Vat Bay, and when the man and girl landed, I went over to talk to them, leaving Marc behind to watch the dogs in case the little girl might be afraid of them.
I chatted with the man a bit, and learning that he was from Sudbury and a frequent visitor to Killarney, I asked him if he knew the Tar Vat Bay Trail.
He and his family had hiked on it many times, he said.
Oh, good! Did he know how much further it went?
He wasn't sure, but he suspected it might be one of those long trails that go pretty far through the countryside, maybe even as far as the Parry Sound cottage area.
Oh, really! Well, we weren't going that far. Did he know anything about Pond's Point?
He didn't, so I hugged his pretty little girl, who had beautiful bright red curls, and rejoined Marc, Fetcher, and Maggie.
Now we were confused. The Killarney Mountain Lodge staff member hadn't said anything about Pond's Point either, and neither did the lodge's Guide to Day Hiking Trails in the Area. Plus, it now seemed clear that the trail was linear and not a loop — we had three sources telling us so, and only the Municipality's website describing it as a loop. So we thought that so far, the staff member and the pamphlet were more accurate than the website. We decided that Tar Vat Bay would therefore be the end of our hike, so we started to explore the area a bit more.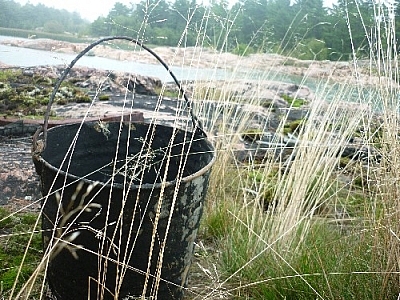 We saw that the trail continued further into the bay and there we spotted even more black tar smudged over the pink granite shore. I wondered how the fishermen couldn't have cared that they were defacing such beautiful rocks, but Marc seemed to think it's normal for people not to care when they're making money. Depressing.
I got even more bummed out when we saw a big vat overflowing with rainwater — and tar. I couldn't believe what I was seeing, and I still hope I'm wrong about it. Dirty water was slowly dripping out at one corner, leaking down the rocky sloped shore into the bay. On the vat water's surface floated gassy multi-coloured reflections, even on this foggy day. A stick leaned in a corner of the vat. I lifted it a little, and black goo oozed back down along it into the vat. Ugh! Shouldn't that vat be drained and covered to prevent more leakage? Please let me know your own thoughts about this in the comments section below.
We moved on a little before taking a short break (out of sight, out of mind?). Reposed, we called it a day and started heading back towards our car.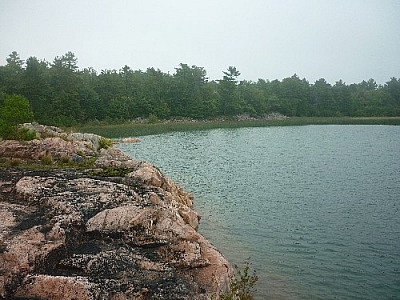 Returning on the Tar Vat Bay and East Lighthouse Trails
A short time after we started making our way southwest along the Georgian Bay coast, the sun came out! I started snapping a bunch of pictures, even if I'd already taken the exact same ones before. It's been nice to compare the colourful versions to the grey and foggy versions. Sometimes I prefer the grey ones for the dismal effect the fog creates.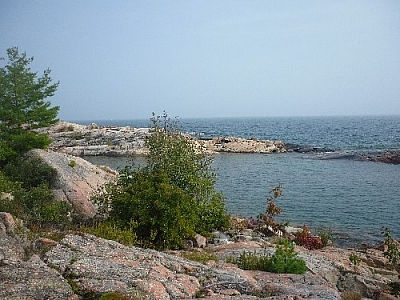 Reaching East Lighthouse, we skipped the detour to visit it on Red Rock Point and instead continued straight through the parking lot to the Lighthouse Trail. The sun was still out, and we were surprised to see that the fog had hidden the lighthouse from view the whole time we'd been walking towards it along the Georgian Bay shoreline earlier in the day.
When we were at the lighthouse for lunch, I had looked up to see whether the light was on — it was a good day for it! Yep, I saw it flashing a few times, but thought there was no way it would be seen by boats. Now standing on the shore to the west of the lighthouse, we realized that indeed we never did see the beacon's light through the fog, though perhaps we would have had we known what to look for, and where.
We continued our return journey from Killarney's lighthouse, our pace quick and our progress fast. The sunshine was starting to fade, and Marc started to worry about rain. I argued that it was supposed to be sunny that day, so it couldn't rain. (My logic is infallible, eh!) But by the time we got back to Killarney Mountain Lodge, the fog had completely overtaken us again. Sitting in the car, getting ready to go, it began to pour.
So our total time for the day's hike around Killarney's lighthouse was approximately five hours, including short, infrequent breaks and stopping for lunch at the lighthouse. Not a minute too soon, as it turned out!
Route Options for Hiking Around Killarney's Lighthouse
When we got home, I took out my Killarney Provincial Park map for a better close-up view of the Georgian Bay coastline around Killarney village. I hadn't brought it with us because we wouldn't be entering the park, but from now on, to heck with it, we'll bring it anyway!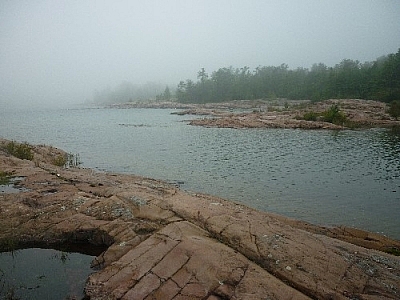 The Killarney Provincial Park map clearly shows Pond Point immediately beyond Tar Vat Bay, and it looks like a very distinct possibility that a trail there could loop around the pond back to the lighthouse through the forest. So perhaps the Municipality's website is right about the seven-kilometre loop after all — and I'm guessing the forest section would also be the overgrown part of the trail. It looks like we'll have to go on another recon mission to Killarney's lighthouse to check it out (aw, darn! lol), but in the meantime, if anyone knows more about this part of the Tar Vat Bay Trail, please let me know in the comments section below. Thanks!
For anyone wondering, I wouldn't give much credit to the idea that Tar Vat Bay Trail goes anywhere near Parry Sound. To do that, it would have to cut through Killarney Provincial Park, French River Provincial Park, First Nations land, and who knows what else. But if anyone knows any better, please correct me if I'm wrong and set me straight in the comments section below.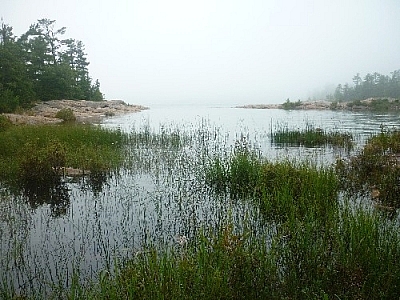 Lastly, while we parked at Killarney Mountain Lodge and really made a day hike out of it, I would rather suggest parking at Killarney's lighthouse instead. After completing one trail, you can come back to the lighthouse for lunch, where you can have a picnic cooler waiting in your car instead of just packing along some light trail food. After lunch you can then hike the other trail. That sounds like a nice day exploring around Killarney's lighthouse, right? Hey, might as well make the most out of the occasion! But if you choose the hike and picnic option, give yourself more than five hours for the day…
More Info on Hiking Around Killarney's Lighthouse
Other Day Hiking Trails in Killarney
It's awesome that Killarney has these two free trail options right in the village, and even cooler that it's possible to combine them with a fun attraction to make a day of it. But what's a visit to Killarney without seeing beautiful Killarney Provincial Park?