Memories of an awesome winter; Inspiration for next year!
The snow's pretty much all gone here and I doubt it's really coming back for a while. That's not counting the potential Easter road closures — it always has to happen when people have somewhere to be — or the usual April snowstorm and July hail. We managed to go snowshoe hiking in French River quite a bit, and even once a we ventured a little bit further.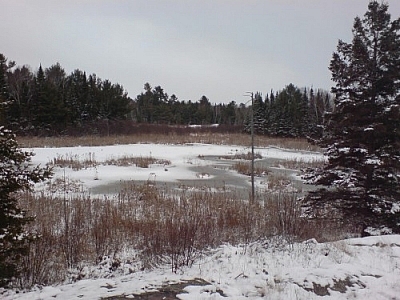 In my heart, I'm celebrating with true joy. Really, I don't like winter. But I do think it's beautiful — when I dare to step outside. Snowshoe hiking in French River is the only thing that gets me through the season year in and year out. Sure, some years I go skating or take up some other activity, but I haven't missed a snowshoe season since I took it up seven years ago.
I thought it would make a fun post to share winter versions of some of the locations featured in my hiking photo album. Since we never drive very far in winter, these pics of snowshoe hiking in French River have a distinctly local flavour — fewer parks and more off-trail adventure!
Snowshoe Hiking at Pine Creek
Too wet in spring, too bushy in summer, and too dangerous in autumn, winter is the perfect time to visit this old logging road near West Arm (now used by hunters, snowmobilers, and ATVers… oh, and us). This was a fun afternoon of snowshoe hiking in French River because my parents came with us and my dad pointed out his group's different hunting runs. I never realised how close by they hunt. They always make it sound like they walk in for hours before starting their runs. I guess it's the equivalent of the big one that got away?
Snowshoe Hiking at Lac Clair
Locally famous as the best swimming hole, it's also a well-known fishing spot. Fortunately, we shared the lake with only one fisherman the day we brought the dogs out there. His lone snowmobile tracks in the snow would have made a lovely (unnecessary) trail if they hadn't led straight to him. With the dogs, though, we didn't want them messing up his lines, so we went in the opposite direction.
Snow Hiking in the Trout Lake Area
Stumped as to where to go one day, we decided to just hit the bush behind Marc's father's place, near Trout Lake. It had already started to get warmer, then colder, then warmer again, so the snow was pretty packed and we didn't need our snowshoes. We did have to cross the official snowmobile trail a few times, but thankfully the dogs didn't chase after any. That's one of the reasons I prefer parks: no motorised vehicles.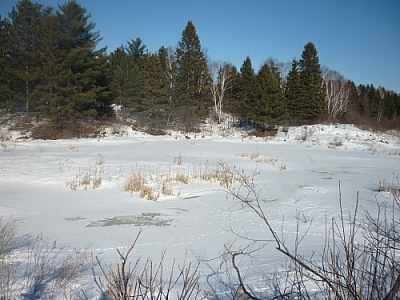 Snowshoe Hiking in Mashkinonje Provincial Park
I've seen every possible inch of Mashkinonje in most seasons, but there are still a few areas of the park I haven't seen in winter. We rectified a little of that on this excursion ;)(winky face).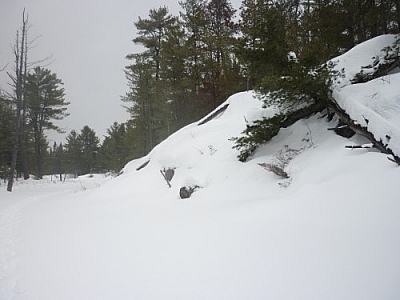 Snowshoe Hiking in French River Provincial Park
We'd never snowshoed out to Récollet Falls before, assuming that since the Visitor Centre is closed for the winter, the trails are too. But last year I met an artist who told me the story of painting a landscape scene there, having snowshoed in and pulling a sled with his supplies. Cool! So this year we went snowshoe hiking in French River Provincial Park and it was our turn to see this historical site under what I thought would be a blanket of white. Surprise, surprise!
Snowshoe Hiking at Theodore Fouriezos Wetlands Park
Whenever we've got time to kill in Sturgeon Falls, we always head to these trails only about ten minutes outside of town. They're not fabulous hiking trails, but they're pleasant, and in the right season, there's an enormous cranberry marsh to pick from, which makes these berry pickers very happy indeed! What's more, the Sturgeon River House and Museum is just across from the trail head. At the far end of the trail is a lookout over Cache Bay on Lake Nipissing. Clearly a good fishing spot, too!
All in all, it was a fun winter of snowshoe hiking in French River, but I'm ready for "regular" hiking ;)(winky face).
Popular in Travel & Trekking