Winter's not exactly my favourite season, but as much as I resist it, it always catches up to me. At the first sign of winter, I hole up indoors, and with so much to do before the holidays, I'm content for a short while. But between Christmas and New Year's, cabin fever starts to set in. That's when I make my snowshoeing hit list and the first snowshoe hike of the season takes place.
I broke out of my indoor cage yesterday and finally strapped on a pair of snowshoes for the first time this winter. It was a good day for it — clear and sunny, not too cold or windy. It took me a while to get motivated, so the afternoon was already getting late by the time we set out to explore the bush in my parents' backyard.
It's become a bit of a tradition for Marc and I to do some off-trail snowshoe hiking on the family property to warm ourselves up our first time out every year. Call it encouragement for further adventuring.
So we set off through the field, hit the bush, and chose a course that would loop us back to the house, using the sun to guide us. We've done it lots of times before, but it's always fun because there aren't too many recognisable landmarks. The bush is thick, so we get to practice a bit of orienteering.
We had a great time yesterday, which inspired me to write a random snowshoeing hit list for 2014. Just in time, too!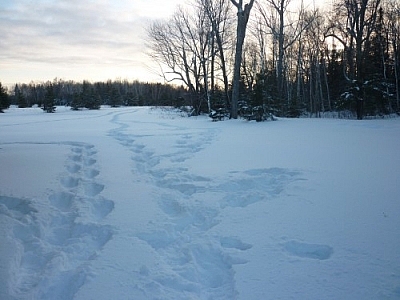 Since I'm a wuss in the winter, there won't be any major expeditions on this snowshoeing hit list ;)(winky face).
French River
The French River Multi Use Trails Association doesn't maintain its trails in the winter, but since the trails are on crown land, they can still be used. While most are part of the snowmobile trail system, a few see less traffic, and these are the ones Marc and I are planning to hit.
We've already been down part of Pioneer Trail to Lac Barbotte Lookout, but if we continued to the end, we could cross Barbotte Trail to take the Logger's Trail. But this might be a little too long at 12 kmkilometres each way, so another option would be to use the Boisvenue Trail from Mayer Road to access the Lake Above Trail. One FRMUTA member recommended it for its scenic beauty — the reward for climbing along a small ridge is arriving at a little lake.
Lake Nipissing
I've been wanting to see Mashkinonje Provincial Park's Atakas Trail in winter for a long time, but I don't think I could spend that much time snowshoeing, so I've come up with a decent trail plan for this snowshoe hike:
Samoset – Heron – Atakas – Beckett Lang – Coastal – Lapin Beach – Samoset
Only problem is, we'd miss seeing the junction of Atakas and Coastal Trails, where there's a dry meadow, and that's one of the places I want to see because it's one of the most challenging sections of the park in some seasons. So if we get to the Beckett Lang junction and things are still all good, we'll continue on the full loop instead of taking the shortcut.
Killarney
The white quartzite hills of Killarney Provincial Park must be stunning in winter, so it's something we'd like to see this year. If ever we were to consider winter camping, renting a yurt here would be pretty cool since there's so much trail variety.
North Bay
The Laurentian Escarpment Trails operated by the North Bay Mattawa Conservation Authority seem like they would have nice views, and they're free to use. We haven't been snowshoeing in the North Bay area yet so 2014 will be our year!
Mattawa
The private trails at Nature's Harmony look like they'd be loads of fun, and yurts are available here, too. I like that Nature's Harmony has a sustainability policy and that it offers reiki services, so I'd like to check it out, even if it was just for a day. But I rather think this is the kind of place I'd go for a special occasion, like Family Day with nieces and nephews, or a romantic Valentine's weekend.
More Snowshoeing Hit List Inspiration