Berry season's back and it looks like it's going to be a good one! Strawberries are in full swing, blueberries are making their first appearances, and raspberries should be ready within a week.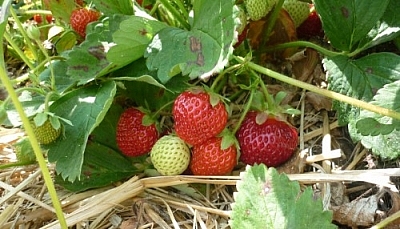 We've already been out a couple of times and have been hard at work freezing and dehydrating our year's supply of strawberries. I can't believe how much use we're getting out of our Nesco American Harvest Dehydrator! We've only picked enough blueberries to eat as we go so far ;)(winky face).
We'll go back for strawberries once more sometime this week, and then again for raspberries next week. We'll be picking blueberries over several weekends Want some? Let us know!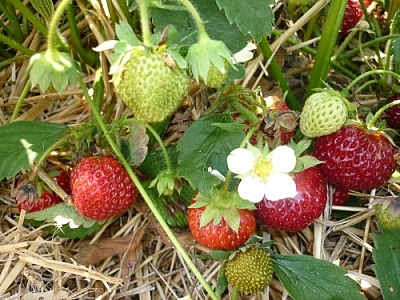 This year, we chose to pick our strawberries and raspberries from Leisure Farms in Sturgeon Falls. Those who wish to pick for themselves will have a good experience here, where a large playground keeps kids entertained and the fresh smells of a bakery entice one and all. Best of all, tractors bring pickers to the fields on flatbed trailers, which really helps when picking large quantities — ahem, like the 70+seventy-plus litres we picked on Thursday afternoon!
We're still picking wild blueberries in Sudbury. Despite last year's habitat destruction — oops, I mean road construction — it's still got the best, biggest, bluest patches. We've checked out the area around French River, too, and have seen some decent picking patches here and there.
At the end of the season, we'll be driving in the opposite direction to Sturgeon Falls to pick wild cranberries from the Theodore Fouriezos Wetlands Park, where a cranberry festival takes place every year, usually during the last weekend of September.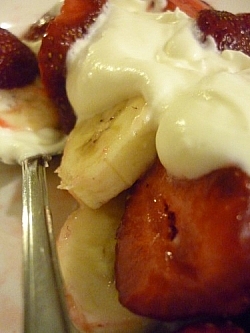 As always, we're happy to pick any order, large or small. And just like last year, farm-picked strawberries are sold for the same price as at the farm gate. Pricing for other berries has yet to be determined. Click here for updates.
Contact me to order!