T
he beekeepers of Creekbend Farm are perhaps better-known for their maple syrup operation,
Sucrerie Séguin
SugarBush, but they're just as passionate for and knowledgeable about their bee colonies. Dan and Tracy Séguin partner with Michel and Louise Demers to manage the sugar bush, but they operate the bee business on their own. While the sugar bush has been a family business since 1950 (Dan and Louise are siblings), interest in beekeeping began in 2000.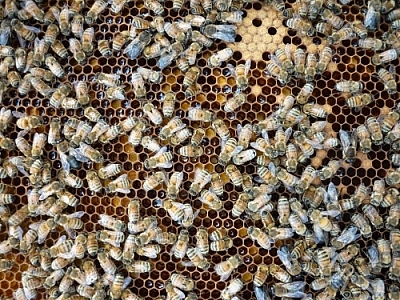 Originally a strawberry farm, Creekbend Farm got its first hives to help pollinate its crops. Eventually finding that it wasn't compatible for one farmer to care for both strawberries and a sugar bush because it's too much work in the spring, the owners of Creekbend Farm changed their focus to beekeeping. By 2004, there were 17 bee colonies at Creekbend Farm (there are about 60,000 bees per colony in summer and up to 15,000 in winter). Unfortunately, all of them were lost that winter due to an infestation of varroa mites, a Russian parasitic species brought to Florida which has been spreading across North America since the early 90s. Dan and Tracy left the strawberry patch, so to speak, in 2005, turning their attention to rebuilding their bee colonies.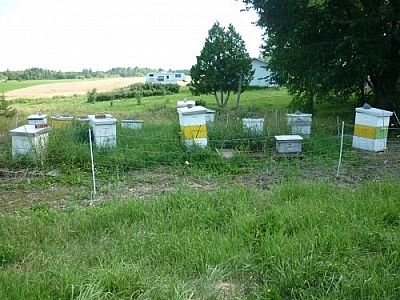 To learn as much as possible, Dan has studied beekeeping quite a bit. He's researched online, read books, and taken beekeeping and queen rearing courses. The couple learns a lot from the provincial and regional beekeepers' associations as well. Most importantly, they observe their own bees.
Creekbend Farm was thankfully able to recover from the devastation of 2004, rebuilding to 30 colonies by 2010. Today, it has 110 colonies located in five different yards. Some colonies were purchased; others were split as the bees proliferated. Dan and Tracy agree that splitting colonies is not only useful for expansion, but also for preservation. Bees tend to swarm away from overcrowded hives, so splitting them can help keep them in the farmer's possession, for they can't be retrieved once they decide to leave.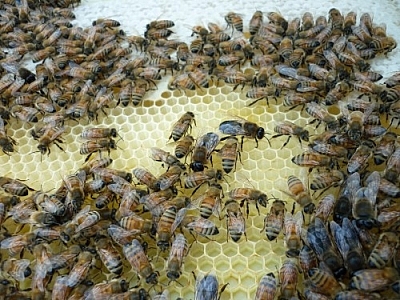 With nearly 100 more colonies than it had 10 years ago when they experienced a disappointing loss, the beekeepers of Creekbend Farm take a few precautions to help their bees get through the winter safely. Dan and Tracy cover the colonies with insulation during the wintertime, making sure to leave sufficient airflow. If the boxes in which the colonies are raised are closed off too tightly, the interior will become too moist and the bees won't survive, notes Dan.
In addition, the couple administers medicine to their bees in the fall (treatment is sometimes needed in the spring, too). Bees can succumb to multiple illnesses, including diarrhoea, viruses, bacteria, fungi, and other diseases. Depending on the medication, doses can be mixed with sugar or sugar syrup, or placed in the hive on an absorbent pad and left to evaporate. This last method for treating against mites can be fatal to bees. For this reason, Creekbend Farm chooses to use formic acid in its treatments, which naturally occurs in wax. The alternative, spraying on oxalic acid, is riskier and hasn't been tried at Creekbend Farm.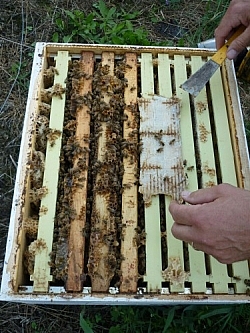 Tracy, a veterinarian, says they try to treat the bees using the safest, most natural or organic methods possible. Regardless, they avoid collecting their honey from frames that were treated. "People, especially young people, are going back to natural foods, and there are a lot more health benefits to honey than what we're aware of," she says.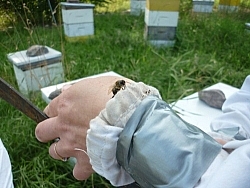 These include immunity-boosting and cancer- and heart disease-fighting flavonoids, antioxidants, and polyphenals; antibacterial, antimicrobial, antiviral, and antifungal properties; and natural relief for coughs, sore throats, allergies, hangovers, sleeplessness, athlete's foot, yeast infections, and arthritis.
Combined with other natural ingredients, it can be used in many other remedies. Honey is also known quickly to provide long-lasting energy, keeping blood sugar levels constant. This is in part because honey contains both glucose and fructose, but also because of its muscle-building proteins.
Beeswax also has its own benefits, including natural moisturizers, non-allergenic properties, and anti-inflammatory and antioxidant qualities. Its uses are topical — it is good for treating burns, psoriasis, eczema, and other skin irritations. It is also used in food preservation.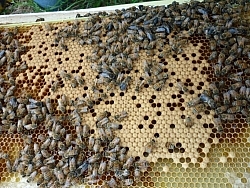 Although Creekbend Farm doesn't yet sell much beeswax, Tracy says that a storefront with their own honey and beeswax products is part of the couple's future plans. For now, their honeycombs and liquid and creamed honey is sold: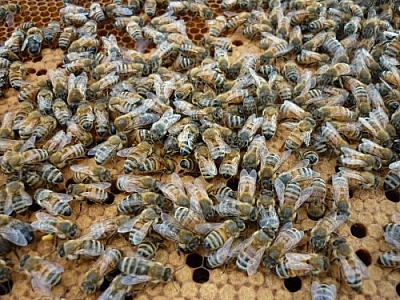 It's important to Dan and Tracy that they're contributing healthy products to the local food chain. So even though they do their best always to use safe and natural methods, says Tracy, they're wary from past experience and don't want to lose any bees. Luckily, Dan says neighbouring farmers are very cooperative in helping to keep their bees healthy by avoiding spraying certain chemical products, or refraining from spraying at times when weather factors could adversely affect the bees.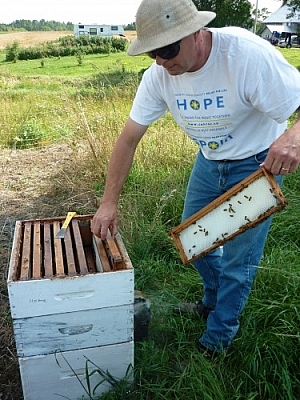 "This is risky farming because there are so many factors that can affect [the bees]," says Tracy. "It's not just what we do; it's what others around us do as well."
By interacting, communicating, and even compromising with the farmers in their area, Tracy and Dan can boast of a business that freely benefits the community. Creekbend Farm offers pollination services within the area — farmers can rent the bees to pollinate their crops — but Creekbend Farm's neighbours benefit from this service at no expense since the bees don't recognise farm boundaries. This makes cooperation amongst the neighbouring farms mutually beneficial, and all have a profitable interest in keeping the bees healthy.
For Dan, the potential to expand the pollination services aspect of the business is exciting. Creekbend Farm's bees remain local because there is so much biodiversity in the area — monoculture isn't varied enough to keep bees healthy — but some colonies are already being kept at nearby farms. For instance, a yard of 35 hives is permanently installed at Leisure Farms. Dan and Tracy have now begun exploring the possibility of offering their pollination services to other farms in North Eastern Ontario.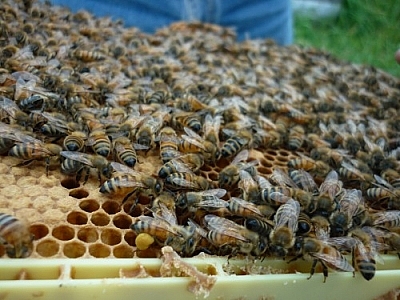 The couple realises just how important pollination operations are on the grand scale of things, considering the hugely detrimental effects climate change has had on worldwide bee populations. What's becoming known as the bee crisis could threaten one third of the world's food supply.
"In a sense," says Dan, "it's a scary time to be in beekeeping because of colony collapse disorder." And yet, Dan points out that "beekeeping is actually a sector of agriculture where we do see some youth getting into it. I guess you've gotta be young to have the energy to do it!"
"It's hopeful in that respect," adds Tracy. "Beekeeping has made us more aware of environmental science. I think it's a good thing, but it's not without risks."
Still, Dan and Tracy love that they are able to sip their morning coffee in their garden, watching their livelihood hard at work. For them, it's all about balancing their work with quality of life. They prefer working from home and being in nature to driving an hour to work every day. Dan says his mission or life philosophy is "basically to do what I do with a smile. I don't have to worry about the rat race."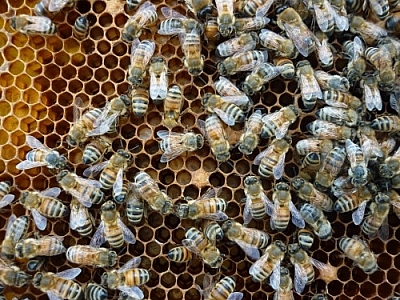 Tracy, who continues to work three days per week as a vet, talks about Creekbend Farm's future plans with enthusiasm. Currently, the beekeeping operation is only quasi-commercial, she says, because "you can't live on 100 hives." The couple's goal is to increase the farm size to approximately 300-500three hundred to five hundred colonies, hopefully within the next few years. They'd like to develop a food-grade honey extraction and processing facility on their property. "That's our dream," says Tracy. "We're partly there."
Beekeeping Facts
Queen bees live about three years, but for optimal hive health, they should only be kept for two years.
Worker bees live approximately four to six weeks in summer, but bees hatched in the fall live through the winter.
Colony size is reduced for the winter. Those remaining form a clump around the queen, at the centre of the hive, to keep her warm. Those at the periphery are only a few degrees warmer than outside temperatures, so they rotate positions to maintain a warmer temperature in the middle.
It takes one cell of pollen and one cell of honey to raise one bee.