Paddling Semiwite &and Helenbar Lakes, Hiking Over Bear Mountain, and & Fishing the Brush Lakes
T
wo years ago, days before we were scheduled to leave, we cancelled our plans to go backcountry tripping in
Mississagi Provincial Park
, instead accepting a last-minute invitation to go camping and fishing with my cousins.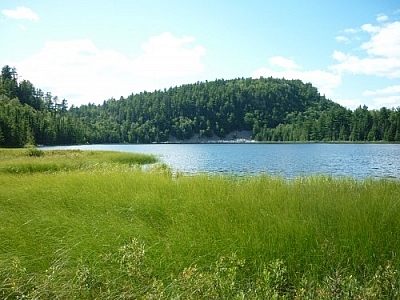 Then last year, the Ontario government announced multiple park closures, and Mississagi was on the list. Fuming that we'd forever missed our chance to go backcountry tripping in Mississagi Park, we for a while jokingly talked of "just doing it anyway," but mostly were sorely disappointed until late this spring.
Sometime after putting out my Hiking 2013 Hit List, I learned that the City of Elliot Lake has partnered with Ontario Parks and the Ministry of Natural Resources to operate the park jointly. Hurray!
Still, I've heard it's only on a trial basis for now, and that consultations will take place in the fall. Since we've just come back from an awesome hiking and paddling backcountry trip out there, we're really hoping for a positive outcome so we can include it on future hit lists!
I'd a long time ago found a basic park map online (after much digging), and was able to figure out the general locations of trails and campsites with a quick call to helpful park staff, who even offered to mail out park pamphlets and trail maps. We had an idea of what we wanted to do and where we wanted to go, so we didn't bother doing any planning beyond that.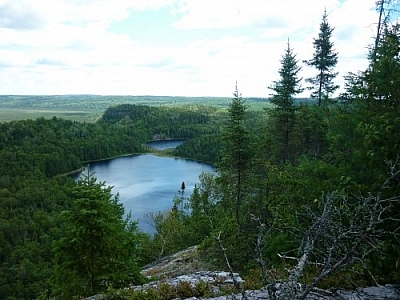 A few days before leaving, something unusual happened: I received a
CouchSurfing request
from someone who actually wanted to visit rural areas and spend time in nature. Pleased to have received such an enthusiastic request, we ended up inviting Jakob, from Austria, to join us backcountry tripping in Mississagi Provincial Park.
Taking a third person and a second male along on the trip changed the logistics quite a bit. We borrowed a canoe instead of renting one (now easier to load and unload). We packed a bit more stuff (mostly food) since we had a third bag with some extra space. And we didn't hesitate to set out on our paddle trip even though we arrived at the park after dark.
Normally, Marc and I would have slept in the car and set out in the morning, but having someone else to paddle with Marc meant I could keep the dogs calm, my flashlight pointed, and my eyes peeled. So we put in, the stars bright but Semiwite Lake ghostly calm, fog floating inches above the water. Even so, we made it fairly quickly to the Helenbar Lake portage.
[bctt tweet="We didn't hesitate to set out on our Mississagi Park paddle trip even though we arrived after dark."]
In the dark, we didn't feel like over-exerting ourselves (lol), so we carried the gear first then returned for the canoe. I just lit the way — they seemed fine without me
(winky face).
Back in the canoe but looking forward to being on land, we were following the shoreline and the maps we'd picked up at the self-serve check-in as best we could. A "No snowmobiles" sign made us laugh, but we moved on. At some point, a whole school of fish began jumping all around us, adding to the night's eeriness. I covered Fetcher's eyes when he started shifting his weight on his paws from left to right, considering jumping in after them. That made me more nervous.
After who knows how many minutes, we started to think we'd missed our campsite. We figured it might be where we'd seen the snowmobile sign, and if it wasn't, we'd set up for the night there anyway and find the right spot in the morning.
Of course there was no need for such a plan. What a great campsite it was: cool fire pit, plenty of tent space, a couple of grills and a rake (!) left behind… It even had a picnic table!
Setting up camp in the dark wasn't a complete drag, and we got to relax by the fire afterwards (smiley face). Never noticing the time fly by, it was much later than usual when we finally hit the hay.


[bctt tweet="The climb up Bear Mountain in Mississagi Park leads to an amazing viewpoint of the Brush Lakes."]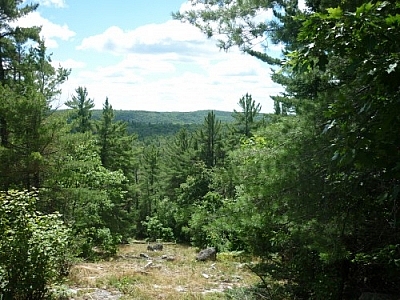 The next day was a rest day for me. I sat around camp and read my book or played with the dogs. (Don't feel bad, I was really happy to be relaxing!)
But Marc really wanted Jakob to catch some fish, so they took the canoe out on Helenbar first thing in the morning. We'd stopped at Ramakko's in Sudbury the night before to get Jakob's fishing licence, and thank goodness they're open late enough on Fridays, otherwise it might have been a very different weekend.
The guys didn't manage to catch lunch, but they went out again in high hopes in the afternoon, this time hiking to the interior Brush Lakes to cast for bass. They again returned empty-handed.
Hoping to catch a midnight snack, they went back out in the canoe on Helenbar that evening. Nothing! Oh, boy. Marc usually just catches fish right from shore! This was not looking good.
We all decided on our second day to hike to the Brush Lakes. While the guys fished, I would continue hiking to a lookout beyond the lakes. We started off pretty easily on the side trail but the main trail got steeper soon enough. We eventually climbed Bear Mountain to an amazing viewpoint of the Brush Lakes.
On the way down, Jakob commented that the steep, rocky trail was "quite exhausting." I thought it would be worse on the way back up…
We saw a few good fishing spots along the trail once we reached the shoreline…
But nothing beat what we saw at the second campsite — access to the second lake and the pond beyond! This would make it easier for the guys to try different spots.
We figured out a system for meeting up again, then I continued on the hike accompanied by the dogs. A hillside full of fallen trees led me off track a few minutes until I found a way up the hill and onto the trail. The path to the viewpoint was faster than I anticipated. I was sorry that I wasn't continuing the hike. The views were beautiful and I would have liked to see more, but instead of completing the much longer McKenzie loop (22
kilometres
), I retraced my steps.
Finding the boys not yet ready to quit fishing, I continued on to our campsite without them. I was pleased when I climbed Jakob's steep, rocky hill more easily than expected, and even more so when I spotted the guys fishing from a point while I was resting at the lookout.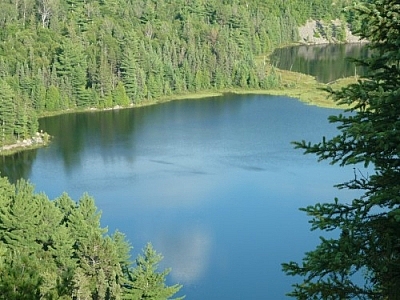 It took no time to get back to camp after that.
The guys only stayed at camp long enough to eat dinner and tell the tale of their off-trail return to the first viewpoint, from where they wisely followed the trail. Then they were off again, back in the canoe exploring Helenbar, but still no luck catching fish.
Jakob caught some shut eye the next morning, but Marc got up early to fish. Still nothing! So after breakfast, we packed up and left. Jakob had to get on a bus to Toronto to catch his flight.
We paddled across Helenbar to the portage and again carried the gear first. Back at Semiwite, I left the guys to retrieve the canoe by themselves and started down the trail with Fetcher and Maggie. I wanted them (and me) to get some exercise before the drive home.
At first, I could only catch glimpses of the water through dense trees, but eventually the trail got closer to shore and I was able snap a few shots.
I kept my eyes peeled for the guys, wondering whether they would have to wait long for me. I was positive I wouldn't be making it first.
I soon saw them, took their picture, and kept an eye on their progress. I figured by the time I crossed the campground, they wouldn't have had to wait too, too long. But I was seriously surprised at how quickly I reached the trail head. With the dogs on leashes, I crossed the campground, sure it was taking just as long as it had to hike the trail.
At the boat launch, Marc and Jakob were standing on the dock, the gear was still in the canoe. They had just gotten there. Nice! The wind had been against them, slowing them down a bit.
Even nicer, we were early for Jakob's bus so he had time to help us unload the canoe (smiley face).
Although we didn't catch any fish, we were promised bass from the Brush Lakes and we'll get it! We'll definitely go back to try again, but I think we'd stay at one of the sites on Semiwite Lake, which looked like sandy beaches from the canoe, and which access more hiking options.