The afternoon of the day after our return to Cusco, I met up with Brunold, Frank, and Anne, my Inca Trail to Machu Picchu hiking partners, for farewell drinks, then I was off to bed by 9:30nine-thirty because my bus from Cusco to Puno was at 5:30five-thirty the next morning. It was my intention to do some relaxing and hiking in Copacabana.
From Puno I took a minibus to Yunguyo and had an interesting political discussion with an older man who admitted to trafficking contraband.
Then I got on a tricycle taxi to Kasani on the Bolivian border, where my bags were searched for drugs.
Finally, a collectivo took me to Copacabana. All the switching around made the 11-hour trip easy!
In Copacabana now, I'm on a little unscheduled side trip to Bolivia. There aren't very many tourists here at this time of year, which is a nice break from the hustle and bustle of Cusco.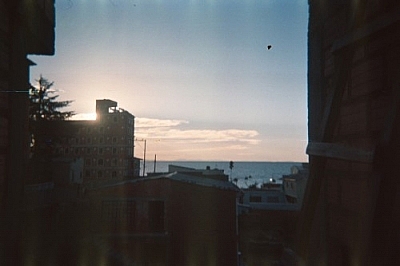 The town is tiny and despite the fact that there are no street names posted anywhere, it's pretty easy to orient yourself. It's a fantastic place to stroll around or just be lazy. In other words, I'm really glad I chose to come relaxing and hiking in Copacabana!
I'm sitting on a beachfront patio watching the sunset beyond the mountains on the west side of Lake Titicaca. To the East, the lake stretches to the horizon. The beach itself is lined with paddle boats (if you're feeling romantic, you can get one shaped like a swan). At least fifty boats of various sizes are anchored in the bay.
Just the inspiration I needed to write… Thankfully, they just turned on the lights, as the sun has disappeared and only its reflection on the distant clouds remains.
My first meal in Copacabana was simply fabulous. Fresh trout from the lake — yum!
But it doesn't take long to get sick of trout…
And so it eventually came to be that I walked up the main street of Copacabana one evening, looking for… not trout — a difficult feat.
Lots of people hand out flyers for restaurants and bars. One of them showed me the menu of a restaurant and we ended up chatting for a bit.
Marco, a Peruvian from a suburb of Lima, is travelling as an artesano in Bolivia, picking up odd jobs here and there. We made plans to go hiking the next day.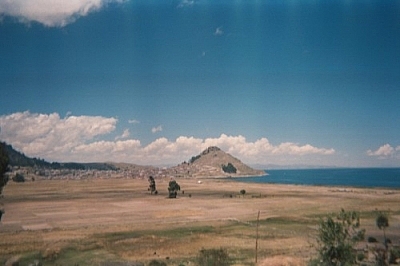 So, as agreed, I met up with Marco to hike to the top of a small mountain next to the village called Cerro Calvario.
Along the way up, there are stations of the cross where people light candles and leave offerings and at the top, a monument to the virgin.
Being a Sunday, it was packed with more locals than tourists. Still packed, though.
But as with everything around here, the views were just gorgeous!
Relaxing and hiking in Copacabana was well worth the longish side trip, I'd say (smiley face).