W
e'd had our eye on backpacking Algonquin Park's Eastern Pines Trail for some time now, since it's a short, easy loop that we could do in a regular weekend without difficulty. It's also accessible by water, so we'd been
considering it as a possible hike and paddle combo
.
Still, we never imagined we'd return to Algonquin in June, having experienced a veritable swarm of mosquitoes, black flies, horse flies, and deer flies the last time we were there a few years ago. But with a camping weekend quickly approaching and no other available prospects, we figured this year's late spring would at least keep some of the bugs waiting for hotter weather.
Driving to Algonquin Park's Eastern Pines Trail
As luck would have it, backpacking Algonquin Park's Eastern Pines Trail to High Falls didn't end up being our biggest adventure of the weekend. Should I even bother explaining how Mapquest's auto-suggest features screwed us over? Put it this way — never assume the machine is smarter than you! But how smart can I be if I didn't realize going all the way around the park wasn't saving us any time?
(winky face).
From French River, we should have headed through North Bay to access Algonquin Park's Eastern Pines Backpacking Trail via Petawawa on Highway 17, but not using my noggin — and relying on Mapquest's auto-suggest features — convinced us to take Highway 69 through Parry Sound then east through Huntsville. Shortly afterwards, we stopped for the night, ready to drive through the park's Highway 60 corridor in the morning.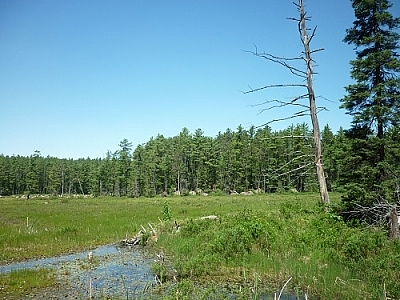 Back on the road, I quickly realized my previous day's mistake. We were headed for East Gate, but we wanted Sand Lake Gate. Huh?? I scanned the map and instantly saw what had happened. We now faced several more hours of driving before we could start backpacking Algonquin Park's Eastern Pines Trail, and we didn't have all that much gas left. I assuaged Marc's fears, sure there would be a gas station on the other side of the park since the map showed several small towns.
After our fuel pit stop, we navigated onward via the shortest route possible. My bad, again! We eventually ended up following a narrow quad trail for at least half an hour, maybe more, before finally coming out on the road which led to the correct park gate.
Popular in Travel & Trekking
Hiking Algonquin Park's Eastern Pines Trail
We weren't concerned about how late we were getting started backpacking Algonquin Park's Eastern Pines Trail. With little more than eight kilometres to cover that day, including the High Falls side trail, we knew we'd still be set up at camp before dinnertime.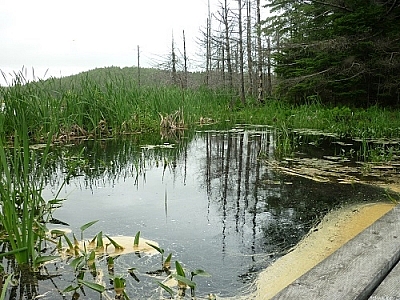 Remembering the horrible bugs from our previous Algonquin Park backcountry trip, we put on our bug vests before we got going. The hike was indeed short, and hardly challenging except for one particularly memorable steep climb.
We didn't meet anyone else on the trail until almost at our destination. A group of young hikers told us of their day's mishaps, taking the wrong trail on the way back from High Falls and ending up in a parking lot. Well, that's confusing on a backcountry trail!
But as we talked, I recalled that an acquaintance had been telling me about finding the parking lot while stopping at High Falls during a Barron Canyon canoe trip. We thanked them for the heads-up and continued on.
We soon found our campsite and set up our tent and new mosquito net, then we hiked the short way to High Falls (an oxymoronic name as you can tell from the photos). We saw the trail to the parking lot and signs confirming the site as a day use area. Hmmm, that's not what we expect when we head into the backcountry…
Back at camp, we tried to give the dogs some relief from the mosquitoes by getting them to sit inside the net, but it just filled with skeeters and trapped them in, so back to the drawing board for that idea. We'll see if we can figure out a better way to rig the net before we buy something else, though.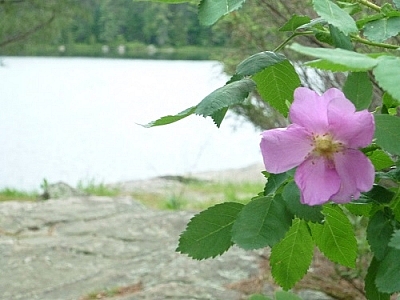 The next day, we would have liked to stick around camp a little longer, but the mosquitoes were horrid, so we packed up and left to continue backpacking Algonquin Park's Eastern Pines Trail. The other bugs weren't around, but the mosquitoes were enough for us! Still, that's good news for the dogs, who have an easier time of it with the mosquitoes than the various biting flies.
The hike back to the trail head took about the same amount of time, but this portion of the Eastern Pines Trail was a bit nicer, with more challenging sections and better scenery. We also saw some wildflowers along the trail that day, which I couldn't resist photographing despite the clouds of mosquitoes.
Our Beef with Backpacking Algonquin Park's Eastern Pines Trail
Mad concentrations of mosquitoes are the lesser of our complaints about backpacking in Algonquin Park, though. We'd heard Algonquin's got a problem with its users leaving trash behind, and we found evidence of that both along the trail and at our campsite. Imagine, someone left empty plastic bags in the fire pit. The easiest thing to pack out, one of the worst things to burn… Of course, one of them was one of the park's yellow trash bags which are automatically given to all backcountry campers. And we found shredded bits of the same yellow bags along the trail to High Falls. Perhaps Algonquin's staff should begin asking whether people actually want them…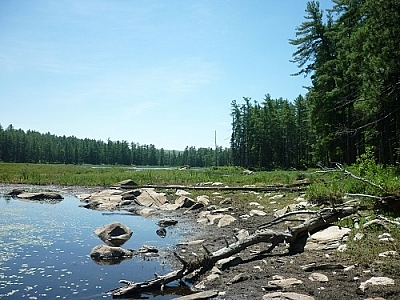 I don't like being duped into thinking we were heading into the backcountry, either — the two park hiking and canoeing backcountry maps we have don't show the trail, though I think the parking lot may be indicated, if my assumptions about the direction of the trail are correct… It's not the day use area per se that's bothering me, but rather, the lack of information about it.
It's also come up in conversation that residents of private cottages within the park can be a bother to backcountry users. A paddler friend of mine who spends a lot of time in Algonquin says he'll canoe out to the heart of the park and be disturbed by the sound of ATVs zooming by.
Still, we've heard so many nice things about Algonquin, we're looking forward to exploring more. We'd only done a small portion of the Highland Trail on our first Algonquin backpacking trip, so we'd like to see more. The trail is short enough that we'd be able to hike the entire loop in three or four days. But, if we ever want to hike the whole circuit of the Western Uplands Trail, we'll need to book some vacation days!
Returning Home from Backpacking Algonquin Park's Eastern Pines Trail
Back at our car and finished backpacking Algonquin Park's Eastern Pines Trail, we thought our adventures were done for the trip, but, of course, they weren't. We took Highway 17 home and decided to get gas in Deep River. Marc talked to the attendant while I looked for my wallet. Then I told Marc to get the attendant to stop pumping, a little panicked when I asked how much gas he'd already put in.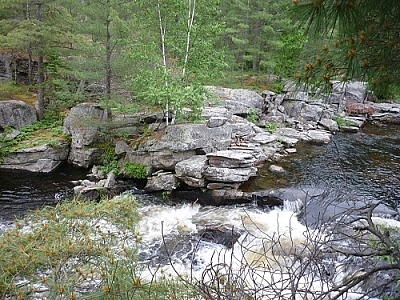 Gulp. We'd spent $4 dollars more than we had in cash, and I couldn't find my cards. The attendant took our cash and let us leave, but Marc was worried we still didn't have enough gas to get home, and now we had no way to buy food. Uh oh.
Convinced I'd brought my cards and just misplaced them, I kept looking and found them in the unlikeliest place. In a flash, as I told Marc to turn around, I remembered shoving the cards "quote safely out of sight unquote." We went back to the gas station and fixed everything up with the attendant, then got more gas, and left again thankful for the good travel karma.
So then we got ice cream :)(smiley face).