F
ive years ago, I undertook the challenge of hiking Killarney Provincial Park's
La Cloche Silhouette Trail by myself
, accompanied by my black lab Fetcher. So it was nice to plan a trip with my partner and now two black labs (add Maggie). Of course there were bumps along the way, some organisational, some more physical (and you'd think by extension more painful, but not necessarily so). Still, we've come out of it talking about nothing but "the next time" since! Gotta love trekking Killarney's La Cloche Silhouette loop trail.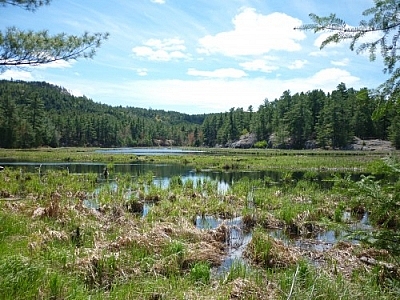 Obviously we were pumped after booking our five-day hike. Yay! But thinking back on last summer, we knew there would be stuff we would need. We spent a lot of time making food and selecting lightweight clothing and gear. I'll be sharing the details in a follow-up post, so for now, suffice it to say that our packs were heavier than the targets we had set. Oh, well. It was already getting late and we had to get up to leave in a few hours…
Day 1 of Trekking Killarney's La Cloche Silhouette Loop Trail
– 12.5
kilometres
We did get up early, so early that the first word out of my mouth was "No." I'm not a morning person, but somehow Marc coaxed me out of bed and soon enough we were on our way. A little behind schedule, but no matter.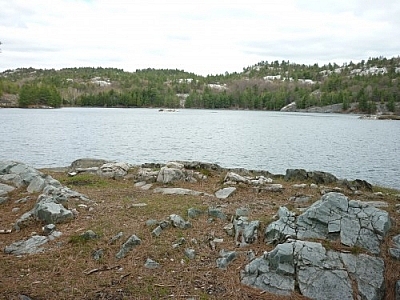 Once at George Lake, already dressed for the hike, I was lacing up my boots while Marc was unloading our packs when for some reason, I asked, "Where are our hiking poles?" And I knew without an answer that we had left them at home.
"Great. I have bad knees and weak ankles. How am I ever going to do this?"
I knew we would be using the poles from the get-go so I hadn't strapped them to the bags like I usually do. Marc didn't know that when he loaded our stuff into the car, and didn't notice them leaning discreetly on the wall next to our bags. I didn't bother to glance behind as we left, distracted because we were a little late.
It didn't take long for Marc to find me two acceptable walking sticks which he broke to the right height, and to which I clung for the duration of the trip, to the very last step. Marc, though, said he didn't need one.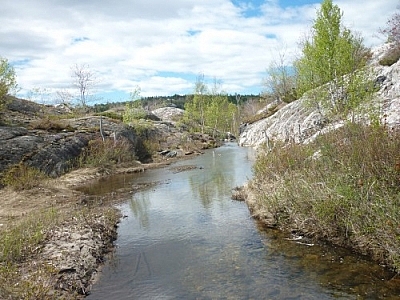 It was smooth hiking until we got to a more or less challenging water crossing. Slippery stepping stones led the way to the opposite bank. Seeing what lay ahead, Marc exclaimed, "Oh my God! I can't believe they're making us do this!" ("They" are the powers that be, the masters of the trail, the Park, the Friends… We're not sure.) I chuckled as I remembered saying the same thing more than once on my first go at trekking Killarney's La Cloche Silhouette loop trail. I answered, "There's more to come. This is only the beginning. That's why you need a stick."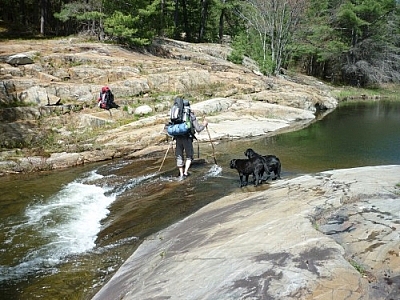 Three water crossings impressed us that day. The first at Artist Creek was clearly not usually challenging, with large stepping stones just out of reach, the water level high, and the shore too slippery to jump safely wearing a pack. So Marc put on his water shoes and carried our packs across one at a time. I thought that without a pack I could try the stepping stones, but after a bit of deliberation before the stones, some repositioning, I went back to where Marc had crossed, asking for my water shoes.
Not all that far into the hike, close enough for a long day trip from the Western trail head, there's about a 1.3 km section that's shared as a portage with canoeists and an ATV road for private camp owners. Steep and rocky, it's known to paddlers as The Pig. I had walked it with my father in reverse my first time trekking Killarney's La Cloche Silhouette loop trail.
Reminiscing, we missed the trail junction, ending up at Threenarrows Lake. I couldn't recall the section between the portage and the water crossing we knew lay ahead, so when Marc found a trail headed in the right direction, we went with it, figuring it would link back to the correct path as it must have been created by other hikers who had made the same mistake.
The trail continued in the right direction long enough that when it suddenly ended, we didn't feel like turning back. Cutting through some bush, we reached our destination — a man-made dam.
The trail passes it on both sides, but if we didn't cross it, it would be 4
kilometres
to the bridge and back. Uh-huh. No way. We still had a long way to go and were getting tired. So we put on our water shoes and Marc carried the bags over one at a time, saying, "There's no way I'm letting you carry your pack across that!" The water does flow rather quickly, but the dogs were splashing about, and Marc reassured me that the current wasn't too strong though the water cold. So in I went, and really, I didn't think it was that cold.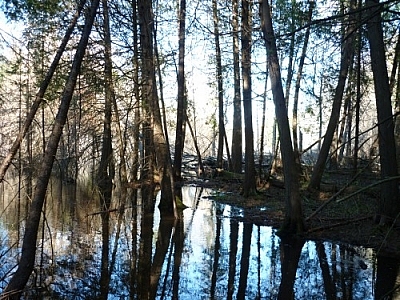 Adrenaline carried us on late into the afternoon, until a beautiful and difficult beaver dam reinvigorated us. Dangerous, sharp, pointy sticks stuck out at odd angles on our left while the water went up to dam level on our right, leaving us with only a narrow strip of mud to navigate. And it was a long dam. But it was pretty! The sun, low in the sky, shone brightly through the trees, reflecting on the water which flooded the area, all aglow. Breathtaking.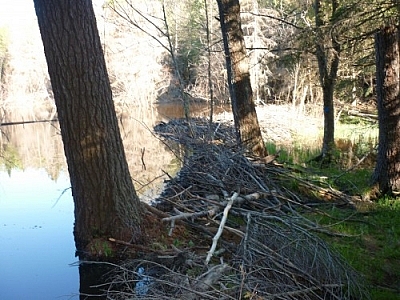 We liked our campsite, H16 on Threenarrows Lake. Before bed, we discussed our favourite moments, glad our packs would be lighter in the morning, especially after feeding the dogs.
Day 2 of Trekking Killarney's La Cloche Silhouette Loop Trail
— 11.8
kilometres
Not having slept well, we luxuriated in the early morning warmth of the rising sun just a little. Once up, it took way too long to pack. By the time we got going, the sun was already high in the sky. We had a long day of trekking Killarney's La Cloche Silhouette loop trail ahead of us, but we knew most of the hiking would be easy until the end.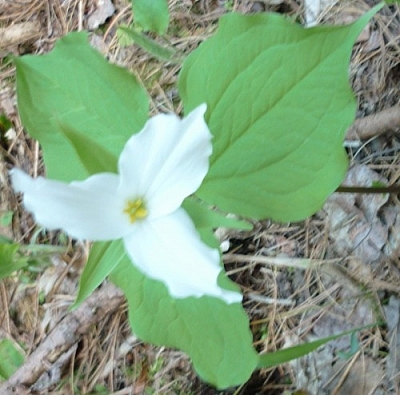 We hadn't seen any sign of others on the trail, besides a tent at the campsite next to the previous day's largest water crossing. The couple to whom it belonged now passed us along the way, and boy were they ever hiking fast!
Our packs feeling heavy, our feet moving slower, we did the math, realising we couldn't reach our reserved campsite until after dark. We worried we might have to intrude on the other couple. Coming near a campsite where we didn't intend to stop, we saw their tent already set up and hoped the way ahead would be clear.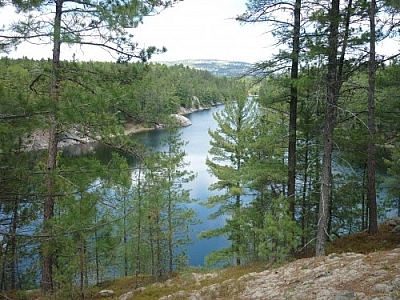 Although two sites are frequently located within the same area, this wasn't the case at H21, the last site on Threenarrows Lake before heading up into the mountains. We headed down the side trail, our fingers crossed.
As luck would have it, a couple was already there. After introducing ourselves and explaining our situation the couple graciously accepted to share the space with us, so once set up, we invited them to join us by the campfire and share stories.
But while setting up, I noticed my water bottle with built-in filter was missing. Having looked everywhere, we concluded I'd left it at our last rest stop, 10 or 15 minutes away. Marc donned his running shoes and returned with it in record time. That bottle was just too valuable to leave behind, unlike the sunglasses, pocket knife, hair band, and dog collar we also lost. Some days!
Soon afterwards, scratching behind Fetcher's ears, I felt a weird bump. Upon inspection, I saw what all hikers dread: a tick! I'll soon be posting about the removal process and what I learned from the experience, but rest assured everything's okay, thank goodness!
Day 3 of Trekking Killarney's La Cloche Silhouette Loop Trail
— 10.4
kilometres
Super early, we packed up camp as fast as we could. It would either be a really long day if we managed to catch up to our trail plan, or a shorter one due to campsite availability. We didn't want to intrude on our hosts twice, so, aware of their destination for the day, we identified the spot where we would have to make a decision: push forward or stay put.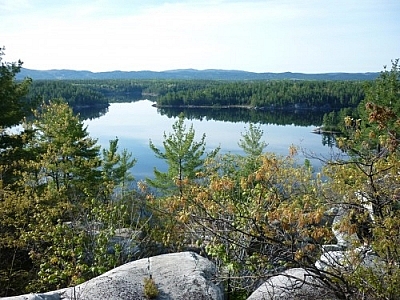 It would be a rough start; we would almost immediately be tackling big ascents, moving away from lower wooded areas up onto mountain ridges. There were quite a few descents as well, none so tough as a steep, rocky hill matted with slippery pine needles.
We crossed a creek at the bottom, then started a long ascent that eventually led us up the side of a waterfall. I had been looking forward to this moment, remembering how tough the descent had been five years earlier — I couldn't wait to show Marc what feat I had accomplished. Only it wasn't quite how I remembered. There was far less water now — none of it gushing! — so other than Marc giving Fetcher and I each a little boost, the way up was easy.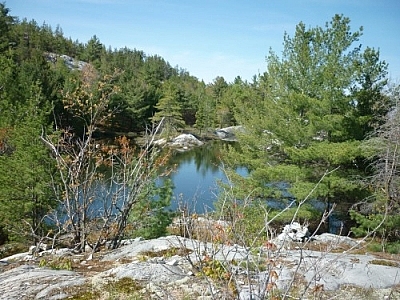 Not long after, the ultra-fast couple passed us again. We said hello and discovered their evening target, near ours. We were pretty sure at this point — they would reach their goal; not us. When we stopped for lunch high on a ridge with beautiful views, we tried our cell phones and managed to text relatives to let them know we might be a day late.
About the middle of the afternoon, my toes began bothering me, slowing us down considerably. When a couple we met said the next campsite was only 20 minutes away, we called it quits. We'd reached that point — if we kept going, we wouldn't make our destination until after dark, and that was based on calculations before my toes started hurting. We opted to rest by making a short day of the next, returning to our trail plan a day behind.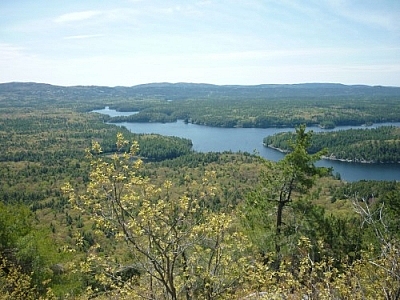 That night, at beautiful campsite H31 on Shigaug Lake, we reviewed our food. We had extra eggs we could give the dogs while simultaneously offloading some weight. Plus, they always get leftovers (even oatmeal, though Maggie won't eat almonds). Then we rested.
Day 4 of Trekking Killarney's La Cloche Silhouette Loop Trail
— 9.3
kilometres
Taking our time packing up, we redistributed weight in our bags to increase comfort. Before leaving, I cleaned my raw toes, applied first aid cream, and wrapped them each in gauze. All this combined really improved our hiking, not to mention the beautiful ridge walking!
Given the altitude, we were surprised to come upon what looked like a rattlesnake. It had no rattle, but sometimes they lose them. What was it? We debated while it lay silent and still. Marc suggested it was dead, but bending over it, we saw the slightest movement, hardly noticeable, and decided to Google it when we got home. Research revealed it to be the non-venomous milk snake (based on info provided by Ontario Nature, the Royal Ontario Museum, and the Eastern Massassauga Rattlesnake Recovery Team, especially the comparison photo in Section 3 of its Stewardship Guide: Identifying Ontario's Eastern Massasauga Rattlesnake And its Look-Alikes [6,580 kbkilobytes PDF]).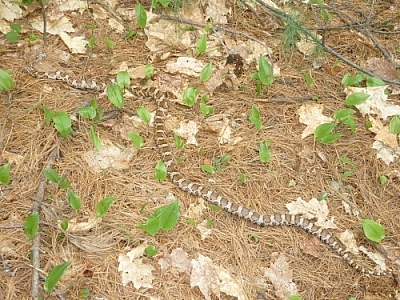 Update:
Curious to know more? Check out my brief
article on milk snakes
for quick facts, and to read about another milk snake encounter we had about a month after this one.
All in all a short day, the first campsite we checked out was unoccupied, so we claimed lovely site H35 on Boundary Lake, set up, and made dinner.
Relaxing by the campfire just before dark, a couple walked into camp! They'd been down to the other site nearby but had seen tents, so retreated to check out this one. Seeing as it was so late, and suspecting the other camp to be inhabited by our hosts from two nights before, we warmly invited the new arrivals to set up and share our fire. It was our turn to repay trail kindness (smiley face).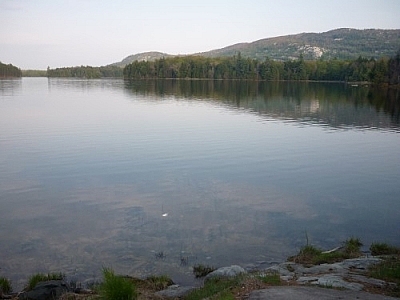 Day 5 of Trekking Killarney's La Cloche Silhouette Loop Trail
— 16.6 km
It was tough to be bummed about being behind when we awoke — we would be climbing Silver Peak this day! Before taking off, still early, I rewrapped my toes in gauze, and this time also placed a tensor bandage around my left ankle.
In no time, we were at the Silver Peak junction. Thrilled at the chance to drop our bags and hike freely, we started up rather quickly, wings on our heels from seeming weightlessness. After about 30 minutes, we slowed to a more normal pace.
At the top, we headed to a wide open area where the views looked best, and, huddled behind a knoll, sheltering from the wind, we saw our hosts from our second night. We chatted for a bit, and when they left, we knew we would bump into them again the next day.
We continued to explore for a while, aware we couldn't play as long as we liked, for we still had a long way to our site. But before we left, we turned on our phones and sent text messages to confirm our late return.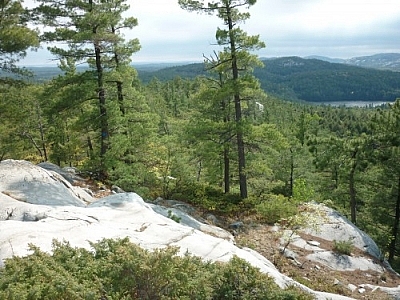 For the rest of the day, we crisscrossed paths with two men who were trekking Killarney's La Cloche Silhouette loop trail in 3½three and a half days. Wow! They weren't hiking particularly fast, but they were such big, sturdy guys, I can't imagine their packs bothered them much. We chatted a lot with them during breaks (either ours or theirs, depending on who was passing whom), and at some point we hiked together until reaching the junction to the campsite for which Marc and I were aiming. We parted with an invitation to visit them for some hiking in the Niagara region.
At H45 on Bunnyrabbit Lake, tired, we delayed setting up. The black flies took a while to die down and we'd started running out of our homemade natural bug spray, so when they suddenly stopped, we were happy.
But now it got cold and still, and we soon felt rather than saw the darkness behind the mountain at our backs. At the first clap of thunder, I uttered a prayer to the Earth Mother to give us half an hour to finish setting up. I'd just gotten everything rain-proofed, and Marc dinner served, and we just had the chance to zip up the tent before torrents of rain exploded down on Earth. Our thoughts were with the people who we knew had longer days than us — the couple we'd left behind at that morning's camp, still asleep, and the guys we'd just left. We fervently hoped they'd made it to their sites on time, or at least found a decent place to set up shelter.
Day 6 of Trekking Killarney's La Cloche Silhouette Loop Trail
— Marc: 18.6
kilometres

; Julie: 14.6

kilometres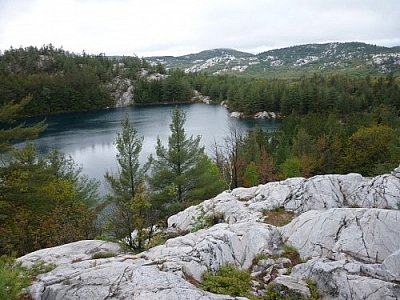 Were we ever encouraged that it wasn't raining much when we awoke on our last day of trekking Killarney's La Cloche Silhouette loop trail. We got a lot done during a dry spell, the showers beginning again just as we set off from camp.
Sopping wet, we soon caught up with our hosts from the second night, and spent a good portion of the day either crisscrossing them or hiking with them, until we passed the spot where they would be camping, and left them behind for good.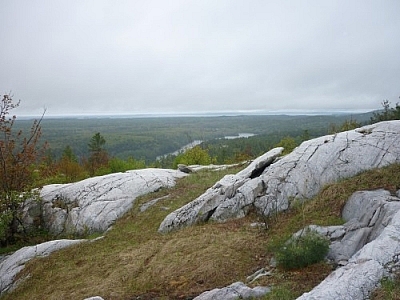 But that was long after it stopped raining. Thankfully, it only lasted a few hours. Shortly after it stopped, Marc and I paused to change into dry clothes — we hoped to be warm and comfortable at least until it started raining again, which surprisingly didn't happen. By this time I had adhesive bandages on both heels, gauze wrapped around each toe, and a tensor bandage on one ankle. I also pulled on a second pair of socks when we got changed, my feet cold and wet. Not a good idea.
As we hiked that afternoon, too much circulation was getting cut off. We had to stop a few times, first to remove the second pair of socks, next to loosen the tensor bandage, then to loosen my boots, and again to take my boots, socks, and tensor bandage off entirely for a while.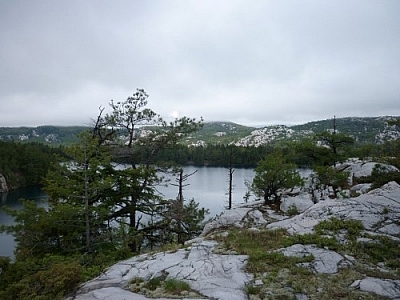 After my foot gave out beneath me, causing me to stumble and fall, Marc started making me drop my bag for steep descents, either carrying my bag down in his arms or returning for it after dropping his off at the bottom. Beyond The Crack, back down where the terrain is mostly flat and the trail unobstructed, Marc put my pack crosswise on his shoulders, above his pack. I wanted to take a picture, but that meant retrieving the camera from my pack, so I decided not to bother him. Later, he confessed to having had the same thought.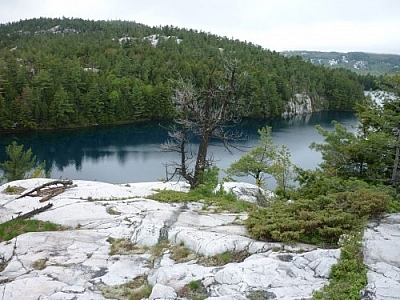 We reached the junction to the access parking lot for day hikers to The Crack, and Marc put down both bags. I kept the dogs with me while he went off towards George Lake. He would be running the last 7 kmkilometres to our car and bring it to this access lot. In the meantime, having regained some strength, I would walk the 1 kmkilometres side trail to the parking lot with my bag, then return for Marc's.
The parking lot gate at the trail head finally in view for the last time, I realized I no longer needed my walking sticks. I felt a twinge of sadness as I leaned them against the gate next to others — gifts offered to tomorrow's trail blazers.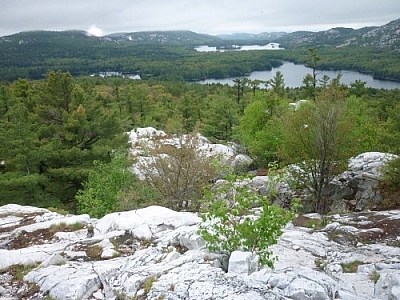 I only had time to set up my camp chair and change my shoes before Marc arrived. On the drive home, he joked we'd be dreaming of black flies, not raspberries, that night.
Thinking of trekking Killarney's La Cloche Silhouette loop trail yourself?
Check out this
selection of itineraries
for route-planning tips!