Thursday evening, David and I decided to stay at the refuge overnight instead of returning to Mera. We had discussed it with Jen and Frank ahead of time, and together we planned some "camping" and jungle hiking at Merazonia (smiley face).
We hiked out to the road with Frank, Jen, and Guido because to the right of the trail's head, there's a trout farm where we bought dinner.
I couldn't believe it: we asked the owner to filet the fish for us and was he ever terrible at it! He wasted so much flesh and took forever trying to get the arèches /(slash) fishbones out from the first fish. We had to tell him to leave them in for the next two because we needed to hike back to the land and build a fire before dark. Half an hour to filet three small trout! We dealt with the skin being left on…
Reasonable price, though. He only wanted to charge us $2, but we forced him to accept an extra dollar for all the trouble he went through.
As we were returning, we bumped into an unexpected visitor. We weren't sure how it happened, but somehow, Merazonia's pet, Puppy, must have ran off from Jen and Frank to come find David and me. It was too late to hike back out and bring him back, so we kept him with us, happy to have the canine company.
Back at Merazonia, we hastened to build our fire, chopped an onion, opened a can of mushrooms, and threw it all in a pot with our trout. We served our meal in mugs. It looked absolutely unappetizing, but it tasted incredible.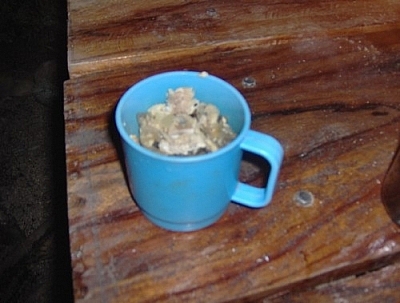 Afterwards, we sat by the fire, admiring the mercifully crystal-clear sky until bedtime.
Not exactly camping, since we had beds and a roof, but none of the windows have glass, just screens, so it was pretty close to camping, I'd say.
The day started beautifully on Friday for some jungle hiking at Merazonia.
Since David has a GPS, Frank and Jen wanted to locate the borders of Merazonia's 250-acre property.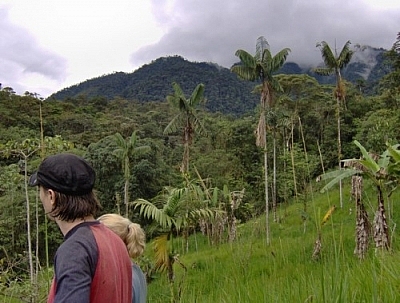 We spent the entire day bushwhacking in the jungle, struggling against vines, cutting makeshift trails with machetes, following creek beds whenever possible, sliding down muddy hills once it started to rain shortly after lunch.
Since we're just at the foot of the Andes here, we're still at a fairly elevated altitude and the terrain is faaar from flat.
I quickly learned to be careful which trees I grabbed for support on my way downhill.
Many have spiky, prickly thorns on them, some short and stubby, others long and needle-like. Yeah, I've got lots of air holes in my hands…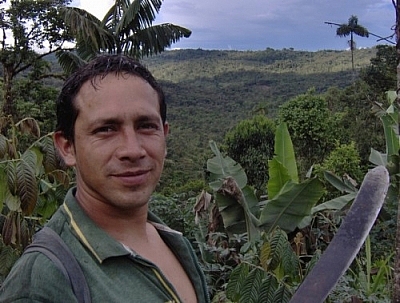 Today was strictly for relaxing. I read, wrote, cleaned, did laundry, chatted with Maria at the grocery store, walked the dogs — yep, dogs. I already mentioned Puppy, but there are three of 'em. Well, kinda four, if you count the lovable stray that hangs around.