Access has been opened for walking in French River. Only a several minutes' drive from Noëlville, an old logging road turned ATV trail on crown land has been transformed by the French River Multi Use Trail Association, now made suitable for hikers, horseback riders, and cyclists, too. *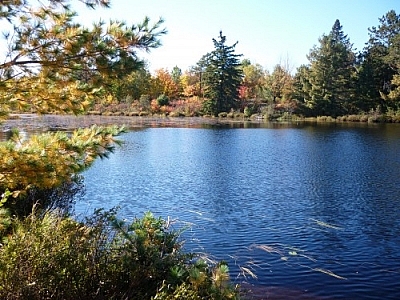 Signs indicate where Pioneer Trail begins on Mayer Road, and there's sufficient space to park a few vehicles beside the trail head, or lots more on the side of the road.
The trail is wider and clearer than we usually like — one of the downfalls of the multi use system being that main trails cannot, by necessity, be kept natural.
But walking in French River is beautiful nonetheless. From the trail head, it's not long before reaching a viewpoint and boat launch at Lac Clair, marked by a large fire pit.
Just before the trail skirts the southern edge of Lac Barbotte, a side trail restricted to non-motorised use veers to the right towards the lake.
These side trails make walking in French River all that much nicer. A short walk on a narrower trail with rocks and roots left intact culminates at a large lookout site on the shores of Lac Barbotte.
The day warm, the sun bright, the sky clean and blue, and the autumn colours uplifting — beautiful! We had a lovely time walking in French River on Pioneer Trail to Lac Barbotte Lookout.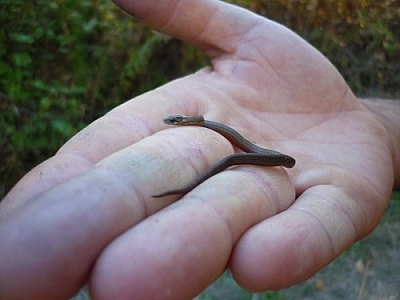 * Trail permits include a map of the area's multi-use trails. More info is available from the French River Multi Use Trail Association.
More Info on Walking in French River