We've lately had the pleasure of taking a lovely walk to some of French River's beauty spots on the new multi-use trail system, stopping off Mayer Road in Noëlville to access the Lac Barbotte Lookout via Pioneer Trail.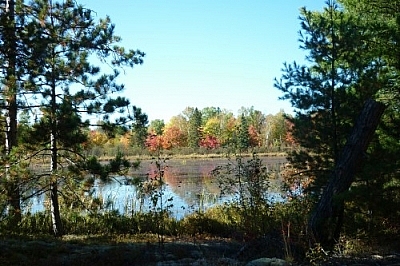 While the scenery was inspiring, colourful leaves set against a clean blue autumn sky, our enjoyment of this peaceful setting was somewhat marred by our concern for our safety, and that of our dogs.
Near the beginning of our walk, we met two ATVs, so we made sure we had the dogs under control and waited off by the side of the trail, leaving plenty of space for the vehicles to pass by.
We'd noticed a partridge on the trail between us and the ATVs, but we were nonetheless surprised that they pulled over and stopped, waiting. When the partridge finally flew away after interminable seconds, the ATVs made their way towards us. The man on the first quad shook his head at us, seemingly in reprimand. The man in the second bike slowed down just long enough to tell us that was the first partridge they'd seen all day.
So it seems the first man blamed us — not their loud quads — for the failed day's hunt.
Not long afterwards, as we were enjoying a view of Lac Clair, a pair of hunters passed by us on foot. As we followed at a distance behind, keeping our dogs back with us, and on the trail out of the bush, they repeatedly glanced back pointedly at us. We felt their looks meant to say we didn't belong there.
But we bought permits to have the right to walk there, and we have no idea whether the hunters who have been accessing the trail for years all of a sudden decided to purchase theirs, too. We don't care, really.
Rather, we sincerely hope that trail usage and safety rules, including hunting, will be clearly posted at each trail head. At the very least, all users need to respect each other's right to enjoy the land.
While we were at the Lac Barbotte Lookout, we heard three gunshots very nearby. We weren't quite sure which direction the hunters ahead of us had gone, and even though they definitely weren't on the same trail as us, and although we had taken the precaution of wearing bright orange pieces of clothing, we were still nervous.
We're not sure we'll feel confident enough to use the trails again this year, as we realize signage can't be posted overnight. We usually stick to no-hunting zones like Mashkinonje Provincial Park in the fall, anyway, but it's always nice to explore a new trail, so we'll see…
Realizing that it takes time to implement these types of changes in a small community (as Facebook comments on the trek report show), we fully trust that the French River Multi Use Trails Association will identify and resolve many problems and/or issues in due course.
Some, we hope, sooner rather than later. For now, please folks, share the trails with all users, regardless of whether you agree or disagree with the project.
Popular in Travel & Trekking