Finding local nuts isn't something we generally think of doing in Ontario — and we're right not to try too hard. But the peanut isn't a nut, though it's eaten just like one. It's a legume — the kind we can get as close by as Norfolk County near the shores of Lake Erie, from Kernal Peanuts.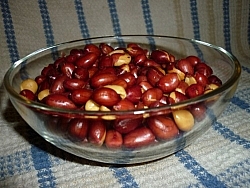 We've been buying their peanut butter and their shelled and roasted (unsalted) and in-shell peanut varieties for some years now, but I only recently thought of looking up the Kernal Peanuts website to find out more about the company. Am I ever glad I did!
Mostly because it's interesting to learn about how peanuts grow. Ever given it any thought? Well, they don't grow on trees, you know!
The company's Growing page explains it better than I can, but in a nutshell, a peanut plant grows up from the ground, then sprouts back down from the top and implants into the ground, and peanuts are harvested from beneath the surface, in pods (or shells). Ok, that's cool!
Even cooler is that peanuts have the "unique ability to fix [their] own nitrogen requirements," so they don't need to be fertilised much, if at all. And, they prefer a temperate climate, just right for Southern Ontario.
Kernal Peanuts doesn't grow just any kind of peanuts, though — it specialises in Valencia peanuts, which are sweet.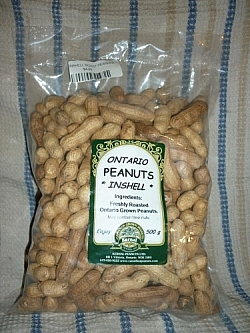 That's not to say they aren't healthy. Peanuts are cholesterol-free, high in protein, low in sodium (so long as you buy the unsalted kind), and high in good fats (poly-unsaturated) and low in bad fats (saturated).
They're also high in vitamins and minerals and they're high in fibre, too, so really, they're a perfect snack for quick energy before a workout (so long as sugar isn't added, so choose all-natural peanut butter!).
That just might be one of the reasons Kernal Peanuts won the Premier's Award for Agri-Food Innovation Excellence in 2008.
It's certainly one of the reasons we include them in our recipes for granola cereal, granola bars, trail mix, oatmeal mix, smoothies, and eat them just plain as a snack or spread peanut butter on toast. That, and they taste so wonderful and fresh!
And now that I've found these Kernal Peanuts recipes, I'll definitely be trying the peanut butter bread! (With variations, of course — that's just me. I'm sure I'll post about it once I get it done!)
But Kernal Peanuts wasn't always a peanut company. Before converting to peanuts, the land was used as a tobacco farm, but with the decline in tobacco consumption in the 80s, an alternative cash crop was sought.
With the introduction of peanuts to the area, Kernal Peanuts was able to redesign the way it does business entirely. Now, Kernal Peanuts uses Earth-friendly methods. All farm buildings are heated by outdoor wood furnaces fuelled by peanut shells and wood. The system also dries the peanuts in a kiln and heats the hot water. Plus, waste peanut oil from the roasting procedure is used as fuel for farm tractors.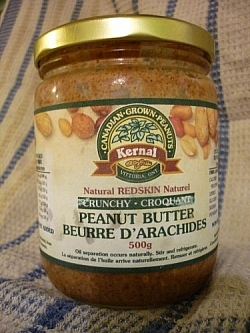 Being the largest peanut grower in Canada, Kernal Peanuts manages a rather large operation, with production, manufacturing, wholesale, and retail fronts.
Of course, the peanuts are grown on the farm, but Kernal Peanuts products are also produced on-site, and in addition to distributing its products to stores, it also offers tours and keeps a gift shop, which is decorated with antique peanut butter cans.
The gift shop is open year-round, and during the holiday season, it stocks specialty gift baskets, boxes, and bags, and caters to custom orders. The rest of the time, it carries its usual assortment of salted and unsalted shelled peanuts, in-shell peanuts, flavoured shelled peanuts, peanut butter, peanut brittle, fudge, trail mix, and peanut candies.
Shoppers can make their purchases online or via telephone if that's more convenient than visiting in person. Some Kernal Peanuts products are also available within the area at Eat Local Sudbury.