Our first day hike of the season at Mashkinonje Provincial Park surprised us a little. We weren't expecting so much snow in the forest! We had planned our route knowing the bush would be wet. So, we'd chosen to start our Mashkinonje day hike on higher ground and to return through the lowlands, which would hopefully give the sun enough time to melt away some snow. Alas, the sun never came out that day, and it's doubtful it would have helped much anyway — the snow was so deep in some places…
Samoset, Heron, and Atakas Trails
Still, even though the trail head from the Blandings access point was quite snowy, we started off at a brisk pace, sure the sun would come out eventually. The forecast had said it would! Besides, we were headed for the higher ground of Heron Trail's ridges and rock outcrops.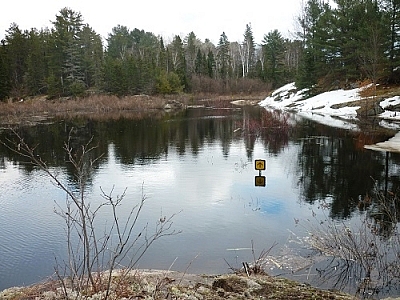 And we were right. It didn't take long for the ground to clear, and the hiking got much easier. Encouraged, we continued on our Mashkinonje day hike, stopping frequently to take pictures.
We crossed Atakas Trail relatively quickly, all things considered since the trail wound in and out of snowy patches. We were glad to see that the historic cabin — and the bench beside it — were dry.
But when we got to the dry meadow at the junction of the Coastal Trail, we couldn't help but laugh and take a million pictures. The usual path was completely impassable! It was flooded with melting snow. Luckily, pink ribbons indicate an alternate route through the woods.
For more anecdotes from this Mashkinonje day hike, read about our
Barely Beaver
wildlife sighting!
Coastal, Lapin Beach, and Samoset Trails
Walking along Lake Nipissing on the Coastal Trail was lovely, though the trail got snowy and more challenging whenever it went inland. There were lots of nice rocky spots to stop and rest along the way, and we took advantage to enjoy the scenery.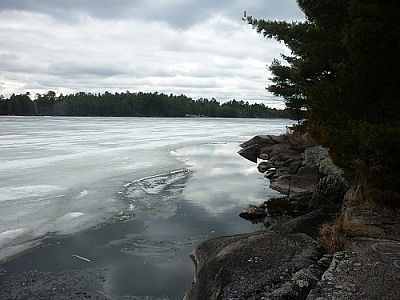 The going got tougher again at Lapin Beach. Tired of struggling by this time, we braced for the final fight with the snow. We knew before we got there that the rest of this Mashkinonje day hike would be snow-covered, the sun never having appeared all day.
We put away the camera and hurried on, eager now to get home. By the time we reached our car, we'd been hiking for 7.5 hours. Not bad for our first Mashkinonje day hike of the season! We had considered taking the Beckett Lang shortcut from Atakas Trail, bypassing most of the Coastal Trail, but I'm so glad we didn't :)(smiley face).
Mashkinonje Day Hike Route Info
See Visiting Mashkinonje Provincial Park: A Guide to learn more about access points, trails, beaches, facilities, and much more that can help you plan your own Mashkinonje day hike.