I was pretty stoked last summer to be able to include a local Sudbury microbrewery on my list of Ontario craft beers, even though Stack Brewing beer wasn't available for sale yet. I mentioned then that I couldn't wait to try it — and I've had ample opportunity to sample some (lots) since :)(smiley face).
Beer fans, greeniacs, and locavores will all love Stack Brewing's amazing products, for their own reasons surely, and each will appreciate the flavourful variety. For me, it's a combination of all four that does it.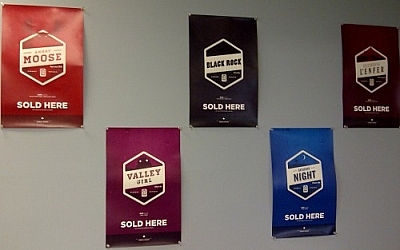 Stack Brewing's got some excellent stock beers which are generally available, while it also creates delicious seasonal varieties. The list of available stock beers is long enough to suit every taste, including an India pale ale, a wheat beer, a cream ale, a stout, an amber, and a few specialties.
Each beer is originally titled to reflect its local character: Angry Moose, Valley Girl, Black Rock, Saturday Night, and Smoke 'n Oak are the most distinctly Sudburian beer names. To add a bit of local attitude, Stack Brewing prints local stories and poems on its tags. These add depth to the names of the beer; they highlight traditional local activities like fishing, quadding, mining, and farming.
Of course, Stack Brewing's company name and logo are modelled after one of Sudbury's most classic icons, the Inco smokestack. But that's not all. Green-minded locavores will love that Stack Brewing sends spent grain to a local farm to be used as animal feed. Even cooler, if possible, is that every jug of Stack Brewing beer is bottled by hand. Check out the photos of Stack Brewing's equipment and facilities on Facebook!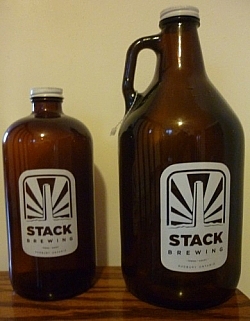 Greeniacs will also be pleased with Stack Brewing's eco-friendly packaging system. The glass bottles are attractive, reusable, and durable — just bring them back to exchange for new pre-filled beer bottles or for a deposit refund. The 64 ounce jugs are called growlers while the smaller 32 ounce bottles are called grumblers. The screw-on caps allow Stack Brewing to wash and sanitise them before refilling them. Even their 355 mL bottles are reused as much as possible (though they sell out so fast, I've never actually seen any in the store).
Since Stack Brewing beer is unfiltered, staff members recommend gently tumbling the jugs sideways prior to serving. We've found this tip very helpful!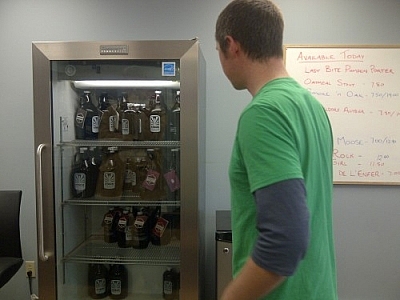 In fact, we've been ultra-impressed with the level of knowledge displayed by the staff, as well as by the fantastic customer service. Ask any question about the beers — don't be shy! Stack Brewing employees have been great at describing flavours and brewing processes.
And it looks like Stack Brewing is going to be getting involved within the community as well. Owner Shawn Mailloux says the company's plans for 2014 include events that will help educate people about beer, such as tastings, pairings, and brewery tours.
It should be an interesting year as Mailloux has indicated that new equipment will be purchased, and the brand will be introduced at the LCBO. I'm definitely looking forward to having Stack Brewing beers available closer to home!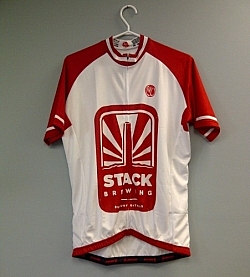 So which have been my favourite Stack Brewing beers to date? Well, I've tried nine of them so far, six stock beers and three seasonal ones. I'm not exactly a beer connoisseur, but I'll do my best to describe a few of the ones I preferred.
Stack Brewing Stock Beers
Les Portes de l'Enfer
A Bière de Garde, Les Portes de l'Enfer is dark and a little thicker, but it's not very heavy. It's the type of beer I like to sip and enjoy slowly.
Valley Girl
This light wheat beer has nice fizz and some citrus zing, the kind of drink that can be refreshing year-round.
Angry Moose
Hoppy with a twist, this IPA has a bit of a sweet flavour, a full body, and lots of fizz. This is just the kind of beer I would offer to someone just starting to experiment with craft beers because it's classic yet interesting — it leaves you wanting more!
Update: Looking for Angry Moose? You won't find it by that name anymore… Find out why.
Smoke 'n Oak
I found this amber to be thin and smooth, and not heavily carbonated. Not sweet but not bitter, it's very well-balanced and definitely unique.
Other Stack Brewing Stock Beers
We've also bought the Oatmeal Stout and Black Rock, which combines the stout and IPA styles. We bought these for Marc; however. I've never been big on stouts so I can't comment, but Marc said he really enjoyed them!
Stack Brewing Seasonal Beers
Last Bite Pumpkin Porter
Dark and rich with a bit of spice, this was a perfect fall beer. It kept me warm just when the weather was turning and I wasn't yet used to the cold. It would be great to see this made throughout the winter ;)(winky face).
Vanilla Chai Amber Ale
Spicy sweet, this beer went down like juice. It was made for a special occasion, but I hope it makes occasional reappearances!
Holiday Varieties
The following are available during the 2013 holiday season:
Double Chocolate Stout
Christmas Ale (I've heard it'll be nice and spicy!)
Stack Brewing Merchandise
Stack Brewing's got some nice beer goblets and glasses which make great gifts accompanied by a growler. Or wear your Sudbury Stack proudly — men's and women's t-shirts are available.