Things over at Lush can be a little confusing for the green shopper. The company seems so eco-conscious, and everything is fresh and handmade. But then again, some of the ingredients aren't natural or safe. At Lush, eco-shoppers need to be careful, but they can still find many great products. It's time to have Lush demystified.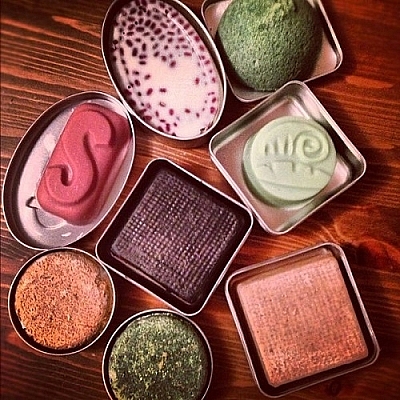 Lush is a good company, and perhaps it would make more all-natural products if there was a more consistent demand for it.
And it's a decent shopping option for Northern Ontarians, not only because its products can be ordered online for a reasonable shipping fee, but also because the vast majority of Lush products purchased in Ontario are made in Etobicoke, part of the Greater Toronto Area.
So instead of listing all the harmful ingredients in Lush products as reasons to avoid them, I'm sharing some tips for finding the best Lush has to offer. I've even done some pre-screening to suggest specific products.
By having Lush demystified, I hope to influence green shoppers' buying decisions, which may eventually influence which ingredients are used in Lush products.
Pros and Cons of Shopping at Lush
Thumbs Up
On the one hand, Lush is a really great company. Over half its fresh and handmade products are in solid form to avoid packaging, reduce water consumption, and eliminate preservatives. Lush uses 100% recycled and recyclable or compostable materials when its products do require packaging.
It sources ingredients ethically, campaigns against animal testing, participates in social and environmental activism, gives to charity, and funds cruelty-free scientific research. It sources "low-impact and ethically responsible fuels" for transporting its ingredients and products. It only uses vegetarian ingredients.
And Lush does much more to ensure that its environmental impact is as low as possible while remaining dedicated to social responsibility.
Thumbs Down
On the other hand, many Lush products contain ingredients that aren't natural, and even potentially toxic.
Lush has a policy of full disclosure for all its ingredients, but most ingredient descriptions veil the harmful nature of the so-called "safe synthetics" found in many Lush products.
Some of the most common are "perfume" and "fragrance," which may both be safe but cannot be considered so since they are unknown (both are combinations of ingredients which the law protects as a "secret formula").
Tips for Eco-Friendly Shopping at Lush
Shopping online has several advantages, not the least of which is avoiding persuasive clerks and unexpected purchases ;)(winky face).
Kidding aside, the great thing about shopping online is that for each product, natural ingredients are listed in green, and synthetic ingredients are listed in black.
To learn more about any ingredient, just click on it to visit the Lushopedia. For ingredients listed in black, which are supposedly "safe synthetics," you're better off to verify them in the Environmental Working Group's Skin Deep Cosmetics Database.
The Lushopedia doesn't say anything negative about its ingredients. Compare Lush's description of sodium stearate to the EWG's description of sodium stearate. According to the Skin Deep Cosmetics Database, sodium stearate is suspected to be an environmental toxin. Lush's description doesn't mention side effects, only uses.
If you'll be visiting a store in person, it's worth scouting the product descriptions online first since the ingredients lists on the products themselves aren't colour-coded.
Plus you can look up those ingredients you don't recognise when you're online, while you're more likely to dismiss them as unimportant on the spur of the moment.
Lush Products Demystified
I've checked out a bunch of Lush products in an attempt to find the most natural, safest ones. Since I wouldn't normally buy liquid products, I only looked at solid items. I didn't find much, so I'll start with the ones that didn't make the cut.
Nays
Toothy Tabs
We love Toothy Tabs for backcountry camping since they weigh very little, take up very little space, and we can just bring the exact amount we need for our trip. Unfortunately, all Lush Toothy Tabs contain sodium lauroyl sarcosinate, which is suspected of being an environmental toxin. We really hope this ingredient will be taken out of Toothy Tabs, and pronto!
Lip Scrubs
The Mint Julips Lip Scrub is made of all-natural ingredients.
Update (August 11, 2015): It occurred to me that like perfume and fragrance, flavour is an unidentified combination of other ingredients, not an ingredient in and of itself. I decided to look it up, and I'm glad I did. Lush may or may not be justified in calling its flavours natural, but until it fully discloses the ingredients in each flavour, the claim that the ingredients are safe cannot be trusted. For this reason, the EWG rates flavour as moderately hazardous, and I can no longer recommend this product without reservation.
Lip Balms
If only Lush made more products like it makes its Lip Balms. The Honey Trap, None of Your Beeswax, Lip Service, and Chocolate Whipstick Lip Balms contain all-natural ingredients.
Update (August 11, 2015): Since each of these products contains flavour, I've had to remove my endorsement.
Face Moisturizers
The Full of Grace solid face moisturizer is made of all-natural ingredients and safe synthetics.
Update (August 11, 2015): Unfortunately, it appears that fragrance has been added to the ingredients list since this article was originally written, so I can no longer recommend any of the face moisturizers :((frowny face).
Bath Bombs
Sadly, all Bath Bombs contain fragrance, perfume, or some other horrible ingredient. The best of the Bath Bombs is made with propylene glycol, and FDandC Blue #1 and Green #3 dyes. Who wants to bathe in that? Ick! Moreover, since Green #3 may be derived from or tested on animals, I wonder that Lush would even consider using it. But when looking up colours in the Lushopedia, the company says very little about its dyes in general.
Bubble Bars
Regrettably, all Bubble Bars contain either fragrance or perfume. The idea of a solid bubble bath is really awesome, so I wish Lush would rely on fresh ingredients for scent.
Bath Melts
Most of the Bath Melts contain either fragrance or perfume. The best one contains Laureth-4, which is probably a skin irritant. No good.
Shower Scrubs
Absolutely all of the Lush Shower Scrubs contain fragrance or perfume. The company says that its shops smell so much because of the fresh ingredients in the products, but I have my doubts!
Conditioner Bars
Ditto for the solid Conditioner bars. None are made without fragrance or perfume.
Shampoo Bars
While not all of the Lush Shampoo bars contain fragrance or perfume, the best one contains sodium lauryl sulfate and D&andC Red #30, so that's not any better.
Body Butters
Once again, all of the solid Body Butters are made with either fragrance or perfume. Darn!
Deodorant Bars
The T'eo Deodorant bar is made of natural ingredients and safe synthetics.
Update (August 11, 2015): Once again, it appears that fragrance has been added to this product's ingredients.
Deodorant Powders
The Greeench Deodorant Powder contains all-natural ingredients and safe synthetics.
Update (August 11, 2015): As above, fragrance can now be found on the list of ingredients for this product. More worrisome, though, is what I've recently learned about talc thanks to a comment left by a reader. Since it is a natural ingredient, Lush is justified in listing it in green on its website — but I think it's rather shocking that Lush takes the position that "there is no evidence to support concerns," given that the EWG rates talc as moderately hazardous and "the National Toxicology Panel demonstrated that cosmetic-grade talc free of asbestos is a form of magnesium silicate that also can be toxic and carcinogenic."
Dusting Powders
The T for Toes Dusting Powder contains natural ingredients and safe synthetics.
Update (August 11, 2015): As above, this product now contains fragrance.
Yays
Toner Tabs
Toner Tabs are two-in-one facial steams and toners. The Tea Tree Toner Tab is made with all-natural ingredients and safe synthetics. And of course, it's just great to be able to get a solid toner!
Green Tips from Lush
The good folk at Lush really do care about the planet and its inhabitants. They offer these great green tips for reducing impact:
Conclusion
While Lush is a good company with good intentions, it's still got a long way to go before it can call its products safe and natural. With luck, someone at Lush will read this and instigate some changes in hopes of a better review next time. One change it would be nice to see ASAP would be to list those synthetic ingredients which aren't completely safe in red instead of black. In the meantime, I hope having Lush demystified comes in handy for someone.
Update (August 11, 2015): Given all the updates I've made today, it's clear that in the 15 months or so following the publication of this article, things have gotten worse at Lush, not better. With only one truly safe and natural solid product left, it's getting difficult for me to defend Lush as a good company. Lush really needs to disclose the ingredients it uses in its fragrances, perfumes, and flavours. It might then be possible to return many of the products reviewed to the Yays section. So please continue to share this article directly with Lush to let the company know exactly what changes you'd like to see!