Every spring, we take inventory of our backcountry gear and stock up for the hiking and camping season. This year, we both needed new backpacks so we decided to take a road trip and do some backcountry gear shopping in Toronto. It's important to try on a backpack for sizing and fit, and online descriptions are often incomplete or inaccurate, so we really wanted to do this backcountry gear shopping in person.
Since we were going to Toronto anyway, we decided to take a look at what we had identified as needing after last year's La Cloche Silhouette trek in Killarney. In Preparing for a Trek: Gear and Food, I listed some useful items which we would now be hunting down.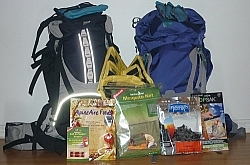 Backcountry Gear Shopping at Mountain Equipment Co-op in Toronto
I've been a Mountain Equipment Co-op member for seven years now — I joined before my travels in South America. I love that it's a co-operative, I love that it's got a comprehensive sustainability policy, I love that it's Canadian, and I love the selection of backcountry gear. Going to MEC was our main reason for backcountry gear shopping in Toronto in the first place (smiley face).
Final Purchases
Dehydrated meals: We're definitely going to try making our own dehydrated meals, but who knows how that'll go? So, we stocked up for the season, just in case. Plus, these are handy to have around in case of a long power outage. We almost had to eat some this past winter!

Some good options include:

–Backpacker's Pantry
–Natural High
–Mountain House
–Alpine Aire
Loksak Odor Proof Barrier Bags: We had the larger ones already, but we still needed a bit more space so we got the small odour-proof bags, too. We find they work way better than regular resealable bags.
energy bars: We stocked up on our usual Clif bars for now. Here's a good little shopping tip: MEC offers a 10

percent

discount on Clif bars if you buy a whole box (or the equivalent number of single bars).
Algonquin Park Canoe Map: I would have ordered this directly from the Friends of Algonquin Park website, but the shipping was more than the map itself! Since we aren't actually currently planning an Algonquin Park paddle trip, I decided to hold off, but when I saw it at MEC, I grabbed it. However, it's available in-store only, so the Friends option might be the only online choice.
MEC Brio 65L backpack: This is the pack we got for me, so we bought the women's version. It's got most of the features I wanted, including two mesh side pockets for water bottles, zippered pockets on each side of the hip belt, a bottom sleeping bag compartment, and a few more convenient pockets.

Unfortunately, this pack didn't come with a rain cover, but the one on Marc's old bag is in great condition so I'll just use that one (the one on my old bag is full of holes!). The biggest downside of this bag is the front compartment, which is touted as a drainage pocket to keep wet and dry gear separate. That's all fine and dandy, but it would be more useful if the pocket was zippered! Another bummer is that the pack has neither front nor side access, which I think will be inconvenient. But, at least that's one of the things having organiser bags will help simplify.

Regardless, I can't wait to give it a go, but our first backcountry trip of the season will be a paddle trip in Killarney Provincial Park, so I'll only be testing it out on portages.
PackTowls: We bought three small towels — one each to use as wash cloths and hand towels, and one for drying dishes. These are much lighter than the cotton cloths and towels we used to bring! And since they ring out practically dry, we'll no longer need to bring double the hand and dish towels.
Backcountry Gear Shopping at Bass Pro Shop in Vaughan
We stopped in Vaughan on our way to Toronto to do some backcountry gear shopping at Bass Pro Shop. I had done some scouting online ahead of time and knew that some of the products we wanted were less expensive at Bass Pro Shop, so we decided to buy them and return them on our way home if we found better deals elsewhere. Great decision! We kept most of what we bought at Bass Pro Shop, but we did return one item which we got a better deal for at MEC.
Final Purchases
Microfiber pack towel: We got this in a larger size for use after swimming, and since they ring out practically dry, we only got one to share. Not only is this towel lighter than what we used to bring (a beach towel), but we used to bring two and now we'll only need one. Nice! I couldn't find a link to the exact one we got, but this one is about the same size. The one we got, a North 49, was less expensive, too. Don't forget that Bass Pro Shop's online prices are in US dollars, though!
Coghlan's Backpacker's Salt and Pepper Shaker: We were mixing salt and pepper together and putting it in an old shaker I had laying around, and we just put duct tape over the holes. It would stick for a day before I had to change it. I got sick of spills, so we got these cheapies. You'd think we could have gotten them anywhere, but they were more than double the price at MEC and Canadian Tire. Bonus: The online and in-store prices are the same, though you'll likely have to pay an exchange rate if you order online.
Coghlan's Organizer Bags: So useful for finding what you need quickly, without taking everything out of your backpack, organizer bags shouldn't cost a lot. This set of three was decently priced, though not quite as nice as the online USD price

(winky face).

Also, some of the gear we buy that comes with a stuff sack doesn't actually need a stuff sack, so we repurpose those as organizer bags. The easiest type of DIY ever, seriously.
Coghlan's Backwoods Mosquito Net: Probably something we'll only be carrying with us in the spring and early summer, this mosquito shelter is large enough to cover us and both of our large dogs when we stop for breaks. Last year we made a natural bug spray that we really liked, but we would still prefer to offer this additional comfort for the dogs, who tend to suffer from bites more than we do. The in-store, Canadian price was a few dollars more than what's quoted online.
North 49 Catalyst 75L backpack: We got this pack for Marc. It's got all the features he was looking for, including two mesh side pockets for water bottles, a zippered pocket on the hip belt, a bottom sleeping bag compartment, an attached rain cover, and a few more convenient pockets. The pack has an outside front compartment on the bottom portion. Plus, it has front access to the main compartment, with a convenient zippered pocket inside the flap, which is pretty neat.

We're really excited with this new pack, which was a really great price. I couldn't find a link from Bass Pro Shop, unfortunately, but the one I did find is a little cheaper, even in Canadian dollars, so good for you!
Returned
In the end, we returned a pack towel which we'd bought for drying dishes. The one we got from MEC was better priced and only a little smaller. But since we were already there, we went back inside the store and looked around some more. We didn't find any of the items missing from our list, but we did get a few great backcountry gear shopping tips! Keep reading to find out what they were ;)(winky face).
Backcountry Gear Shopping at Patagonia in Toronto
Our backcountry gear shopping list for Patagonia was really short, and we didn't actually intend on buying anything — I was looking for information first. In spring 2008, I got an eco-friendly raincoat from Patagonia that turned out to be one of the best purchases I've ever made. Marc doesn't have any rain wear that's suitable for backpacking, so I wanted to see what the equivalent jacket would be these days. Since I wear my Patagonia raincoat everywhere in spring (and fall), I just took it off and handed it to the clerk for him to work his magic.
A scan here, a little typing there was all it took to discover our next big purchase will be the Patagonia Storm Jacket. I'm serious about how much I love this raincoat. It looks good, it's functional, it's environmentally sustainable, it's tough, and it's backed by an amazing guarantee. I've been wearing this jacket for six years now and it's in excellent condition. I wear it for anything, from the most mundane errands to the most rugged backcountry trip. I even wore it as a winter coat, layered over two sweaters, when I lived abroad in South Korea.
Backcountry Gear Shopping at Lush in Toronto
Lush beauty products aren't on most backcountry gear shopping lists, but at least one of them should be. Toothy Tabs are awesome space and weight savers — we just bring however many we'll need for the trip and leave the box at home. If you're worried about the tablets' texture, don't be — it's pleasant, and they begin to foam as soon as you start chewing on them. And do they ever foam up!
Of course, we looked at the ingredients of each flavour to choose one with the fewest possible harmful ingredients. Lush makes mostly-natural products, but the company does use fragrances and perfumes in some products, so you've got to check to make sure. Still, the company's full disclosure policy means it's easy to figure out.
Backcountry Gear Shopping at Value Village in Toronto
We didn't want to spend a ton of money on buying lightweight fleece camp clothes that would just get dirty and campfire-singed within an expedition or two, so we decided to check out a Value Village store in the big city, where we'd have ample selection. We wouldn't have been able to get even a single item for the combined price of the two pairs of fleece sweaters and fleece pants we bought had we been shopping for them brand-new, so we're beyond pleased. Now we'll be able to stop lugging around those heavy cotton hoodies we like to wear so much ;)(winky face).
Backcountry Gear Shopping at Other Stores in Toronto
During the week before we left for our backcountry gear shopping trip in Toronto, I Googled considerably in search of some other backcountry gear stores we could check out, but everything that came up was irrelevant. But on our way back from the weekend away, two clerks at Bass Pro Shop gave us some great backcountry gear shopping tips, and searching for specific products for this article led me to another good find.
The Canadian Outdoor Equipment Company in Mississauga and Sojourn in Barrie are stores we'd be likely to check out on our next backcountry gear shopping road trip. Forest City Surplus Canada, located in London, is probably a little too far for us, but it looks like it's got a really good online store. Of course, checking out the deals on backcountry gear at Amazon is always an option, too.
Sleeping and Eating on our Trip to Toronto
We drove to Toronto but we knew we wouldn't need our car once we got downtown, and who wants to pay ridiculous daily parking rates? So, we parked at Yorkdale Mall and took the subway to Spadina Station.
From there, we walked to our hostel in Kensington Market, College Backpackers. Our review of the place is mixed. The customer service was excellent, but it's run-down. It's undergoing extensive renovations with its rebranding (it used to be College Hostel and Global Village Kensington), and management showed me the photos of what it will soon look like. Once it's done, it should be swee-eet! And, I was told they'll be making every effort to maintain current prices.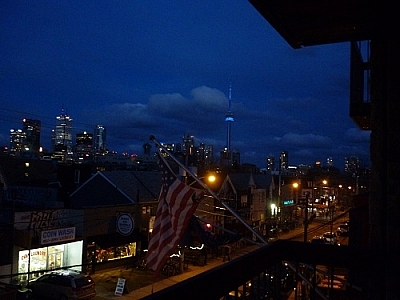 The location of College Backpackers in Kensington Market is fantastic. There's so much going on all the time, I'm sure it's easy for travellers to fill their days without wandering too far. But we had an agenda, so our time spent in the neighbourhood was limited to sampling some of the delicious foods available.
We were especially impressed with the variety of street foods available in Kensington Market — not just the regular chipstand or hot dog cart fare! We couldn't resist trying a slice of grilled pineapple sprinkled with cinnamon, with fresh-fruit lemonade (mango-pineapple for me, blueberry-watermelon for Marc).
Our agenda did include making sure we had some authentic falafel pitas, which we got from some random place we walked into after our quest for Value Village. We were at the corner of Wilson and Keele * and just happened to spot a shawarma place. We knew we were in for an exquisite Middle Eastern treat when we saw the falafel balls being deep-fried right before our eyes. And the toppings on display! Mmmm!
Of course we had all kinds of other delicious foods, too — banana-strawberry-Nutella crêpes from Crêpe Café on Queen Street, amazing vegetarian burritos from a vegetarian Mexican burrito stand in Kensington Market, fake street meat from a hot dog cart…
Yes, fake street meat. When I lived in Toronto, I would always order veggie dogs from the street cart vendors even though I wasn't vegetarian at the time. They taste the same, sometimes cost less, and let's face it, they help reduce the calorie count…
#MayThe4thBeWithYou: Star Wars Day Vegan Bake Sale
As we left our hostel on Sunday morning, we saw a small table set up with baked goods, manned by a Jedi master and storm trooper. It was a #MayThe4thBeWithYou vegan bake sale! We made our contribution to whatever worthy cause they were helping for Star Wars Day, and we each selected a treat — a banana-peanut-chocolate chip muffin for me and a chocolate brownie for Marc. Mmm again! Just the energy boost we needed for our walk to the subway station.
* Wondering how we got there? Doubtlessly, since this isn't a linear story! At this point, we'd already retrieved our vehicle from the Yorkdale parking lot.
Update
Check out the Backpacking Meal Plans, Packing Lists, and Tips for Hikers and Casual Paddlers series to see how we've adjusted our equipment to prepare for our treks.